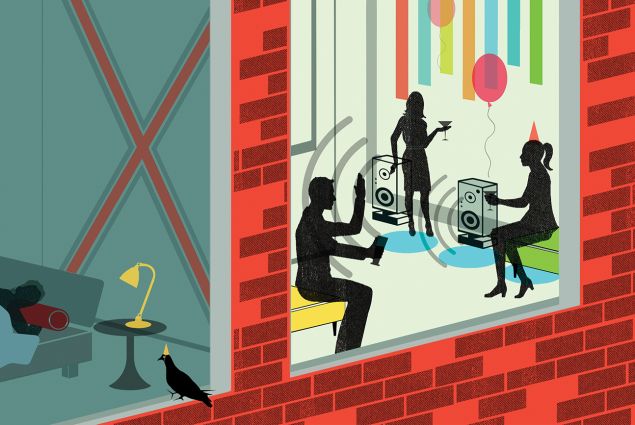 When Ben Tausig moved into his Prospect Lefferts Gardens apartment, he was just starting his master's degree in ethnomusicology—basically, the study of sound. The building, originally a luxury hotel that housed baseball teams playing the Brooklyn Dodgers, had been transformed into apartments with "dirt-bag, slumlord contracting," Tausig said. As a result, "the building had tremendous noise problems." As he sat home studying, his next-door neighbors, who were devout Christians, "would play Christian music very loudly, leaving it on for days," Tausig said. "It was like a club, with Sacred Heart music."
Tausig decided to write a paper on the noise issue and started interviewing his fellow residents. When he asked the next-door culprits why they blared Christian music, they said it was because their upstairs neighbors held audible Santeria services they wanted to drown out. They were offended, they said, by the Afro-Cuban practice on religious grounds. When Tausig spoke with his super, he found out the noise battle had been going on for 11 years and, at times, had involved the cops and housing court.  
Although Tausig admitted "there was no remedy" as far as soundproofing his apartment, he wrote about the various ways apartment dwellers address noise—through laws, which he said "don't do much for you," through gadgets like headphones and by building better walls. (Tausig is now a professor of ethnomusicology at Stony Brook University.)
Every New York apartment dweller has experienced noise issues; most accept it as a fact of life and hope it goes away. But in today's real estate market, with its influx of new construction buildings, developers are thinking seriously about sound. Roger Fortune, the developer of the Brooklyn Trust Company, a new condo in a historic Brooklyn Heights bank building, puts it this way: "Sound is really important. Because if it's too noisy, it'll ruin your life."
One of the biggest challenges in today's market, he said, is accounting for amenities packages that include noisy things like gyms, basketball courts, screening rooms and play rooms.
Sound insulation has become a norm for new top-end development. "The expectations of buyers are so much higher [in New York] because of the price point," explained Benjamin Sachwald, the director of acoustics for the firm AKRF. "And then there's the urban density, where New Yorkers are pretty much living on top of each other." The combination of buyer expectation, high-density projects and the consistent noisiness of New York means there's plenty of demand for acoustic engineers these days. Sachwald has seen an increase in "developers going above and beyond what the requirements are" over the past six years. Robert A. Hansen, who has consulted on acoustics from Grand Central Terminal to the Brooklyn Trust Company development, got his start with film and recording studios. Now, he says, residential work makes up much of his business. While the job is often wrapped up into the total construction cost, Hansen said basic acoustic work accounts for about $30,000 of a new construction project. Upgrading the sound for an existing building like a brownstone can go up to $15,000.
For the Brooklyn Trust Company, Hansen worked with developer The Stahl Organization to sound insulate every single apartment wall—whereas in a typical apartment, a sound barrier only exists between your apartment and your neighbor's. It means that "you can have a party in the living room after your kids go to bed," explained Fortune, and supposedly your kids won't hear a thing. Even the waste pipes of the building are insulated, meaning apartment dwellers won't hear the flow of water running through pipes. The amenity spaces are also accounted for, so a Super Bowl game playing loudly in the resident lounge won't be heard in nearby units.
New York City has existing building codes that ensure a certain level of sound insulation in buildings. Reducing noise can be done in a number of ways, from the type of windows you use to the insulation that goes inside walls to padding inserted below wood floors. What's most daunting for developers and sound engineers are all the places noise can come from (as Tausig's study showed): neighbors above, below and next door, mechanical equipment on the roof, common roof decks, street life, ground-floor retail space, HVAC systems, lobbies and amenities.
Sachwald explained that acoustic engineers start working with developers at the beginning of the building process to take sound measurements at the site and determine "how noisy it is and what the owner's goals are." One of the biggest challenges in today's market, he said, is accounting for amenities packages that include noisy things like gyms, basketball courts, screening rooms and play rooms. Ideally, developers try to locate these amenities away from apartments. But if they're adjacent to any apartments, the walls, floor and ceiling of each amenity space must block any outgoing noise. At the Brooklyn condo 388 Bridge Street, Hansen had to make sure a fifth-floor gym wouldn't rattle nearby apartments when people worked out or dropped weights. To do so, he built an isolated, floating floor specifically for the gym that rested on springs designed to absorb any vibrations. Some developers have even used luxe soundproofing to distinguish building amenities: Abington House, a 390-unit luxury rental along the High Line, has a soundproof zen room. At the Easton, a 230-unit rental in Carnegie Hill, residents have access to soundproof rehearsal studios.
Exterior building design also plays a role in blocking outdoor noise. Developer Doug Steiner gained all his expertise from soundproofing as the chairman of Steiner Studios, a film and television production studio at the Brooklyn Navy Yard. At Steiner East Village, an 82-unit condo being constructed at 438 East 12th Street, the development team decided to build out an interior courtyard that's "wider than most streets," Steiner said. About half the apartments look out onto the courtyard, which will be much quieter than the city street.
Magnum Real Estate Group snatched up the 1927 Art Deco tower 100 Barclay for a 161-unit condo conversion; the building was originally designed for the New York Telephone Company. "It's a massive building that ends up being a great sound damper," explained Tom Elliot, director of sales for Magnum. Its thick masonry walls wouldn't be cost effective to build today, he said. Magnum also upgraded 100 Barclay with dropped ceilings to provide additional insulation between floors, and sheetrock and fiberglass batting inside the walls for sound attenuation.
Sachwald, the acoustic engineer, explained that any old buildings designed with thick masonry walls and thick concrete floors provide great bones for quiet apartments. Paul Stamberg has lived in his Flatiron loft since the 1970s, and he and his husband run their architecture firm, Stamberg Aferiat, in the space next door. He explained, "The floor slabs are nearly two-feet thick, consisting of wood and steel rafters with rubble between them, plaster below that and thick wood flooring on top. Sound doesn't travel through the floor very much, but it does travel through the steam risers from floor to floor." (One perk of that, he said, was that a friend living below them had a Bechstein grand piano, and the music rose through the risers to their living room.) Although the building's original walls are few, since it's mostly open loft spaces, "they are very, very solid," Stamberg said.
But the old loft buildings with "wood joists and wood floors that buyers and architects love," as Sachwald put it, do a terrible job blocking noise.
Developers aren't building hulking warehouses in the name of soundproofing, but they're getting creative with more modern materials like glass. At 53W53, the ultra-luxury, ultra-tall condo tower under construction at 53 West 53rd Street, the facade will be made up of panels of triple-paned glass—each panel is comprised of three pieces of glass separated by two air spaces. Triple layers dramatically reduce sound and temperature transmissions, said David Penick, the managing director at Hines, a co-developer of the tower. When complete, all 6,000 panels of glass—which will be installed onto the building's curtain wall—will embody the acoustic, thermal and energy-efficient qualities of a solid wall, even at a height of 1,050 feet. "It's the best you can do in modern construction," Hines said. He also noted that everything inside the building, too, will be designed with acoustics in mind. "Everything gets considered."
'If you're a developer and haven't thought about the acoustics, you're in trouble. if there's too much noise, buyers will walk right out.'—Toll Brothers City Living President David von Spreckelsen
Perhaps most ambitious in the name of noise reduction is what some developers do when new buildings are located near rumbling subway tracks. "There are a limited number of available sites in the city to develop," explained Toll Brothers City Living's President David von Spreckelsen. "You go where projects allow you to go. And sometimes well-located sites have issues—they'll be close to subway trains." In 2013, Toll Brothers developed the Touraine, a 16-story, 22-unit condo at 132 East 65th Street. The location, adjacent to the Lexington Avenue subway, caused concern in regards to subway vibration entering the building structure, then creating noise inside apartments. Toll Brothers took on AKRF to use a state-of-the-art construction technology that creates an isolated, "floating building" that's decoupled from the ground. "We isolate the entire building foundation," explained Sachwald. There are different techniques to accomplish this; one method is building a floor with four walls that's lined with a "vibration isolation pad." (Sachwald said it was like "a resilient bathtub.") The building foundation then rests inside the bathtub-like structure.
Toll Brothers has gone on to "decouple" the foundations of two more buildings due to their proximity to underground subway tunnels: 1110 Park Avenue, a nine-unit condo in Carnegie Hill, and 100 Barrow, a 33-unit co-op in the West Village. "It's not cheap," von Spreckelsen said. "But we need to provide a product people will be happy with." It's especially important, he said, in a market where buyers are waiting to see the finished product before they sign a contract. "Are buyers sensitive to [the process of reducing building noise]?" he asked. "They are not. But they move into buildings and don't expect extra noise." In this market, he said, "If you're a developer and haven't thought about the acoustics, you're in trouble. If there's too much noise, buyers will walk right out."
And then there's the rest of us, who must settle for the noisiness of the city. Brooklynite Jon Bernstein recalled moving into his Crown Heights apartment, which looked out into an alleyway and waiting six weeks before a "cat brothel in the alley" dispersed. "Almost every single night I heard an awful feline noise…I had never heard cat sex before," he said. After student Nicole Basile moved into an East Village walkup, she got used to "my neighbor across the hall, who would engage in the screechiest sex with his girlfriend. The walls were so paper thin that everything was audible." Her solution? "The only soundproofing I ever tried was to drown it out with music…which also served as equal parts retaliation and protest."