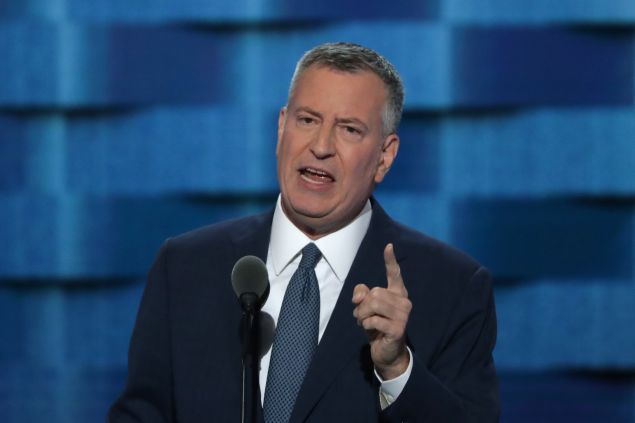 The New York Times and their fellow travelers are correct. Donald Trump's ascendancy is imperiling basic American freedoms, especially the First Amendment.
More vigilance is needed to stop the creeping fascism he has already unleashed. Just ask Mayor Bill de Blasio.
It has been one year since the mayor blatantly violated Trump's First Amendment rights and established case law by vowing to deny him future city contracts in response to the candidate's comments about illegal Mexican immigrants. Kind of like how then-Mayor Rudy Giuliani tried to cut city funding for the Brooklyn Museum in 1999 over its dung-stained Virgin Marty portrait—until a federal judge said no dice.
Except now The New York Times is not accusing de Blasio of censorship like it did with its saturation coverage of Giuliani's move. Or like it did when Republican lawmakers famously tried to de-fund the National Endowment for Arts because of highly offensive grantees, including one guy who photographed a crucifix submerged in a jar of his own urine.
Instead, the paper is fretting that de Blasio has insufficiently punished Trump for his rude attacks on illegal immigration.
On August 12, Times columnist Ginia Bellafante complained that, despite de Blasio's prohibition on additional funding, the Trump Organization got reimbursed an entire $3,000 for refreshments served to school kids when it hosted the "Mayor's Cup" this June at the Bronx golf course it runs for the Big Apple.
The fanaticism here is astounding. Would she have preferred the youngsters just go hungry and thirsty instead? Maybe let some get heat stroke so nobody thinks de Blasio is soft on Trump?
Regardless, in a Twitter exchange Friday, Bellefante declined to say if the rule against new business is unconstitutional or why she didn't even ask an expert for comment.
Here are the obvious legal and historical facts that the Times doesn't deem fit to print.
De Blasio's edict tears at fundamental American freedoms by imposing "unconstitutional conditions" for city contracts, explained a prominent civil rights lawyer who actually loathes Trump but didn't want his name used.
"The basic idea," he told this reporter, "is that the government can't punish you (including by taking away benefits, or denying a job or contract that you'd otherwise get) because you had the temerity to exercise your constitutional rights—whether exercising freedom of speech, or practicing your religion, or refusing to consent to a search, or refusing to quarter troops in your home, or beating your gun into a plowshare, or whatever. Requiring you to waive your constitutional rights as a condition of getting a government benefit is an unconstitutional condition."
The history with the Times and Giuliani is instructive. That controversy was covered by the Times in at least 37 news articles, according to a data base review. In a September 24, 1999 editorial headlined "The Mayor As Art Center," the Times called Giuliani's move blatantly unconstitutional.
That November Judge Nina Gershon of United States District Court in Brooklyn ruled Giuliani's decision to cut funds and evict the Museum violated the First Amendment. Giuliani initially vowed to appeal, but on March 28, 2000 the Times reported that the then-mayor had abandoned his fight.
Compare that to how the paper handled the de Blasio threat to nix existing contracts and ultimate decision to deny Trump future city business.
De Blasio first suggested he would cancel Trump's contracts in June 2015. But, according to Newsday, city lawyers told him cancellation would violate the First Amendment.
In August, without any objections from the Times, de Blasio announced he would keep the existing contracts but deny Trump any new business because of his thought crimes.
Times City Hall reporter Michael Grynbaum did not even mention the de Blasio edict until some four weeks later, in a story on de Blasio renewing his attacks on Trump. He did not mention the free speech angle—which was reported by the New York Daily News.
Reached late Monday afternoon, Grynbaum, after some prodding, conceded he was aware of the First Amendment issue. But he repeatedly declined to explain his omission. "Uh, yeah, I am trying to think," he stammered. "That was mentioned in some of the coverage."
Right but why didn't your article? Do you regret not mentioning it? Especially, given the Times' saturation coverage of the Brooklyn Museum? How do you explain the disparity?
"I'm a little confused," he stonewalled. "Can you point me to the specific article?"
Since Grynbaum has clearly never heard of Google, I offered to email him his own piece, after having already described it in great detail. But he declined. Interestingly, Grynbaum, who now covers the media, recently reported that Trump had barred Washington Post reporters from his events—a decision that, right or wrong, does not violate the First Amendment.   
The paper did not even report when former New York Civil Liberties Union head Norman Siegel volunteered to help Trump sue de Blasio over his decision. Siegel called the move "antithetical of the principles and values of the First Amendment and contrary to what America is all about."
The media double standards are grotesque. The plain reality is that de Blasio's edict is more an actual threat to free expression—unlike Trump's broadsides against illegal Mexican immigrants or Muslims. Little steps for little feet: Trump is a private citizen utterly bereft of any legal power to impede anybody's rights.
Not so de Blasio.
New York City contractors have good reason to fear that they too could lose future Big Apple business for offending him. Since the Times wouldn't speak out for Trump, who the occasionally autocratic Mayor comes for next is anybody's guess.
Disclosure: Donald Trump is the father-in-law of Jared Kushner, the publisher of Observer Media.
Evan Gahr, Washington Gadfly columnist for the Daily Caller, was press critic for New York Post editorial page editor Eric Breindel.