Samsung just unveiled its latest phone—the Galaxy Note 7.
You may have noticed that the last Note was number 5, meaning the Note 6 was skipped. Well, there's a good reason for that. Basically, the new Note has the capabilities of its line while borrowing the best features from the Galaxy S7. This phone boasts top-notch technology and some never-before-seen features, which the Observer got a sneak peek of last week. The phone is set for release on August 19th, but you can pre-order it as early as tomorrow.
Here's what you need to know about Samsung's new Galaxy Note 7:
---
The iris scanner is the future
Straight out of a science fiction movie, the new Galaxy Note 7 allows you to unlock your phone with your eye. It's extremely fast and accurate, making it as quick as your fingerprint and making it possible to open your phone even faster than you can with a passcode. And the best part? The iris scanner is simply activated when you pick up your phone and look towards it, so you won't be struggling to stare into the right place. It even works with glasses! (But not sunglasses).
It's water-resistant
For the first time, a note phone is water resistant. The Galaxy Note 7 can be submerged in up to five feet of water for up to 30 minutes and still make it out alive. This is what we were talking about when we said the phone is borrowing the best features from the Galaxy S7.
The camera is amazing
Another feature borrowed, the Galaxy Note 7 features the same 2-megapixel camera as the S7 line, which is considered one of the best (if not the best) cameras on a smart phone. I've tested it against many, and it beats the iPhone's by a mile.
A brand new color is available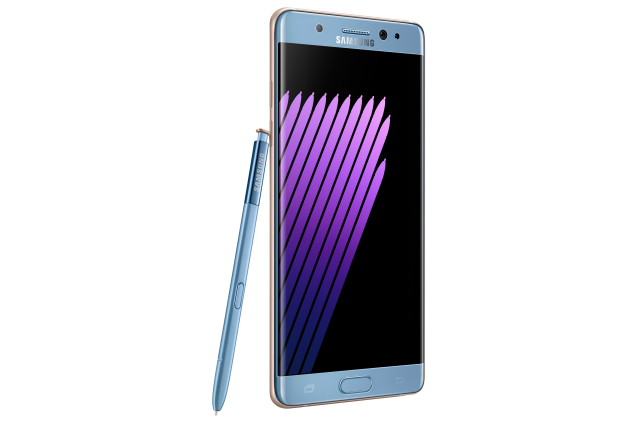 In addition to black and gold, the Galaxy Note 7 also comes in a new color Samsung calls "coral blue," which features rose pink border. While the idea of colored phones may, at first, bring our minds back to the days of the hot pink Motorola Razr, we promise these colors are cool and sleek.
The edges are curved
The curved glass of the Galaxy S7 Edge has made its way onto the new Note, helping the larger work-ready phone stay sleek and easier to hold and use.
Productivity is in full-force
Like every Note before it, the Galaxy Note 7 will help you get things done. Obviously there are more tips and tricks this time around. The S Pen has a thinner tip, giving you a more accurate tap. You can also write and save notes on the screen while it's locked. One truly time-saving feature is that you can now hover over anything to zoom, which is perfect for shopping, working and general Internet browsing.
It's powerful
With a large 14400 5.7-inch AMOLED screen, 4GB of RAM, a powerful quad-core processor and expandable storage, you won't even need your laptop.