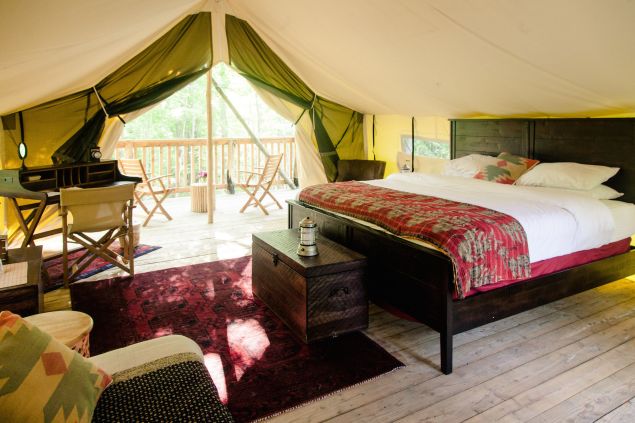 Why go on a wellness retreat when you've spent the entire summer poolside, sipping on mojitos? "Summer often leaves people feeling refreshed, so they hit the grind pretty hard come September. But what we're realizing is that while people are going to the beach, the lake and the woods, they are actually taking their phones and work to the hammock and beach chair, which isn't giving them the rest and rejuvenation they think they got," Jess Davis of Folk Rebellion told the Observer. Before you head into the fall, phone in hand, think about resetting with these off-the-beaten path, but still entirely luxe, retreats.
Go glamping with Jess Davis and the rest of the crew of wifi defiers Folk Rebellion as they spend four nights in a fully wired tent in Ithaca. While it will be a peak Instagram opportunity, the entire point of the visit is to reset by spending time away from your phones, as difficult as that might be–even while surrounded by bonfire and cooking up s'mores. There's hiking, yoga and zero opportunities to experience FOMO.
This Cayman Islands resort offers sweeping views, farm-to-table eats and of course, lots of yoga and meditation. There's a fitness studio, Pilates equipment (if you can't give up your SLT devotion) and yoga classes offered anywhere from the beach to the farm. Unlike the other retreats, you won't have to give anything up here, and that includes alcohol.
The Ranch is most famous for housing off-brand celebs and offering up only a few almonds during intense hikes. But it's more than just that. At The Ranch, guests trek through the Santa Monica Mountains, swim in the Pacific Ocean and spend time in cottages or in the organic farm. There's no wifi or cell phone reception, so you're forced to disconnect and spend time with the fifteen others who are seeing nutritionists, dietitians and physical trainers in the wilderness. Whatever you do, though, don't come hungry. You'll be eating 1,600 calories a day of organic veggies. And no cheating beforehand–guests have to undergo a health evaluation upon arrival.