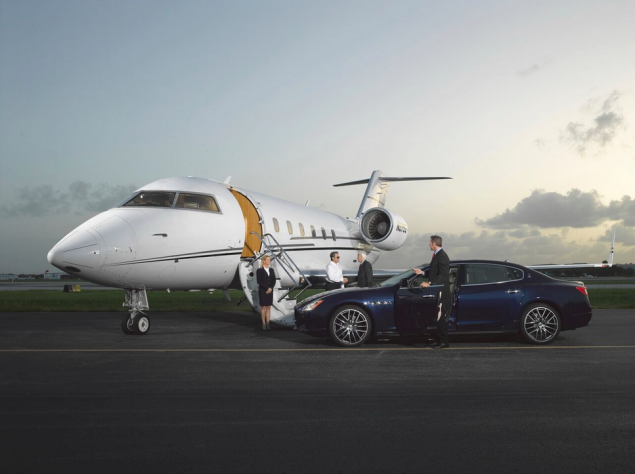 Are you one of the millions of travelers who missed your flight this summer because you had to wait in the airport security line for three hours?
Well, perhaps you'd prefer to take a private jet instead.
Today JetSmarter, the "Uber for private jets," will announce a new geotagging feature for its free app. The service, which tracks users' locations, will now send alerts to travelers delayed or stuck in commercial airports to let them know of available seats on nearby private planes.
"We have the ability to remind 400,000 desperate users about us at their moment of frustration," JetSmarter CEO Sergey Petrossov told the Observer in an exclusive interview. "That reinforces the value."
Under the new service, any JetSmarter member who is stranded in the airport for over an hour will receive a push notification that reads "Stuck at (insert airport name)? Fly with JetSmarter and save time." Users can search, book and pay for flights on their phones, and the company also pays for a limo to one of their private terminals.
"You can stop waiting in the long lines at JFK," Petrossov said.
All three JetSmarter plans are available through the new service: JetCharters allow customers to charter custom flights from anywhere to anywhere. JetShuttles give users the option to purchase individual seats on shared charters to specific locations (although users can also create their own routes). Finally, JetDeals are spontaneous flash sales tailored to users' travel habits.
JetSmarter has one other big benefit: Because the TSA has different requirements for private flights than for commercial flights, the company's security and bag check process take less than 15 minutes. Once customers arrive at the airport, an agent searches TSA records to make sure they are not on the no-fly list. Then an agent from JetSmarter's privately contracted security detail screens customers' luggage—dogs also sniff the bags.
"We do it in a very harmonious, customer friendly way," Petrossov said. "We only ask you to open the bag if the dogs take a hit."
The JetSmarter app, and the geotagging service, are currently available in major cities across the United States, including New York, Boston, Chicago, Atlanta, Las Vegas, Dallas and Los Angeles.
JetSmarter will also separately begin offering flights from New York to London this week.