When word spread that one of our favorite candy companies, the always chic Sugarfina, was coming out with a rosé-themed collection, it seemed almost too good to be true. Rosé and candy?! Nothing could be better than a combination of two of our favorite things in the world, especially during these rosé-filled summer months.
Sugarfina is known for their beautifully boxed, delicious candies, and the brand's collaboration with Whispering Angel Rosé is no exception—the adorably packaged collection, aptly titled Yes Way Rosé, consists of rosé-infused gummies in the shape of rosettes and bears. Naturally, it sold out in just two hours, crashing Sugarfina's website in the process.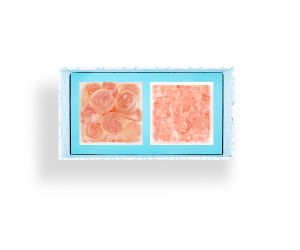 At the moment, the waiting list contains over 14,000 names of eager customers, who we assume are checking their mailboxes each and every day in the hopes of discovering that the rosé gods have smiled upon them. Well, we're the bearers of very good news today—online orders for the rosé gummies will be shipped on Monday, August 8th!
"Our batch that just arrived is huge," Sugarfina co-founder Rosie O'Neill told the Observer. To be more precise, it's about ten times the size of the initial batch.
"We love launching new candies and it's always really exciting to see how our fans will react," O'Neill said. "With the rosé gummies however, we had no idea how overwhelming the response would be! It was completely unexpected and a really fun surprise. Although we're running around like crazy trying to fill all the demand, we're having a lot of fun."
Sugarfina has always had cocktail-themed candies, and O'Neill decided that a rosé collection made sense for the brand's next move. "We're always looking to expand into other cocktail themes," O'Neill explained. "Rosé is such a popular wine right now, and Whispering Angel is the premier rosé producer—we only use the best ingredients in our candies, so they were the ideal partner!"
Ultimate winos will adore the $20 Yes Way Rosé two-piece "Bento Box." This deluxe set comes with one box each of the rosettes and the bears, both of which you will find inside the adorable pink container with "Yes Way, Rosé" inscribed in gold.
If you haven't yet signed up for the waiting list, we're going to recommend you get on that right away—you can still order them online for pre-sale right now, and they'll be shipped in this Monday's batch!
Of course, if you want to make a stop in one of Sugarfina's boutiques (we don't blame you, the stores are curated candy dreams), the rosé gummies will be available in a select number of stores by August 18th, including New York's Madison Avenue, Time Warner, and World Trade Center boutiques, as well as in Beverly Hills and San Francisco.
But, even with this big shipment, customers shouldn't get too confident about being able to casually stop into a store to get their Sugarfina rosé fix at the drop of a hat. "It won't last long," O'Neill told us. "With all the continued excitement, we expect this batch to sell out before Labor Day."
However, if anyone was concerned that they will be without their beloved rosé gummies when the leaves start to fall and the air becomes crisp (also known as autumn), there's no need to panic."Rosé gummies are a permanent part of our collection now," O'Neill told us, to our relief. "We expect them to be very popular year-round."