If your mind isn't inundated with images of wool coats, cozy sweaters and cool weather dresses, consider this your wakeup call. The time has come to start shopping for fall and you might want to start today. Already, Balenciaga leather boots are selling out and Gucci is flooding wishlists with pink fur coats, so you really don't want to be any later to this party.
As you start shopping for a new season, consider checking out a crop of smaller designers who are making waves in markets around the world. For dresses that are more than just pretty frocks, check out Vilshenko. Designer Olga Vilshenko found inspiration for her range from traditional Russian folk costumes and continues to run her business from Moscow and London. Hailing from Paris is Aurélie Larrousse of Beau Souci, who infuses the spirit of L.A. into her casual cool sweaters and sexy dresses. Finally, check out Cyclas, a Japanese brand that has just landed at Bergdorf Goodman. Designed by Keiko Onose, who spent over two decades as a buyer, the wares under this label are polished but trendy.
Cyclas – Designer Keiko Onose
Tell us about Cyclas, in your own words?
Cyclas is designed for the multifaceted woman who wants a sophisticated, modern wardrobe. I want women to be confident and comfortable to wear Cyclas, whether it's at a board meeting, traveling or spending the weekend with friends.
You say that the brand is designed with "Japanese sensibility." What does that mean?
Japanese sensibility, in our opinion, is a way of creating the clothing. We are meticulously refined from the small detail to the overarching collection theme. We focus on fabrication and development, to make sure the texture is both smooth and comfortable. Each season, we create a color palette composed of neutral, understated tones that convey each styles' lightness and subtle detail. The silhouette is clean and overall made with precision. We work hard to ensure these aspects are done correctly. Each of these factors, when combined, make a big difference in the final outcome.
What does it mean for your brand to be carried at Bergdorf Goodman?
I am honored to be carried at Bergdorf Goodman as it is one of the top destinations for luxury fashion. It is truly a dream for Cyclas to be picked by their team and sold there.
Where else can we shop the range in the states?
We are also looking to expand into other areas of the U.S. and will be sold at BLAKE in Chicago in the fall.
Who is the Cyclas customer?
Cyclas is created for the sophisticated and well-educated female, the entrepreneur that is doing it all. These women are looking for beautifully made pieces that are timeless and versatile to mix and match to create modern, refined looks.
How do you think you background as a buyer helped launch Cyclas?
I've worked on the retail side as a buyer for 25 years and was able to see how brands lasted and continued their success. The retail side gave me more exposure to consumer insight. I was able to learn from best practices and some brands' unfortunate demise and apply that knowledge to my collection.
What piece from your fall collection are you most excited about?
There are so many, but my favorites are the double face cashmere coat with mink accents on the sleeve and the knit pullover top with mohair volume sleeves.
Beau Souci – Designer Aurélie Larrousse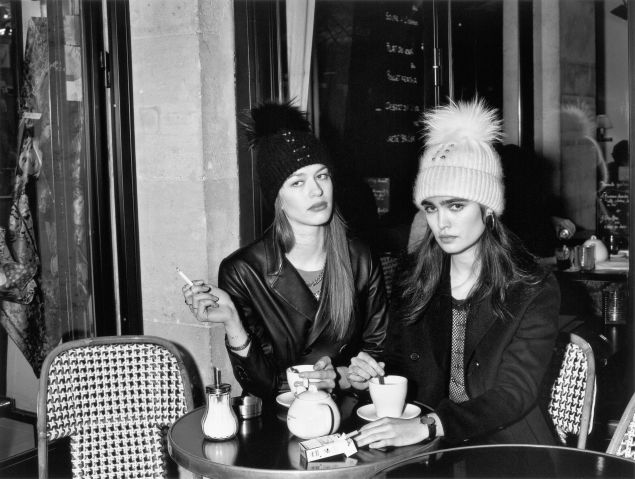 What does Beau Souci mean?
Beau Souci means "beautiful worry." It's a reference to the French Renaissance poet François de Malherbe and his most famous work, which starts, with the words "beauty, my beautiful worry." Beau Souci is more of an attitude; the collection has a little bit of grunge to it, but it's also young and sexy, paired with a cool sophistication and a sharp edge.
How do the cities of Paris and L.A. inspire you?
I have a deep connection to both cities. Paris is my home, my heart and has always been a source of inspiration to me. L.A. is like my home away from home, and I have been traveling there for years. Yes, the inspiration evolves with each and every season, but the core essence and the collection's spirit remains the same: The dual influence and allure from Paris and L.A. are crucial to Beau Souci and part of the brand's DNA.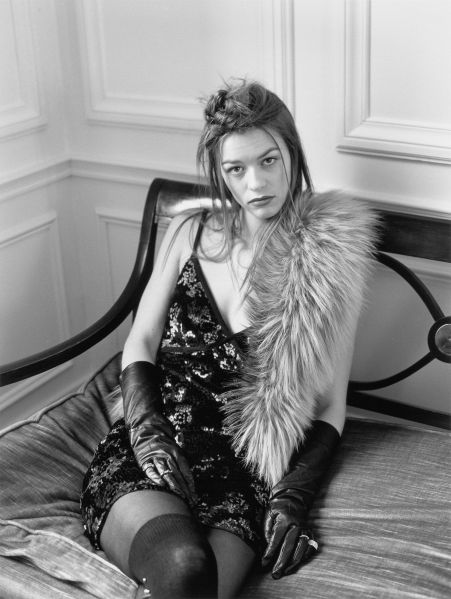 How did Paola Russo, the founder of L.A.'s Just One Eye, help you shape this brand into what it is today?
She is my guardian angel. Paola shares her creative views and spontaneous visionary input. She has always been elegant, charismatic with a grand sense of personal style; I've always admired the way she dressed. That includes her choice of textures and colors, her flowing long hair and rock and roll attitude, her beautiful jewelry with a simple white shirt and jeans.
What do you think about American women who are always trying to dress like French women?
I think it's a compliment because I love American women and their style. They own the denim and athleisure game like no other. Believe it or not, but French women try to dress like American women just as much.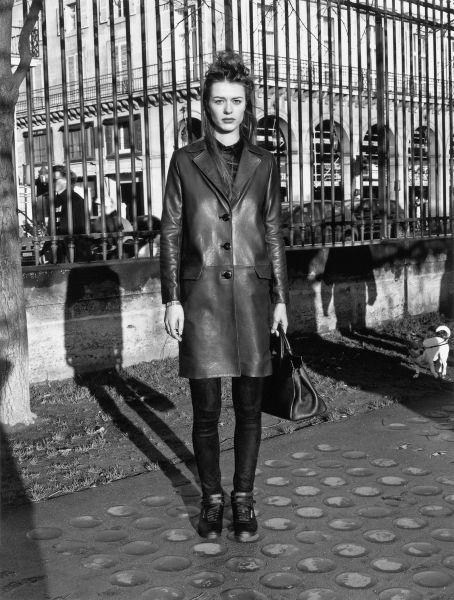 Do you have any advice for American women who want to look French?
French style all about attitude and understatement. Less is more, always. Minimalist basics, knee high skirts, oversized sweaters, neutrals, such as beige, grey, navy, black and white are all part of the vocabulary. Carine Roitfeld once said that with French women, you first see the woman and then you see the clothes. It's very true. French style is all about effortless chic.
Which celebs have been spotted in your designs?
Heidi Klum, Kendall Jenner, Jada Pinkett Smith, Courtney Cox as well as Aubrey Plaza wear Beau Souci. It is an honor to see these beautiful, strong and inspiring women wearing my clothes.
Vilshenko – Designer Olga Vilshenko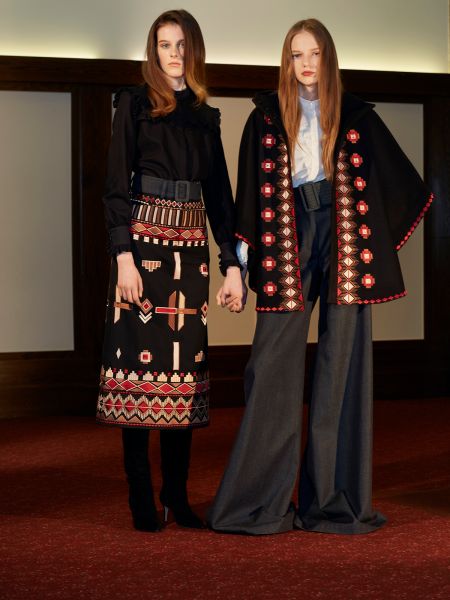 What's the bottom line of Vilshenko?
For me, Vilshenko is about elegance, femininity and fantasy. I'm very interested in the combination of streamlined silhouettes with rich fabrications, intricate embroidery and print appliqué to create stories.
How does your Eastern heritage shape this brand?
The silhouettes are inspired by traditional Russian folk costumes, so the accents and techniques come from native craft. For me, it's about the fusion of Russian heritage with a modern sensibility; it's fantasy for everyday wear.
How do you think your upbringing has affected your designs?
My mother is my biggest inspiration. I have fond memories of her making beautiful clothing for the whole family in her spare time, so I learned a lot about dress-making in my early childhood. Today, I am very inspired by classic fairytales that were a big part of family life.
What designs are most sentimental to you?
I'm really attached to the lace-detailed blouses that we reinterpret each season. We just started working with a factory that specializes in the unique Russian craft of traditional lace making that we are excited to introduce into the next few seasons. Each piece can take anywhere from 8 to 80 hours. They require time and dedication, so are therefore very precious!
How does working out of Moscow and London inform your designs?
London's diverse and vibrant energy makes it a very inspiring city when designing a new collection, so the Vilshenko atelier is a hub of creativity. We work from our Moscow studio on developing designs and garment production.
Why is the U.S. market important to your brand?
The U.S. is such a significant market in establishing the brand on a global scale. It's so interesting to see how different stores in various regions across the country interpret the brand for their customer. It was such a proud moment when our Resort'16 collection launched with Bergdorf Goodman—and now as our pre-fall '16 collection launches, it's still such a thrill to see Vilshenko in one of the most prestigious stores in the U.S.
Who are some celebs you'd like to see wearing your designs?
It's so exciting to see inspirational women like Anne Hathaway, Alexa Chung and Florence Welch wearing Vilshenko; it's a dream come true. Other women that I would love to dress are Alicia Vikander, Diane Kruger, Zoe Saldana—the list goes on!