By 2009, Brooklyn was already starting to get a little too drunk off of its own Kombucha fumes, and most of the borough's musically adventurous had retreated to the crusty crevices of Bushwick loft culture. The most generous traveling minstrels to come through then were stalwarts of a new San Francisco garage-rock revival, bands challenging the narrative that San Francisco was our sister city when it came to gentrification. If the tech bros killed the middle class over there, this Tim Cohen dude and his speedy-psych mavens The Fresh & Onlys weren't ready to give them another inch. We championed The Fresh & Onlys and their self-titled debut because, in its short running time and immediate blasts of of reverb-laden rockabilly we saw ourselves—embracing the buried threads connecting garage, psych and pop and shooting energy back into our crusty crevices.
"The ability to write a sad song, oddly enough, comes from confidence."
After a killer set opening for Thee Oh Sees at The Bell House that year, John Dwyer called The Fresh & Onlys America's greatest pop act. And as the years went on, The F&Os fulfilled that prophecy, fleshing out a more nuanced, subtle and subdued vibe while keeping the rock'n'roll intact. While still capable of churning out the heavy riffage, the two albums The F&Os released in 2009 would eventually push them to evolve their song structures and instrumentation further on 2010's Play It Strange. The next year, frontman Tim Cohen released his first solo outing as Magic Trick. He must have learned a lot, because 2012's Long Slow Dance was The Fresh & Only's lushest sounding, most poignant, heartbreakingly beautiful collection yet—not to the credit of any studio magic or slick producer, but based off the strength of the songwriting and the chemistry of the band.
That chemistry has long revolved around the band's three core members—frontman/guitarist Tim Cohen, bassist Shayde Sartin and guitarist Wymond Miles, old friends who've been through life together and show it through a musical synergy that's only grown deeper with time. Cohen's songs conjure a gorgeous, romantic moroseness that manages to be simultaneously somber and uplifting, a feat not unlike that achieved by the other Cohen (he tells me how much he respects Leonard Cohen's music, but doesn't consider himself a fan).
As a window into Tim Cohen's San Francisco, however, the music he's made with The Fresh & Onlys captures some heavy and somber themes of endless love and devotion that psych rock lost somewhere along the way. Cohen manages to bottle particular brand of profound sadness that The Pretty Things sang about on SF Sorrow, and eventually, the themes of somber perseverance he so masterfully telegraphed became trials to live through, as both his city and his band began to eat themselves.
Cohen talked to me about the story of The Fresh & Onlys near disintegration not with any triumphantly composed, third-act resolution, but with the honesty and transparency of a man who's ability to express tremendous sadness and tremendous joy come from the same strength of knowing when he's got a good song. It's a story about him moving to Arizona in 2012 to raise his daughter close to her grandparents, and how that move nearly fractured the band. It's also a story of dedication, and how Cohen returned to San Francisco to record the gorgeous, eclectic collection of songs on Other Man's Blues, the fifth release under his solo monicker, Magic Trick, out this week. Brandishing a color-coded guide to the songs with chords and changes mapped out, Cohen recruited a who's who of old friends to flesh the melodies out at Phil Manley's Lucky Cat Studios in San Francisco.
"I could care less about waving my own flag or the garage rock revival. That's gonna change so much. By the time my daughter's 21 I don't even know if rock'n'roll is gonna exist, for better or worse."
As Cohen explained the hurried, efficient process of recording Other Man's Blues, a yearning for community became apparent. "It's always been a different dynamic with Magic Trick—these are friends of mine who I don't have deep, personal histories with and we just like making music together," he said. But since several of San Francisco's garage-psych revival figureheads migrated to LA three years ago, maybe Cohen sticking around is enough. He's got a young daughter now, and he continues to make music with the hopes that she'll want to join in on the marimba or xylophone, thus facilitating the sense of community that many say no longer exists there.
So no, Cohen doesn't accept that San Francisco's musically adventurous are all gone, even if the scene seems to have evaporated. He's since moved back to San Francisco, where The Fresh & Onlys are back together and currently working on their sixth full-length. Cohen spoke about Magic Trick's Other Man's Blues as a document of a creative soul at a crossroads, figuring out how to balance this valuable community of brothers and sisters alongside the changing priorities that come with being a dad.
Cohen may not be much for waving flags, but he belongs on some facet of the city's insignia nonetheless, the accidental figurehead chronicling a resurgence of yearning and longing in this music that's meant so much to so many. Our conversation was rich with a similar sense of yearning, wherein Cohen's ability to still bring likeminded artists together became a magic trick in of itself.
[soundcloud url="https://api.soundcloud.com/tracks/268228232?secret_token=s-aQkOl" params="auto_play=false&hide_related=false&show_comments=true&show_user=true&show_reposts=false&visual=true" width="100%" height="450″ iframe="true" /]
I wanna thank you for playing "Peacock and Wing" in Brooklyn all these years ago. That song for me is the first moment when you and the gang really telegraph that prescient Fresh & Onlys theme of endless devotion and love that's missing from a lot of the psychedelic music out there now.
Cool, well you're welcome. [laughs]
Are you still in Arizona now or are you back in San Francisco?
I'm back in San Francisco.
So you leave for Arizona to raise your daughter…
Mmhm.
And then you come back. It's this interesting counterpoint for to try and understand that music evergreen in 2014 of, 'all the garage revival dudes are leaving San Francisco for L.A.'. There's a whole parallel to where I am in Brooklyn and the death of a creative class, the rise of the tech bro and all this. But why did you come back? Why does San Francisco remain a special place, or at least a place where you can still be creative?
I guess I'd just lived here from most of my adult life, for no other reason than it was home, y'know, and Arizona was never that. When we went to Arizona my partner and I were just freakin' out, we thought 'let's just change things up, we're having a kid, let's just throw a wrench into it, let's move away for a while'. And my parents live in Sedona, so we were gonna get whatever help we needed as far as having grandparents around because our families don't live close to us. I didn't realize just how isolated we were, you know?
My parents are cool, but I can't make music with my parents per se. My parents always had the thing when I left for college and moved to California, 'you're moving away as far as humanly possible, but still within the same country.' I don't think of it that way, though. I actually wound up here in San Francisco by happenstance to begin with, I just got in my buddy's car and we drove till we couldn't drive anymore. We wound up in Oakland and then eventually San Francisco, in the same apartment that I live in now.
That's why it's such a fruitful place for you, you pushed yourself to get there in a very literal sense.
Exactly, and part of the redemptive quality of moving back to Arizona. To allow them to be near me, it turned out to be an up and down experience. I was traveling most of the time actually, to be honest with you, either touring or back here recording the record we're gonna talk about and The Fresh & Onlys record. So in the year and a half I was gone, I was back in San Francisco a good amount of time.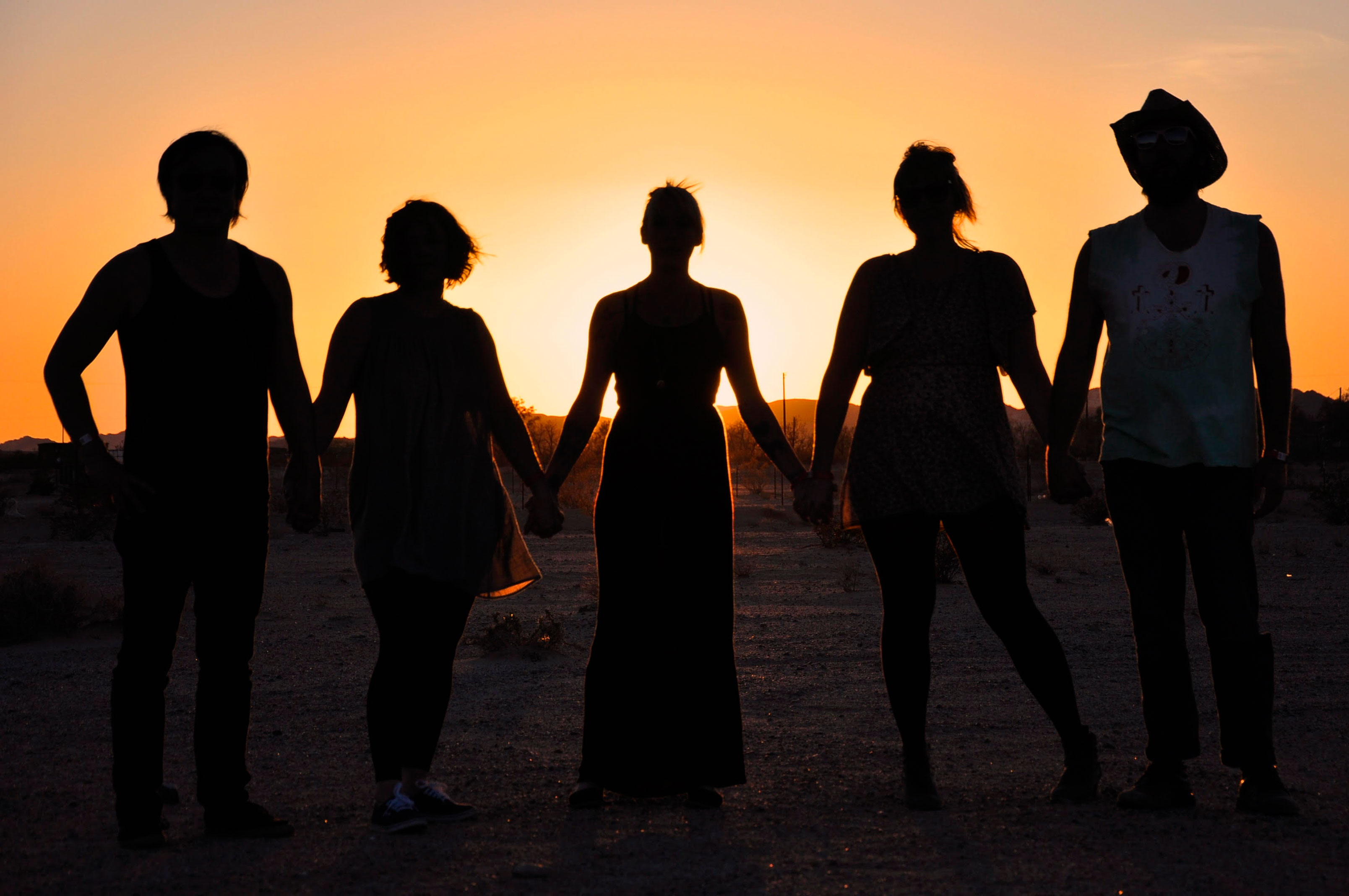 Coming through town with the carnival.
Yeah, exactly.
Cool! Sedona's a weird place man, a lot of ranches and spas, that Frank Lloyd Wright-inspired church on the hill, the shopping malls are painted desert pink. A weirdly liberal, somewhat creative pocket of Arizona.
I don't know about creative… I know there's art there, but it's tourist trap art.
Corporate mall-art disguised as Southwestern shamanism or something.
Yeah. And a lot of the songs I wrote and shit I did there was a direct response, not to that, because I kind of tried to evade that at all costs, but more of a nod to the ennui of the desert. We lived on a beautiful horse ranch and all you could see was horses and mountains from our back porch area. We didn't actually live in Sedona, we lived in the Red Rocks State Park about 10 miles out. More desert island, and I drew a lot of inspiration from the quietude of all that.
Well ennui's better then what your touring situation sounded like, based on your transparent interviews around that time. As far as the vibe of the band and stuff. You talked about submitting to the flow of production for House of Spirits, trusting the hands of Wymond and Kyle a bit more, maybe being happy with a song and thinking it was done but seeing them add a new layer or flourish to it that made it sound better to you.
Well at that point Shayde, the bass player, was MIA, as you'd say. That was when he kind of fell off the face of the earth. We were gearing up to make our best record ever, yknow? And that sort of spelled the demise of The Fresh & Onlys, although we're gearing up to make another record right now. So you can never kill The Fresh & Onlys [laughs]
I mean that's kind of the cosmic irony of this too, the casualties of San Francisco are storied. It's interesting to me though how with Empty Cellar and Castle Face records there remains this still-beating heart of SF psychedelia, though.
Well Castle Face is all LA now, so… Dwyer's gone, they're all in LA.
But are you seeing a younger group of kids form around the type of music you're still into? Cool Ghouls are a good example.
Yeah, they're the example. The Mantles dudes are still here, Kelley Stoltz is still here, he's really the one still holding it down. Sonny Smith is still here. So it's actually us old dudes that are still holding it down, and as far as young rock'n'rollers, Cool Ghouls are the one example I've seen. There are actually a few younger bands that I'm actually not that familiar with, but I've heard their names tossed around. It's not the same sense of community, I'm not getting it, but again, I'm not really part of it. I've sort of willfully removed myself from that to some degree when I stopped touring so much.
"That's the most valuable thing I can say about dreaming, I dream in melody. And I don't always remember them, but when I do, there's got to be a reason for that to have happened."
But look at the way you recorded this new record, look at Magic Trick in the context of how you arranged it and submitted the music to have your friends contribute to it. You still have a dog in that fight or in that creative dialogue, that tradition.
Yeah, but if you listen to that record it's a super clean sounding, for the most part studio recording. Of course I have a dog in the fight, I'm always gonna make music, I'm always gonna make art, and that's my nature. I just feel like I have gifts, and my gift is my willingness to let every idea flourish, I've said that before. I'm not the most talented, but I'm the most persistent. No one's ever gonna make me stop doing this because they think there's a reason to. I still don't think there's a reason to. I draw and paint every day while my daughter stands there and watches me. I want her to see that, you know? And I want her to see me in the little studio making music, and join me on marimba and xylophone. For me, that's my purpose on. If I can give it to anyone it'll be her generation.
I could care less about waving my own flag or the garage rock revival. That's gonna change so much. By the time my daughter's 21 I don't even know if rock'n'roll is gonna exist, for better or worse. So I can't speak to what people five, ten years younger than me are doing. I wish them all the best. The moment that John Dwyer, just referring to him as a figurehead, the moment that he had this trope about tech bros, he wrote this fuckin' blog post that was in all lowercase letters, poetic and bitter, everyone that read that said, 'OK, the scene in San Francisco is dead because John Dwyer left!' For me that's fine, but you know, why? Why does that have to be the case?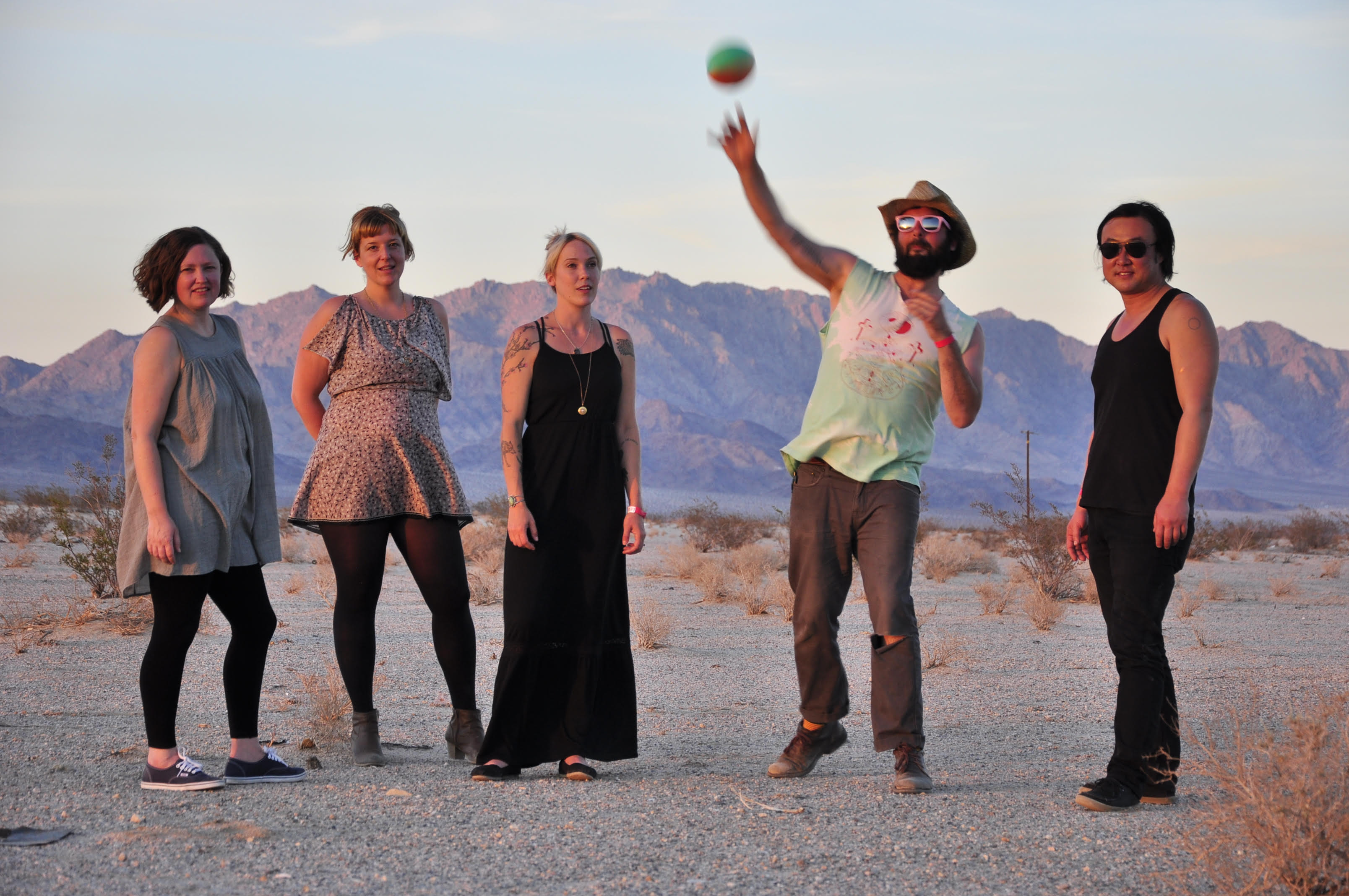 Maybe the vessels are just changing. If rock'n'roll used to be the vessel for willpower, maybe just the sound is changing. A band like Quilt is making very good music that's similarly subdued and studio focused, but its not flaccid or soft in any way. It's still turning gears. Maybe there's a sort nihilism there with the kids who are burning themselves out every night just rocking out till they can't anymore, building something up but later destroying it. I'm almost 30 and that's the time you start thinking about these things.
Yeah, I know Quilt.
Let's talk about the dreaming stuff too. I read something where you talked about the 30 seconds or so you have after waking up from a dream. Did you train yourself to lucid dream, looking at your hands as you fall asleep or something, or was it more something that came naturally to you?
Well I wouldn't even describe it as lucid dreaming, which I have done and I didn't train itself. I've only done it a handful of times, and those times were right before I'd fall asleep. My eyes were not all the way closed, and I'd let myself go so slowly to sleep that my dreams get ahead of my sleep, per se. They'd start creeping in before I went to sleep, and I know how to harness that when it starts happening. But what still holds true is that, when I wake up I have melodies in my head, stories written in my head, and if I don't write them down or record them within minutes they go away.
So it's the same as having a dream that you can remember for only a few minutes, and if you try to recount it later in the day you only remember a few details. The lucidity of the melody and the scenario is in my head, I need to write it down and capture it or record it. The great thing about technology is I could just turn on my phone, record the melody, go back to it days later and it's still relevant because it's been made concrete. That's the most valuable thing I can say about dreaming, I dream in melody. And I don't always remember them, but when I do, there's got to be a reason for that to have happened. Everything I record I try to revisit and try to give it some life later on, to orchestrate it.
[soundcloud url="https://api.soundcloud.com/tracks/268228234″ params="auto_play=false&hide_related=false&show_comments=true&show_user=true&show_reposts=false&visual=true" width="100%" height="450″ iframe="true" /]
Is that what you talk about with regards to the color-coded manual you'd give to friends about how to approach recording a song for this Magic Trick Record?
No, that was literally a composition book that I wrote each song title, the chords, the main melody and lyrics in different color magic markers with a table of contents. That was something I'd never done for a record before, but I told myself I was visiting San Francisco, I only had a week before I'd leave on tour, I had six days booked in the studio, I'm on the airplane and prior to that I'm gonna write down in its respective color everything these musicians need to know. And so when Joel Robinow, one of the greatest musicians ever from Once and Future Band, played his keyboard parts on the record, I just had the notebook out. It wasn't notated, just the letter of the chords. I would point to the chord and he would just improvise that, not many people can.
Cool! What can you explain about 'the pretty/sad song', I'm thinking of both you and the other Cohen, Leonard, but you've really perfected the pretty/sad song. Is it a matter of willpower permitting you to communicate so much of the heavy, somber and profound shit that you write? How do you find the uplifting voice to express some of these thoughts that you have?
The uplifting or the downtrodden? I'm trying to figure out which one you're talking about. But basically I'd answer the same way. I've never been a meek person, and I've never portrayed that. I've never liked indie rock, you know? I've never liked Neutral Milk Hotel, Built to Spill or any bands like that, you know. Leonard Cohen, only tangentially do I really like him. I do really appreciate him, and would never think of him as meek, but when I hear sad songs I hear people being 'poor me, woe is me', and that's something I've always tried to avoid.
There's real sadness and real happiness in every person, and it's impossible to deny that. But the ability to write a sad song, oddly enough, comes from confidence. The confidence to know that this is exactly how I want to say this and this is what I'm going to say about it. It's almost antithetical, because I would never portray, 'oh you're hurting me so bad'. It's more like I'm taking this pain and turn it into something, and if it's sad, it's sad. It boils down to my belief that I'm writing a good song, and that I know I am, not conceit but a confidence that comes with age and experience.
You don't have to understand it but you know it's there, and your friends must know it's there too if they can make a record with you in a week.
And it's not for me or them to understand, in a way. We all know that once a song is out there in the world for someone else to hear it, it's gonna take on its own meaning, you know? And I'm glad for it. I leave any song to be interpreted however one wants to do so.
"When shit started to go wrong, neither one of us had the emotional fortitude to maturely step in and say, hey, this is what has to happen."
Well what can you say about the new Fresh & Onlys record?
It's about halfway done, we recorded the first half of it with Kelley Stoltz in his home studio, Electric Duck Studios, and the second half I think we're gonna record somewhere else. It doesn't sound like anything we've ever done. There's one song that's pretty testosterone-y. The reason I say that is because there's a delicate pop sensibility to what we do, and there's times when we play live that we're a loud , ferocious band. We always try to balance that muscle with tenderness, so the most successful songs we've written and shows we've played are kind of a balance between the two extremes.
Yeah, that first record is super fuzzy and I feel like your production and maybe the space between notes caught up with the tenderness of the writing. You're saying that now there's this maybe return to an added drive?
Not necessarily. Long Slow Dance is a very tender record, and the next record, House of Spirits is fraught with dark emotions and dark feelings, maybe a little bit of madness and uncertainty. I think what we wanted to get back to is that we're the fuckin' Fresh & Onlys. No other band can do what we do, it's that sort of thing. Let's make a Fresh & Onlys record; let's not do this beat around the bush bullshit that our last record was, y'know? I still like our last record, but to me when I listen to it, it doesn't sound like The Fresh & Onlys.
That second half of the album though is stark and paralyzing. You talk about madness, and there's this thing the moroseness of your voice taps into that's really raw. It sounds like it facilitated this change or realignment, some sort of powers.
Cool, well I'm glad you thought so. I don't know how many people actually heard that record [laughs]. You'll probably like the next one, it's got some of that, but it's more cohesive. It's not done yet, so these songs might not even be on the record for all I know, but what we have now I'm really stoked about. We have like five songs done.
Who's playing bass?
Shayde. The original line-up.
He came back?
He came back and got himself healthier and better. Now it's just not the same, the same intimacy we had or the same trust. I don't want to cast him as the villain in this story, and a lot of it is that I moved away, I had a kid, and my priorities changed. If you really want to steer it back there, it's my fault. It's my fault that the band grew apart and sort of back together. I did start a family, moved to Arizona, came back not to record a Fresh & Onlys record per se, but a Magic Trick record.
It's always been a different dynamic with Magic Trick—these are friends of mine who I don't have deep, personal histories with and we just like making music together. With Shayde, we toured for four or five years straight nonstop, made records, got drunk together thousands of time, and that's gonna wear on you. When shit started to go wrong, neither one of us had the emotional fortitude to maturely step in and say, hey, this is what has to happen. I ran away in my way, he ran away in his way, and together we ran away separately.