[protected-iframe id="eae01eaa922ea6eeb7a6f05201dbdacf-35584880-95214067″ info="https://player.vimeo.com/video/179166483″ width="640″ height="360″ frameborder="0″ webkitallowfullscreen="" mozallowfullscreen="" allowfullscreen=""]
Since 'Midnight Moment in Times Square' premiered in May 2012, the project has showcased a new artist every month, projecting vivid artistic and creative content throughout Times Square nightly. Past artists have included Yoko Ono and Bjork.
August's Midnight Moment artist was composer Jherek Bischoff—whose video, above, is premiering for the first time on the Observer. Each night from 11:57 p.m. to midnight, a three-minute version of the videos Bischoff created for his latest album, Cistern, were displayed. On August 21 and 22, Bischoff performed with a silent orchestra in Times Square, streaming live music played by electronic instruments to 450 wireless headphones, in order to abide by Times Square's noise regulations after 10 p.m.
Bischoff's last album, Composed, featured collaborations with David Byrne, Caetano Veloso, Nels Cline of Wilco and Greg Saunier of Deerhoof. Earlier this year he curated the David Bowie Tribute Show in New York with Amanda Palmer. His latest album, Cistern, was recorded with a live orchestra inside a church in Hudson, New York. In an interview with the Observer, Bischoff talks about recording Cistern, how he first got into music, working with Amanda Palmer, reconciling composing instrumental music with the more popular demand for vocals and lyrical accompaniment, and the effects of space and time on music.
In your video "Cistern," you travel through a variety of different natural landscapes. Has nature influenced your music? I was raised on a 37-foot sailboat my whole life, from five to 18. A lot of that time was spent sailing around the world. I had a lot of very extraordinary natural things happen to me, like those Life of Pi scenes out in the middle of ocean, with dolphins actually jumping over me, sharks slamming their heads against the hull of the boat.
The way that I found all of nature has affected my music is the way in which I was raised. On a sailboat you move five miles an hour wherever you go. You have to be extremely patient. Doing that you really understand space, time, and distance—I think, a lot clearer than the average person. One time I sailed to Hawaii. It took 17 days, and we flew back in five hours. That kind of realization of how huge the world is, how much space there is out there, really has a deep meaning for me.
I thought, 'that's awesome, I want to be a part of that.'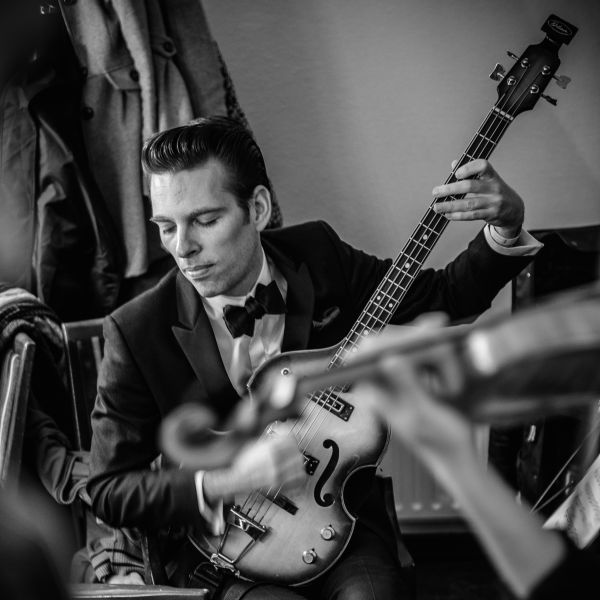 Cistern, originated from working in a two million gallon underground water tank with a 45-second reverb decay. You snap your fingers and hear that sound for 45 seconds in there, so you can almost see the space and time in a space like that. It really correlated to my time spent sailing long distances on a boat. I found making music in that cistern had an immediate, deep feeling for me. The very first thing I recorded in the cistern was the title track, "Cistern." That was the very first thing that came out of me when I set up my computer and started making music down there and as soon as I started making that music, I realized that was going to be the sound of my record.
How was the experience of touring and collaborating with Amanda Palmer? She is an amazing lady. She is a wild animal, so excited about making art, she is always thinking about the art, not the way to make the art—and I know that sounds crazy, because she is known for her Kickstarter campaigns and all that stuff—but everything she does is for the sake of making art.
She has been a lovely presence in my life because she is always so forward about bringing her fans over to my side, to really try to help me in any way she can. Touring with her for a year and a half or two years taught me a lot about stage presence. She is a much more extroverted person than I am, but I learned so much about connecting to an audience, because there is no doubt she connects with her audiences in an immediate way I was not used to. I was used to playing in bands, hiding behind the singer, not used to being a front person.
On those tours, I was able to open all of those shows, sometimes with a string quartet, or sometimes just by myself. Especially by myself it was like "oh my god I'm in front of a couple thousand people, I'm really not used to this." But kind of through watching her communicate with her fans, I really began to adapt a lot of the things she does, in my own way, I figured out how to actually talk to an audience and create my own cylindrical energy between me and an audience.
In David Byrne's book, How Music Works, he notes that the addition of lyrics to music can be a dangerous thing. As a composer, how have you coped with the pressure from the music industry and culture to include lyrics with your music? My record label, they are pretty trustworthy and hands off as to they let their artists do what they feel is right, it's more about pressure from myself, because music with vocals and lyrics certainly have a more natural built-in audience. Instrumental also has a built in audience, but I think a considerably smaller one, and so it's more pressure for me myself, like "oh I'm putting this out myself, will I be able to make ends meet?"
I would like to also mention in that same book there is a whole chapter on how space influences music. How punk bands wouldn't have made punk music the same way if they were playing in huge reverberant chambers like the cistern, and when I went into the cistern and tried to make loud punk music, it would have sounded like a bunch of mud, and how space itself informs how people compose music and the cistern was the actual extreme of that. You had to play the most extremely sensitive music to actually hear what's going on because of the reverb.
How did you first start playing music? I always had music around growing up, but I was really into baseball as a kid. My dad never pressured me to play music, but was certainly happy when I decided to go for it. I have always been attracted to low frequencies, bass, tuba, and upright bass all those kinds of low instruments. When I was probably in 3rd grade, around 12 years old, my school went on a field trip to Seattle and we visited five different religious sites. We went to this cathedral that had a huge pipe organ, and the organist happened to be there. I asked him "can you play the lowest note on that?" So he went down on the foot pedal and played the very lowest note. It was this gigantic pipe and you couldn't even hear the note, you just felt this rumble. Right there I thought "that's awesome, I want to be a part of that."