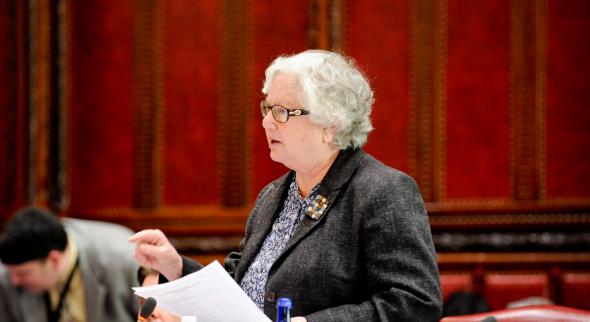 Queens State Senator Toby Stavisky—the ranking member of the Committee on Higher Education—has raked in tens of thousands of dollars in donations from for-profit colleges, one of them tied to a bribery scandal that took down an assemblyman from her home borough in 2009.
Stavisky has taken more than $23,000 in contributions from Forest Hills' Plaza College, its owners and its affiliates since 2002—$18,500 of it since federal agents arrested the late Assemblyman Anthony Seminerio on corruption charges related to the school in 2008. One of the affiliates that gave to Stavisky, Collegiate Management Associates—which U.S. Attorney Preet Bharara labeled a "shell company"—served as a conduit for Plaza College provost Charles Callahan III to funnel $170,350 in bribes to  Seminerio in exchange for legislation favorable to the for-profit institution.
Bharara's criminal complaint against Seminerio also alleged the assemblyman unsuccessfully sought to get Callahan III appointed to the state Board of Regents, which controls New York's public schools, and assisted him in navigating various agencies.
Collegiate Management Associates gave Stavisky $1,000 in August 2014. She took another grand from the college itself that October, $1,000 again in 2015, and reported taking the same amount from the school in her filings last month.
Callahan III has personally given Stavisky $5,000, while his father Charles Callahan—Plaza College's president—has donated $7,150. The elder Callahan's wife Elizabeth, who serves as Plaza's Vice President, has contributed $3,000 to the state senator's campaigns.
Seminerio pleaded guilty to honest services fraud, abdicated his seat and died in prison in 2011. Neither Plaza College nor the Callahans ever faced charges.
But a 2013 audit by Comptroller Thomas DiNapoli found Plaza had bilked taxpayers out of more than half a million dollars by improperly certifying students for state Tuition Assistance Program funds, which are intended for low-income college attendees. A ProPublica analysis that same year found more than 35 percent of Plaza graduates were unable to pay any of the principal on their federal student loans, leading the public interest journalism group to rank the school number one for student loan defaults among four-year, for-profit institutions.
Callahan III is an influential member of the Queens Chamber of Commerce—which might explain why Stavisky and a bevy of other pols from the borough were on hand for the ribbon-cutting on Plaza College's new campus in 2014.
The Stavisky camp dismissed the significance of the donations, and pointed out the state senator has received the endorsement of the New York State United Teachers union, which represents public college faculty. The candidate's team also highlighted that she has raised more than $1.75 million over the course of her 17-year career, making the donations from Plaza comparatively small.
"Senator Stavisky been a champion for public higher education," campaign manager Veronica Ng said in a statement sent to the Observer. "She's also been an unflinching advocate for campaign finance reform."
Handling Stavisky's campaign is the Parkside Group, co-founded by her son Evan. The lobbying and consulting agency also represented Plaza College until 2010, when the firm's co-founder Bill Driscoll departed and took the account with him.
Efforts to get comment from the college's current representatives were unsuccessful.
And Plaza is not the only troubled for-profit higher education company Stavisky has taken campaign cash from. Her July filings show a $500 contribution from the Illinois-based DeVry Education Group, which has given her a total of $1,750 since 2010.
DeVry's CEO stepped down in May amid a Federal Trade Commission lawsuit that claimed the school misled students about job placement prospects, and after the Department of Veterans Affairs began actively discouraging those receiving GI Bill tuition assistance from enrolling at the college. The company did not respond to requests for comment.
The Association of Proprietary Colleges, a group of for-profit schools to which Plaza College belongs, has given Stavisky $15,150 through its Tuition Assistance Program Political Action Committee since 2005—most recently, $500 in May of this year.
Stavisky became the first woman ever to chair the Higher Education Committee in 2009. But Republicans reclaimed control of the State Senate three years later, which has limited Stavisky's influence on policy.
But many observers expect the Democrats to gain complete control over Albany after this fall's elections, meaning she will likely resume the helm of the committee next year—if she defeats primary challenger S.J. Jung, whom she beat in 2014.