The theater was already at capacity when I arrived, but that didn't matter to the line of hopefuls standing outside the doors when The Museum of Modern Art hosted Torres for one of their Summer Thursdays concerts and, from the looks of it, organizers hadn't expected the 400-plus seats to be filled an hour before the show. 
That's just the kind of pull songwriter Mackenzie Scott's raw, introspective music inspires. With a meticulous attention to detail, her striking performances always feel personal, no matter how large the audience is. Whether it's a quiet museum or expansive amphitheater, Scott commands the attention of the entire room; every note she plays feels like a direct and experiential conversation.
Under the pseudonym Torres, Scott has been crafting music for the past three years in Brooklyn, following a move from Nashville. She became noted for her cathartic and mature songwriting skills after her 2013 debut record Torres, with critical acclaim skyrocketing after the release in 2015 for her sophomore album Sprinter.
During Scott's MoMa performance, one thing became clear: she doesn't just command a crowd's attention—music this powerful demands it.
While Torres delivered what was ostensibly a rock performance, especially during the show's final song "Strange Hellos," which ended with curling growls and thrashing guitar moves, rapt silence outweighed sing-alongs and crowded pits; the crowd hung on every note.
This fall, Scott and her band will bring their enthralling performance as openers for Tegan and Sara's North American tour, including a show at the Theater at Madison Square Garden on November 4.
The Observer caught up with Scott the morning after her concert at MoMa to discuss her upcoming tour, life between albums, the inspiration she's found in Joan Didion, and, of course, our current political state. 
[youtube https://www.youtube.com/watch?v=H6SIw30IOt8&w=560&h=315]
One thing I noticed at your MoMa show was the raw energy you brought. People were so silent, especially with the final song.
Yeah, I like the intimate moments, and to actually get to connect with crowds in that way. It is a rare gift to be in a space where people can feel like they can be silent, especially with a seated room. There's a strangeness to it; performing in front of people who are seated. At the same time it does provide an opportunity to connect in a different way than I would be able to in your standard rock venue. It felt like a special show for sure.
How do you prepare to perform these songs that are so emotional?
I think one of the biggest aspects is that we practice a lot. We learn how to pay attention to one another on stage because ultimately that's what makes the performance good, when the band and I are in tune with one another, and I pay attention to the audience. I try and feel the room and [at MoMa] I felt especially capable of taking some chances that I wouldn't normally take during a show simply because people were so attentive and very respectable, which is not always the case.
What was a chance you took that you wouldn't normally?  
Sometimes I'm so focused on making sure I'm playing the right thing on the guitar, or I'm focusing on staying in my correct key when I'm singing. But because the crowd was so respectful and quiet I was able to actually hear. Which, you wouldn't believe it, but half the time it's actually really difficult to hear when performing. I think it allowed me to interact with the audience.
There are some artists that take issue with people recording the show with their phone or photography. Where do you stand with that?
I take no issue with people taking photos at shows and taking little videos. I've done it myself. I'll never berate somebody for pulling out their phone and capturing a short video or something. I would rather people not be on social media the entire time but that's something I can't actually determine from where I'm standing on stage. As just capturing the show and having memories in that way, I don't find it to be super distracting. It's complimentary to me that people want to document their time.
[youtube https://www.youtube.com/watch?v=Ol61WOSzLF8&w=560&h=315]
Your North American tour with Tegan & Sara is coming up, how are you feeling right now leading up to it?  
I'm extremely excited. It's pretty much what I'm looking forward to in life generally right now. And I've heard some pretty fantastic things about Tegan and Sara, not just professionally but personally. I haven't met them yet but I'm looking forward to being on the road with them and having that experience. They're obviously pretty legendary at this point.
Was the tour in the works for a while?
I'm always looking to go on tour; it's my favorite part of what I do. I love making records and creating but it's kind of a painful process. The part that's really fun to me is being on tour and getting to meet people who are listening to the music and interacting with them. In the case of this tour I'm nothing but honored. I feel like I have actually been blessed beyond comparison with the types of tours that I've gotten to take.
The MoMa show is the last New York show before your Madison Square Garden date. It's quite the contrast. Do you have a preference in the size of shows you play? 
I truly love getting to perform in all kinds of environments because I think that it changes the shape of the show, and it's never for the worst. It's always just a different dynamic to explore. I like sort of tailoring the show to the type of venue that we're playing, so it's actually an opportunity for creativity on my end. There are different things that one must do in a more intimate venue versus a large venue, to grab an audience's attention and to hold their attention.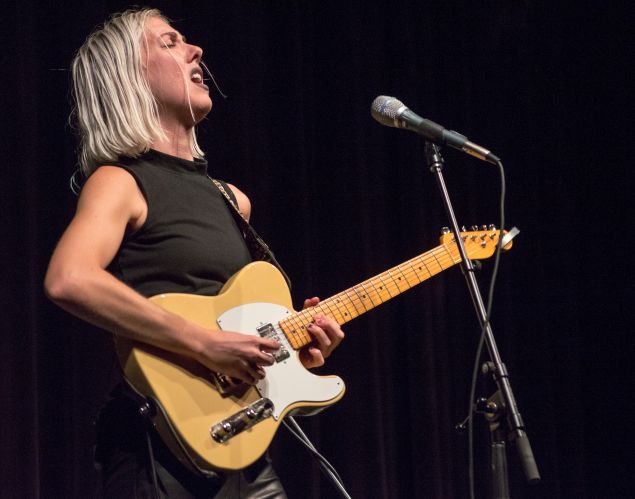 With that said, are you doing anything special or different for this tour?
I'm really excited to play a few new songs. We played a couple [at MoMa], hopefully looking forward to doing even more at the show at Madison square Garden. I anticipate that most of the people who see us on this entire tour have not seen me play previously, and it will be fun to play some of the older stuff and bring new light to it. There's no telling what that will mean in two months but there's always some fun nuance to try that will translate differently from show to show. The old songs that I play will have new life simply because a live show is always evolving.
What can you tell me about these unreleased songs?  
We played two and that's all I can tell you. It's new material that will be on whatever comes out next.
I've read that that you've been inspired by other writers, Joan Didion being one. It makes sense since I see what she does in her writing you do in songwriting form. Every person in the audience feels like you're talking personally to them, and I think she did that as well.
Thank you for saying that, that's actually one of the greatest compliments I think I received.
Is there a particular essay or piece by her that's your favorite?  
I love the entire Slouching Towards Bethlehem collection of essays but I have a special affinity for "Goodbye to All That," which is obviously one of her most popular essays. I also love "On Keeping a Notebook" and "On Self-Respect." She's just an important voice, there's no other way to say it. I've never read any collection of essays like that. Her words, they'll outlast us all.
"Goodbye to All That" was about falling out of love with New York. Between gentrification and other related issues, I think a lot of people have a sour taste in their mouth with New York. But do you still feel that sense of community living in Bushwick?
I love everything about Bushwick. When I dreamt of New York as a kid I dreamt of Manhattan. But obviously I'm still here and I haven't left so there's something to be said to that. Obviously it's a really complex discussion of the gentrification discussion. I am entirely sympathetic and I spent the last three years living here trying to determine how I can be a solution to the problem, rather than part of the problem. I want to be here because it's good for my art, it's good for the career that I have currently.
[youtube https://www.youtube.com/watch?v=yVgNYcJeiOg&w=560&h=315]
Going back to the Joan Didion, I feel like another similarity is your awareness of immortality, and fear of death you've expressed before.
I will say that she's far more skilled at it, I'm not sure if her natural inclination is to approach mortality clinically in the way that she does. It's all very observational. It's as if she's watching it from somewhere else, which is incredible. I mean we're all observers, but I wished I had the ability to be detached in that way.
It's been over a year since your last record and 2015 was a big year for Torres in general. Now you have this big tour coming up, how are you feeling right now just being in between those two things?
Honestly, when I'm in between work I always feel like I don't have a job. I really prefer to be busy. I prefer to be working. It's hard to be home, and I have a hard time with the writing process. I've been writing for several months and I'm just now sort of coming out of the other end of that. I prefer to be on the road, otherwise I feel like I literally don't have anything going on, so that's kind of where I'm at.
That's understandable. Do you feel like the writing process comes to you more when you are working and performing?
Not necessarily. I don't write a whole lot on the road because I am pretty busy and I do require a pretty significant amount of isolation and down town to write an album. I sort of think of the down time as a necessary evil because otherwise I don't get to the emotional core of what it is I'm after. I do need that isolation but it's a hard place to be.
You played Governors Ball this summer and right now there's a lot of discussion on the state of festivals and issues they're facing, like drug overdoses and weather conditions. What are your thoughts on them?
I'm a bit removed from that situation because I haven't played too many festivals. That being said, I see it happening from where I sit. I see reports of being dying and overdosing and structures collapsing. It's crazy and quite scary. I haven't been on the festival circuit and all I can do is hope my fellow musicians, and my festivalgoers as well, are safe and are aware of any dangers that could be prevented. Take care of yourself. Don't snort anything green. I think there's danger everywhere and when there are many people gathered there is more risk for something terrible to happen.
With this ongoing election I feel like some of your songs can apply to these political discussions, especially "Sprinter" which touches upon themes of hypocrisy. Do you agree? 
If people interpret it that way I take no issue with that. I think that politics are fucked. At this point I'm so dismayed that I have ultimately decided to wear blinders from this point moving forward in this particular election. It's so disheartening and if the songs that I write are interpreted as having political undertones or overtones, then sure. Ultimately, I think what I'm trying to do with all these songs is to shed light in dark places, and I think the political realm is certainly a dark place.