Has sitting on your couch while watching the Olympics inspired you to begin training? Perhaps it's for a marathon of beers, or maybe you've simply decided it's finally time to go to the gym you've been paying for, if only for the social media aspect. If you're unsure of where to begin, you might want to start at the Urban Wellness Clinic in Midtown. It's meant to act as a one-stop shop to get practitioners to peak performance level—using physical therapy, massage acupuncture, yoga, chiropractors and personal training to prep its clients for their personal brand of fitness, whatever that might be. With more regular folks working out daily and trying intense fitness plans usually reserved for models and athletes, a clinic is necessary for more than just Olympics gymnasts. And luckily, it's available for everyone—you don't have to be in Rio to experience their offerings; it's available for normal folks, too.
Dr. Emily Kiberd, the founder of Urban Wellness Clinic, has trained 2016 Olympic qualifier Sarah Cummings and Olympic soccer star Alex Morgan. Marathon runner Cummings has an intensive training regimen that would exhaust mere mortals—she wakes up at 4:45 a.m. and races out the door without coffee. Then, a normal day involves 20 mile runs (on the weekend), mat exercises, foam rolling and core work, including planks, pushups and a subtle infusion of Pilates. After that hardcore routine, she'll stop into the clinic if she feels any old injuries flaring up, especially if ice, compression and KT Tape doesn't cut it.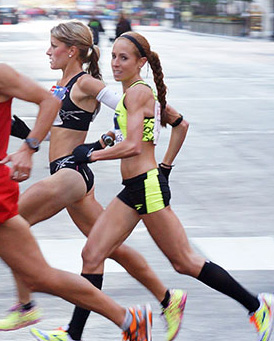 "Midweek is scheduled down to the minute with little time to spare or waste in order to squeeze in the sleep required to continue to train and perform at a high level," Cummings said. And, if you weren't already tired after simply reading about her busy schedule, know she also works at BlackRock, arriving at 7:10 a.m. and staying until 7 at night. She relies on Dr. Kiberd to make sure she's able to keep up (and a hefty amount of caffeine, proving she is human like the rest of us).
"Olympic athletes are an intense, dedicated breed," Dr. Kiberd explained. "Every sport creates asymmetries in the body. Swimmers have hyper-mobile shoulders to have that beautiful butterfly form, runners have tight hamstrings and a hard time rotating because pounding the pavement with high milage is so linear. We don't try to 'fix' their compensations, because they need these to perform at a high level, but we do try to keep our athletes within a spectrum. If they are severely overtraining, they will be injured and eventually sidelined. On the other end, if they are feeling balanced with no aches and pains, they typically aren't training hard enough. We try to hit that sweet spot right in between. Athletes are so in tune with their body compared to the everyday Joe."

Dr. Kiberd believes movement, nutrition, sleep and stress are all important to general well-being, and if one is off, everything is out of sorts. "You could have your nutrition dialed in and work out four to five times a week, but if you only sleep five hours a night, your body is hurting because it's not recovering properly," she said. She recommends learning to breathe deeply, creating a personalized stretching routine (especially if you're in the office), setting an alarm as a reminder to meditate and tracking sleep with an app. It's good advice, whether you're an Olympic athlete or find yourself winded climbing walk-up stairs.