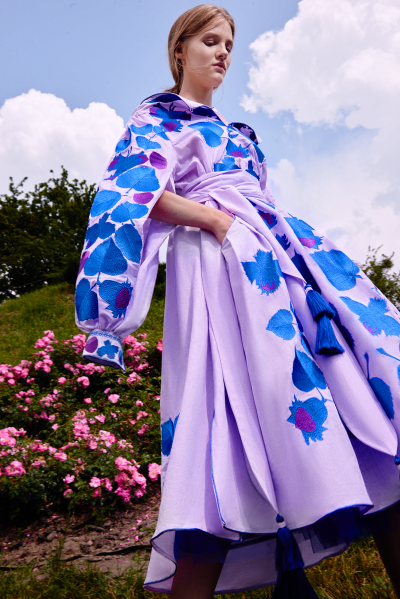 Yuliya Magdych is the latest designer to put her touch on fashion's latest obsession—the traditional Ukrainian embroidered costume. With a trunk show for her resort-wear on ModaOperandi.com going on now (and lasting for two weeks only), Magdych's star is on the rise, giving stiff competition to fashion's current favorite brand for vacation insouciance: Vita Kin.
The best known part of the traditional Ukrainian costume is the vyshyvanka: a gender-neutral linen shirt embroidered with decorative patterns. It's been around for centuries, though the exact date of its first appearance is a mystery. The patterns vary by region: Red and black acorns are usually embroidered in Ukraine's capital, Kiev; green and orange patterns are produced in Western Ukraine; and blue decorations are relatively new, appearing at the beginning of the 20th century.
The vyshyvanka had, since the establishment of the Soviet Union, been worn as a political act. To wear it was to be defined as a Ukrainian nationalist. And, in the cultural turmoil during the aftermath of Soviet rule, to be defined as a nationalist was not necessarily a good thing. Writes Anna Fournier in Forging Rights in a New Democracy, "The making of the unique person in post-Soviet Ukraine was tightly bound with the making of the patriotic person…That said, the new pedagogy was to be based on historical and cultural traditions rather than on 'nationalism,' the latter understood here as a divisive, intolerant, and potentially violent ideology."
Global interest in the Ukrainian vyshyvanka began back in 2014, when Russia stormed into the Crimea. To wear the vyshyvanka in Crimea was a risky choice—an invitation for abuse and violence. That summer, Maryna Porshenko, the wife of newly installed President Petro Porshenko (who was voted-in earlier that year by vyshyvanka-clad constituents), posed on the cover of Elle Ukraine wearing a red vyshyvanka by Vita Kin. It was a political choice to express pride in her country, but it had an unintended effect: The dress, which revamped the traditional costume and made it modern, sparked a fashion trend amongst Ukrainian and international socialites. That winter, the jet set traveled to exotic locales, wearing colorful (and covetable) vacation frocks by Vita Kin, setting Instagram ablaze in search for these vyshyvankas and full-length dresses. Or, at least, a poor man's copy.
But the source of this trend dates even further back. In the summer of 2012, the Euro Football Championship was hosted by the Ukraine. National pride soared, and traditional Ukrainian embroidery was soon found on everything from shirts to bags. But because Ukrainians' fervor for their country in 2012 was more of a local news story, the trend didn't take its place on the international stage until Ukraine was thrust into the spotlight two years later with the invasion of Crimea.
Its popularity amongst those of us in the West suggests a desire for authenticity. Just as artisan food has risen in popularity in recent years, with micro-breweries and local farm-fresh ingredients, artisan clothing has garnered the same appeal. It ensures quality, but it also inspires a sort of nostalgia.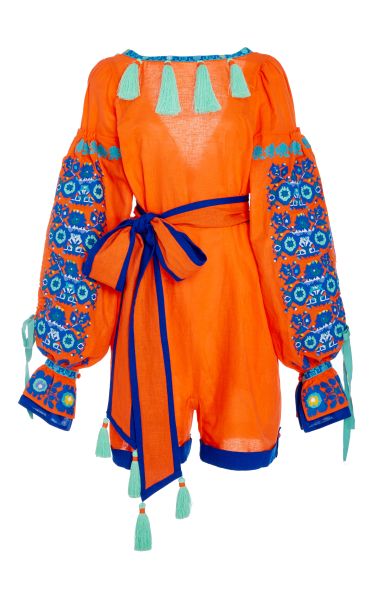 But in the midst of this frenzy, Yuliya Magdych has been quietly building up her own vyshyvanka empire. Her work is quirky and whimsical, never shying away from an interesting cut or unique fabric. Magdych never went to fashion school, nor did she intend to become a fashion designer. "I never expect[ed] it could become my work and my passion," Magdych said via email. But, as a child, her mother taught her the different embroidery techniques, giving her a lasting love for the art of creating traditional Ukrainian costume.
In her Resort collection, currently available for pre-order at Moda Operandi, billowing bishop sleeves are split, allowing the lower portion to act as a sort of cape. Hems are given the mullet treatment, and Magdych embraces the cold-shoulder trend with a V-neckline that resembles and highlights the wearer's collarbone.
Her embroideries include different kinds of flower patterns, like roses and viburnums, but there are also baskets of cherries, deer bedecked in and cavorting amongst a field of flowers, fluorescent falling leaves and fields of cornflowers and grapes. Her fall collection, despite its more geometric style of decoration, including rigid confronted animals typical of the medieval period, is no less playful and fun. Coats are edged in fur (as are dress straps), and many designs feature a vampy boudoir edge, with pleated sheer dresses and frocks with sheer insets.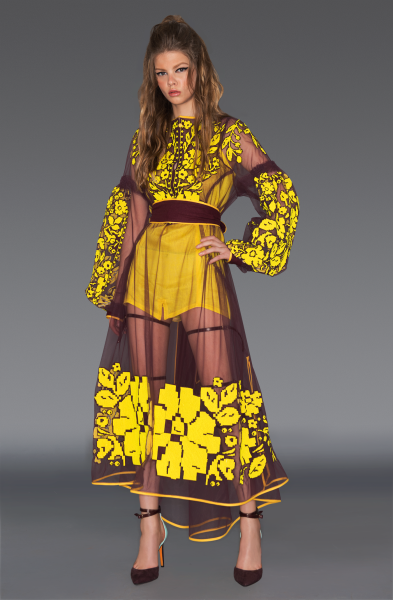 For Magdych, the rise of the vyshyvanka and traditional Ukrainian costume is a result of national pride. "In my opinion, this trend was born as continuation and result of the revolution in my country." But its rise globally, in a world of unrest and uncertainty, acts as a sartorial herald to a peaceful future: "[Like a] sincere patriotic wave, the vyshyvanka spreads all over the world like a symbol of freedom and dignity."