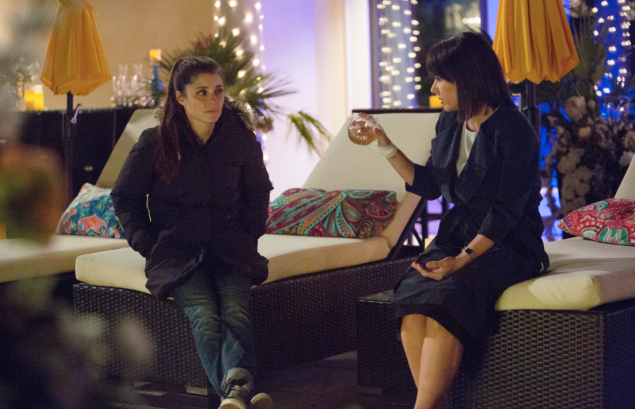 I really wanted this season of UnREAL to be great. The show itself started off strong: having already established itself as a thoroughly feminist, thought provoking series in the first season, it attempted to tackle race relations in its returning season. But this season was tremendously rocky and problematic, beginning with its inability to go beyond racial stereotypes and succumb to the very expectations it tried so hard to subvert. What ensued was a slow, muddled, and disappointing return.
The main problem lies in its inability to flesh out what could, and should, be some very compelling characters. Of course UnREAL's depiction of Darius would appear to be racist, would appear to be as though the show was using him as a prop, a backdrop on which the white characters could play out their (mostly) petty dramas. It appeared racist because inherently, it is racist. It was an attempt to fit in a black narrative in a white–dominated show, but only to serve the purpose of a plot—never to explore deeper or probe more. Dramatizing police brutality against the black population, and then completely neglecting the story line for the rest of the season, is thoughtless and insensitive. There was ample opportunity for UnREAL to point out the absurd irony of Rachel championing her first black suitor, all while building a horribly racist narrative around him. Instead, the show succumbed to the narrative—in what is perhaps a more absurd and more ironic twist.
Rachel and Quinn are so dynamic and fun to watch—why couldn't Darius, Chantal, or Ruby be afforded the same courtesy, and the same quality of writing? Darius is sometimes compassionate, he's sometimes selfish, he's always inconsistent. Ruby and Chantal are both terribly stereotyped. And as for Romeo? No one mentions his being shot. Not once. Not after he returns to the set. I don't even think Rachel apologizes to him. It's a testament to a loss of identity within the show, and a loss of the high quality writing UnREAL used to deliver.
The season finale wastes no time in jumping into action, with Rachel and Quinn infiltrating Coleman's office and destroying any evidence against Rachel. The two reveal that Coleman's highly awarded documentary was largely fictionalized, and a disgraced Coleman is led off set. Meanwhile, Quinn decides to manufacture the proposal into a wedding—two brides walking down two aisles to one groom, unbeknownst to each other.
Infuriated by his dismissal, Coleman visits a haggard Jeremy. The two visit Yael on set, which provides a huge logical discrepancy—how on earth did Jeremy get on set? Yael, who has been forcibly kept on set, is convinced by Rachel to interrupt the wedding(s).
The three plot the downfall of Rachel, but Jeremy is shaken by Yael and Coleman's callous discussion of Rachel's childhood rape. Upset, Jeremy tells Rachel that Yael is a journalist, determined to bring down the show. Odd, because Jeremy was last seen beating Rachel. The writers could never possibly make Jeremy likable, and attempts to do so are perhaps even a little offensive. Rachel quickly manufactures a plot to discredit Yael, but Coleman decides to risk his career to bring down Everlasting. It seems as though this entire plot line is moot. Just get another job, Coleman. It's so easy.
Meanwhile, at the wedding, Darius falters when confronted by two confused (and very angry) brides. However, when Ruby shows up at the behest of Jay, the decision is an easy one—Darius quickly proposes to Ruby, who declines, and insists the two get to know each other before deciding to get engaged. How sensible.
While the two love birds drive off, Coleman and Yael similarly escape to reveal Everlasting for what it really is. The two are stopped by Jeremy, who wrecks the pair's car in what is a potentially fatal accident. The season closes with Rachel and Quinn, exchanging looks over the men who have wronged them, Jeremy and Chet.
Here's hoping that UnREAL takes a step back and returns to its ironic, condescending, manipulative, wonderful roots in season three.