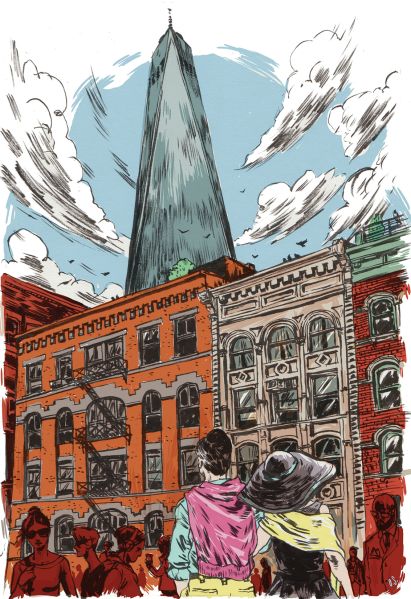 Real estate broker jargon is a wonderful economic litmus test, often mirroring social trends. It is always interesting to dissect what is really being said between the sales pitch and the constant harangue that everything always goes up, up, up! These days, many are loath to admit the market has leveled off in NYC, Miami and the Hamptons…but there is no denying the drag. As one formidable, established and honest broker recently told me, "The Hamptons market is positively sleepy, and in New York they're shuttering retail. It's getting scary. Even Billionaire's Row is making a few adjustments."
It was the kind of idyllic Hamptons morning which made the maddening traffic on 27 seem somewhat more tolerable. I had walked to retrieve my morning coffee and paper, admiring the artful array of tartlettes and croissants and spiffy fixtures in Pierre's chic new Sagg Main store (where a neighbor was congratulating him on snagging the coveted retail location) when I literally bumped into Real Estate Doyenne. Her perfect spray tan and diamond Cartier sparkled as she teetered on summer wedges.
"I didn't realize you are my neighbor in Sagaponack!" I said, as the small country store is generally frequented by close-proximity locals.
"No, I live in Bucolic Pond [not real town]," she replied, while talking to someone else on her cell phone.
"Well, that's quite a trek for a cup of coffee," I shrugged.
She finally put aside her device, revealing puckered arms in the process. "Now that the market has slowed, I need to be more inventive in finding customers. So Richard, are you buying or selling? I have an exclusive in Southampton's estate area that would be a perfect upgrade for you and Dana."
"Why do you think I need an upgrade?" She'd never been to my home.
"Don't be sensitive. Everyone needs an upgrade," she declared. "Or why don't you let me sell your apartment in the city to an international buyer for scads of money and move to Tribeca, where everyone else is moving?"
"We're very happy, thank you." I was transfixed at her audacity and sales pitch, which were worthy of a home shopping network marathon. "And why would I want to be where everyone else is moving?" I raised an eyebrow.
"Oh, don't be oversensitive." She smiled. "I just thought a cool guy like you would love a loft in Tribeca. I have one with river views for $12 million."
'For most people who are uncool, they need to buy downtown when they are having a midlife crisis, which is why Tribeca and Nomad is turning into hedge fund central.'
"I work downtown and can't wait to leave in the evening and get uptown. As my late father used to say, 'Living between Fifth and Madison is more like Europe than it is the rest of the United States.' "
"Well, your father was a smart man. Whatever happened to his apartment or house?" At this point, she was rambling on like a runaway train, so I just let her keep going. "You see, you don't have to live downtown because you're already cool so it's an anti-statement, I get it. The downtown cool guy living uptown! But for most people who are uncool, they need to buy downtown when they are having a midlife crisis, which is why Tribeca and Nomad is turning into hedge fund central."
"Thanks for the real estate lesson and great seeing you." I made my best effort to escape.
"Here's my card," she said, sliding it into my hand before I could say "commission."
"If you have any uncool but wealthy friends from the UES or the 'burbs who want to reclaim their youth and be cool, I have a loft that will give them a whole new image. I even think it comes with a supermodel!" she cackled.
********************
The terrace and geranium-filled pergola of the stunning Belmond Villa Sant'Andrea in Taormina is a Sicilian fantasy, and I was catching up with Best Man, both of us recuperating from a fabulous all-night party in a marauder's castle in Siracusa. Hair of the dog was order of the day as I sipped a lovely Sicilian white from beneath my Tom Ford frames, concealing well-earned dark rings. Best Man, who is also an ubersuccessful real estate developer, nodded in agreement at the Doyenne's premise.
"The whole studio and one-bedroom market is subsidized by what I call 'the mistress economy,' " he said.
"I love that term!" I said, wide-eyed, as I pulled out my iPhone to take notes and took a swirl of perfectly al dente spaghetti alio e olio.
"While the market for larger apartments have stalled, the studio and small one-bedroom market is on fire. Not because of the foreign rich but because younger, better playthings also need a place to live. Why would you be a 20-something living in a luxury building in Manhattan instead of in Williamsburg, unless your parents or a sugar daddy were paying for it?" he surmised.
"Do you think the wives know?"
"Do you think the wives care? That's the real question. As many women of a certain age and social status would say, 'It's…just  one less thing I have to do.' " He shrugged.
'Why would you be a 20-something living in a luxury building in Manhattan instead of in Williamsburg, unless your parents or a sugar daddy were paying for it?'
"So they buy a studio or one-bedroom for the mistress and not for the kids?" I pressed on.
"It goes like this," he said, mimicking the thought process of a player. "I might buy a studio right now in a corporate name so my mistress has somewhere to live, and when I've lost my libido, in 10 or 15 years, I can always gift it to my (overindulged) college-age kids." He chuckled then delved into a scrumptious, multilayered melanzane parmigiana.
********************
The gates to one of the Hamptons' most unique estates opened slowly to the sound of crunching gravel, which always has a funny way of stimulating one's appetite.
My friend, the Colombian-born Disenador Elegante, gave me a tour of his eclectic manse ending in the dining room, a Tony Duquette explosion of color and originality. His chic wife directed the professional staff as they served the appetizer, a perfect Rubik's cube of alternating squares of feta and watermelon.
"We actually bought the property before Sagaponack became Sagaponack," he offered, knowing that it wasn't always the white-hot center of Hamptons real estate.
"I have never seen anything so beautiful," I exclaimed. "Designer food! I wouldn't have expected anything less."
I surveyed the perfect dinner, pond view and company. The Silver Fox and L'Actrice were in attendance, having just returned from their modern manse in L.A., where they entertain high above the Hollywood Hills, replete with the dazzling view from the infinity pool.
"Does the new house have a duplex closet like your last one?" I asked the perfectly turned-out L'Actrice.
"Sadly, no, but it's clean, modern and young. I saw a house on the Bird Streets. But then we saw this, and it was perfect. Everyone wants to move to Florida when their kids graduate high school, but we chose L.A. I don't want to live in tax prison." She grimaced. "And it's convenient to all my auditions for pilot season."
"Congratulations on your role on [well-known TV show]."
"Thank you. And to you, with your new show in the works [which is based on this column and book]. You'll have to move L.A. now that you are a mogul in the making." She laughed.
"I'll just take a bungalow at the Beverly Hills Hotel like Howard Hughes. You can't beat business meetings in the cabana and the tuna salad. That, for me, is perfection."
"You'll be buying a home soon enough. You should use our real estate broker out there." She mentioned a boldfaced name who is also a reality-show star. "They wanted to put me on the show," she added, "but I don't think reality TV would be a smart move now that I am getting more dramatic roles." Her sumptuous David Webb leopard bracelet sparkled under the chandelier.
"It would be fun though." I thought of L'Actrice amid all the dolled-up ladies. "Think of all those catfights. I'm not sure the Silver Fox would approve, though."
"If she decides to do it, I told her I would stay in New York. I'm so excited for the new apartment," he interjected.
"What floor again?" I asked. Silver and L'Actrice have bought an aerie on Billionaires' Row.
"The 99th [not real floor]. I'll miss the family apartment, but we're ready for something new."
'"I'll visit once. I don't like being up that high," I explained.
"You'll love it. He grinned like a teenager. "Once you get up there, it's the real estate version of buying a Maserati."
********************
Our bicycle tour of Amsterdam included a number of museums—the Cheese Museum, the Torture Museum, the Cow Museum, the Prostitution Museum and the Houseboat Museum should not be disregarded. Our courtly, gray-haired tour guide met us at the architecturally daring Conservatureum Hotel and brought us on a two-hour route encircling the city.
"This area is called De Pijp," he said when we stopped to rest. "The buildings here are rather thin, how do you say, like a pipe. Which is why it's called De Pijp. It was always a very busy area and always quite inexpensive but now—how do you say, gentrification?" He shrugged. "People are moving back to the city. They like the idea of being able to bicycle to work and such, and in the suburbs you cannot do that. In Amsterdam it becomes a way of life."
'If someone gets a divorce and they want a new lease on life—excuse the pun—the husband might forsake his old life on Park or Fifth for a modern new apartment for his sexy new plaything downtown.'
"I see all the older people on bicycles. They all look very fit," I said.
"Yes, we don't view it as exercise but like brushing one's teeth. Now everyone wants to live in the city, the younger people and the older people. This street"—he pointed to one of the main thoroughfares as we peddled onto a popular street dotted with Indonesian restaurants—"used to be dangerous in the '70s. With drug addicts and such, but now it's quite popular. You see that old warehouse?" He pointed to an 18th-century building painted an austere, youthful black. "Now it's a condominium."
"The world is going condo it seems," I replied. "And where do you live?" I asked as we briefly stopped to view a lock bridge.
"I live in a small town outside the city. It's very quiet and lovely, but now that my children are grown, I am thinking about moving back into town. It gets quite lonely rambling about a house by oneself. I like the idea of being where the action is. To feel young again," he said, glancing over for a moment as we passed the Hash, Marijuana and Hemp Museum in the red-light district, the women in the window beckoning.
********************
Cocktails aboard a boat in the Mediterranean so large that it was more ship than yacht, able to seamlessly accommodate an intimate birthday dinner for 100 without crowding. Once on board, I double-kissed Mademoiselle Real Her-State, whose family is known in the business but who's made a name for herself in her own right. We sipped pink Champagne under the Italian moonlight.
"How is business these days?" I asked.
"It definitely has slowed down, but new development is still hot."
"Any new trends…like people moving downtown to look and feel younger?" I was leading the witness.
"That is definitely a trend. But the bigger trend is people living uptown and buying crash pads downtown, as well," she said matter-of-factly.
"You mean they actually have a separate apartment below 14th street and keep the one uptown? And these are…married people?" I lowered my voice to a whisper.
"Yes. They say they are buying it for their children or they don't want to have to get in a car after a long evening downtown and travel uptown."
"You don't think they are using it for affairs?" I probed.
"I don't ask, and I don't tell, Richard. What people do is their own affair—literally."
"Smart lady," I said, as a fleet of ominous black Merecdes vans pulled up depositing more white-clad guests, all Louboutined up and precariously negotiating the gangplank.
"Some of my clients are rich but bored and want to feel and look young. They buy the modern apartment and corresponding art for image. Or if someone gets a divorce and they want a new lease on life—excuse the pun—the husband might forsake his old life on Park or Fifth for a modern new apartment for his sexy new plaything downtown," she mused.
"A story as old as time."
"Just look at Prominent Divorcé." She leaned in. "He just bought an apartment [in a downtown area] for his young girlfriend."
"Was it prime?" I asked.
"A little fringe from what I hear," she sniffed.
"How is that?"
"Look, even downtown, there's a big difference between buying on X street versus Y street. But…she's too young to know the difference." Mlle. Real Her-State arched a perfect eyebrow as we made our way to our placecards.
The terrace of Capri's eternal social hub, the Grand Hotel Quisisana, was bustling as an international group, bedecked in their summery finery, most of it acquired from the island's fashion maestro, Roberto Russo, air-kissed each other and caught up. People were either coming or going from places, like St.-Tropez and Ibiza, part of the real estate chessboard of 1 percent vacation spots. An old friend and Capri fixture beckoned and introduced me to his voluptuous new girlfriend, who was sipping a Champagne cocktail with fingernail-sized fragole, aptly named La Principessa.
"I'll have one of those but call it the Principe. My wife wouldn't argue," I told the bemused waiter.
We were once again meeting the Silver Fox and L'Actrice, who had just flown in from London and Sardinia for L'Actrice's birthday. Her one-shouldered Dior lace jumpsuit clung to her toned figure like a second skin. Once we were sufficiently cocktailed, we strode on the Via Camerelle, where L'Actrice became photographers' catnip as we walked to the ever-popular Villa Verde for her soireé.
"What's your next article, Richard?" she asked as I steadied her on Chanel Lucite Cinderella pumps.
"On real estate Viagra, where people want to move Downtown or Midtown after the kids go to college. A real estate midlife crisis. Would you agree?" I asked, hoping she would.
"Yes, entirely." She laughed. "I think once people have raised their children, people want a change, and trading your old apartment for a new one is a good idea. It's much better and more efficient than trading in your spouse, which could be much more of an expensive move." We walked into the garden just as a world-famous basketball player did, and suddenly he was surrounded by a sea of iPhones. While Dana and L'Actrice posed with him for a selfie, I gazed at the Capri paparazzi photos on the restaurant walls, musing that no matter who you are, everyone wants to be front and center, in the prime real estate—where all the action is.