Warby Parker has just introduced another way to procrastinate throughout the workday, with their very first video game. Worbs is the name of the game, which was created in collaboration with the video game culture site and magazine, Kill Screen, and it's bound to help you kill some time when the midday slump hits. The games' objective is to match similar colored marbles in a bowl, set on a well-appointed desk. Also in the scene are cheeky pencils marked with "Writers Block" and a book in the corner with a rotating display of ironic titles, including "I Know You're Bored But What Am I?" and "Where Was I Going With This?" Just a warning, the latter is how you will probably feel after spending 30 minutes clicking on these colorful orbs.
Worbs is a physics-based game with a major focus on simple graphics, which is quite closely with Warby Parker's aesthetic for optics and sunglasses. It also falls in line with Kill Screen's main goal, which is to locate the "intersection between games, play, and other seats of culture, from art to music to design." The site was co-founded by Jamin Warren, a former reporter for the Wall Street Journal. "Working with such a respected voice in the video game industry—and a company that understands the impact of incorporating art and culture into their medium—made our first foray into gaming a special one," explained Warby Parker' co-CEO and co-founder, Neil Blumenthal.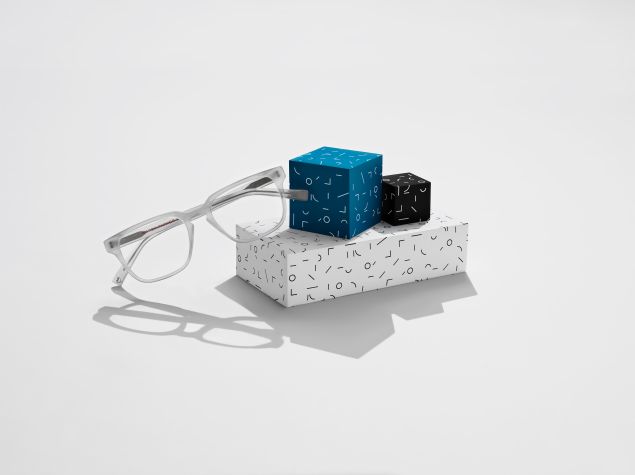 The coordinating limited-edition glasses, the Burke, are the perfect accessory for this computer game, or really any video game, as they are fit with anti-reflective and anti-scratch lenses. The icy grey frames will be a tell-tale sign of your gamer tendencies, as they come embossed with a Kill Screen logo on the temple; that same logo is deconstructed and splashed across the case that the frames will arrive in.
Worbs is yet another piece of Warby Parker's expansion beyond face accessories, which includes an illustrated book, keychains, towels, planters and mugs. Last Fall, Blumenthal detailed to Fashionista how the optic range was branching out beyond just glasses, hoping to become a "tech-enabled lifestyle brand." With the launch of their first-ever video game, Warby Parker is definitely dipping their toe even further into the tech market. While this game surely won't be the next Pokémon Go, it will definitely provide at least a few minutes of entertainment, and an excuse to buy a new pair of glasses.