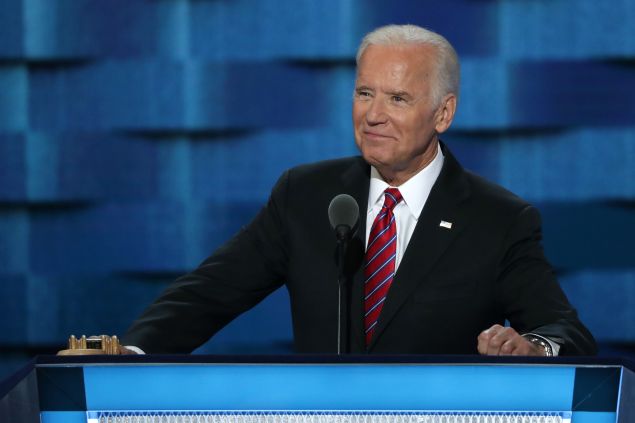 On August 3, Tim Canova petitioned Vice President Joe Biden to rescind his endorsement of Debbie Wasserman Schultz's re-election to Congress this year.
"Vice President Joe Biden is a good man who has served our country and party ably and honorably," Canova wrote in a statement to supporters. "In recent days, Debbie Wasserman Schultz has announced that Joe Biden will be coming to South Florida for a fundraising event for her reelection campaign, to be held this Friday evening, August 5th at the Cruz Building in Coconut Grove."
Obama and Biden have tried to save Wasserman Schultz's career, but her overt favoritism for Hillary Clinton has provided Canova, her first ever primary challenger, momentum in fundraising. Thanks to a number of disenfranchised Sanders supporters, by June 2016, Canova surpassed the $2 million mark in contributions without any assistance from super-PACs or corporate donors. Following the controversial Wikileaks release of DNC emails—which resulted in Wasserman Schultz's resignation—Canova received an additional boost in donations.
Canova's rise in popularity has caused establishment Democrats to get nervous, inciting Obama and Biden to formally endorse Wasserman Schultz for reelection preceding the Democratic primary race for her congressional seat on August 30. Biden's plan to host a fundraiser for Wasserman Schultz is the latest measure of damage control by the Democratic party, after WikiLeaks exposed DNC staff actively working against the Sanders campaign while providing Clinton with public relations support.
Wasserman Schultz's defeat in her own Democratic primary could have negative implications for the party as a whole, with other incumbent Democrats left vulnerable to insurgent progressive challengers in Congress. The candidates Sanders endorsed, Zephyr Teachout in New York and Pramila Jayapal in Washington, both won their respective primaries for Congress. Since Sanders' campaign ended, a political consulting firm run by top Sanders' aides has been working for Canova's campaign.
Canova has exposed multiple flaws in her service as a member of Congress, beyond Wasserman Schultz's poor leadership as DNC chair. "She cannot possibly defend her record of swimming in corporate lobbyist money and pushing for corporate interests over those of South Florida residents—as evidenced by her support of predatory payday lenders, the Trans-Pacific Partnership, private prisons, and Big Sugar and Big Agribusinesses that have fouled our waterways," Canova said in a statement to supporters, attempting to explain why Wasserman Schultz has refused to participate in a debate with him. He added, "last year she had the highest absentee rate of the Florida delegation, with the exception of Marco Rubio."
On the heels of his failed presidential campaign, Rubio rescinded his decision not to run for re-election to the Senate. Rubio's Democratic challenger will likely be either Congressman Alan Grayson and Congressman Patrick Murphy. Murphy, a former Republican who donated to Mitt Romney's presidential campaign in 2012, has received endorsements from both Obama and Biden while establishment Democrats have pressured Grayson to drop out of the race.
Both candidates have suffered setbacks in recent weeks. Murphy's resume was exposed by a reporter to contain several exaggerations and misrepresentations of his experience. Murphy has also been called out for receiving more campaign contributions from Wall Street than any other Democrat in Congress. As a retort, Murphy and establishment Democrats exploited Grayson's messy divorce, in which his lawyers were able to avoid splitting his assets with his wife of 20 years because she failed to annul a previous marriage.
Despite the backlash and resentment from voters over the corruption of the super delegate system, establishment Democrats have insisted on formally endorsing their preferred primary candidates, often swaying what would otherwise be closely contested races. The influence the Democratic Party has in anointing their own candidates before anyone has a chance to cast a vote is undemocratic, and symptomatic of a Democratic machine reluctant to allow progressives to challenge the status quo.