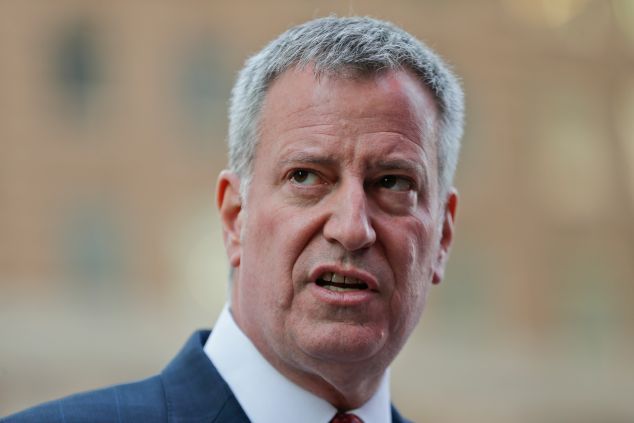 A former New York City Water Board member was slapped with a $1,000 fine from the city's Conflicts of Interest Board after he sponsored a birthday party political fundraiser for Mayor Bill de Blasio's reelection campaign.
In a COIB disposition, Joseph Finnerty said he was asked on April 28, while still serving on the Water Board, to participate as a fundraiser for de Blasio's reelection bid and became a sponsor for a campaign event—a birthday party featuring comedian Louis CK—scheduled for the evening of May 12.
His name appeared on the invitation as a host, requesting campaign donations for the mayor in amounts ranging from $100 to $2,500, according to the disposition.
But before the fundraiser, he reviewed the rules of the board and wondered whether he was actually allowed to fundraise for the mayor as a member of the Water Board, which sets the city's water rate, the disposition said.
On May 6, he discussed the matter with New York City Department of Environmental Protection Acting Commissioner Vincent Sapienza. Six days later, at around 12 p.m., Sapienza informed him that his actions would violate Chapter 68 of the city charter if he continued to engage in fundraising for de Blasio, prompting his immediate resignation.
Chapter 68 mandates that a public servant—other than an elected official—who is a deputy mayor or head of an agency charged with substantial policy discretion cannot directly or indirectly ask any individual "to make or pay any political assessment, subscription or contribution for any candidate for an elective office of the city or for any elected official who is a candidate for any elective office."
In assessing the fine, the board said it took into account his immediate resignation and the fact that he then avoided any continuing violation that would have occurred had he remained at the Water Board. The board also considered the high level of his position.
At an unrelated press conference this afternoon about legal representation for tenants in housing court, the mayor admitted that his fundraising staff was wrong to ask Finnerty to sponsor the event.
"They shouldn't have, and it was an honest mistake," de Blasio said. "They should not have and we're going to tighten that up."
But he defend Finnerty's actions. "I'm very sorry that happened," he continued. "He's a good guy, he was trying to serve the city. It was just an honest mistake."
COIB also released two other dispositions today.
An administrative staff analyst for the New York City Administration for Children's Services accepted a six-workday suspension for using his position at ACS—and his ACS identification card—to help get information during court proceedings in family court that involved a relative.
And a DEP sewer treatment worker accepted a 10-workday suspension without pay for using his work-issued E-ZPass to pay for $171.74 in tolls he incurred during personal travel. The worker will reimburse the DEP $83.10.
This story has been updated to include a comment from the mayor.