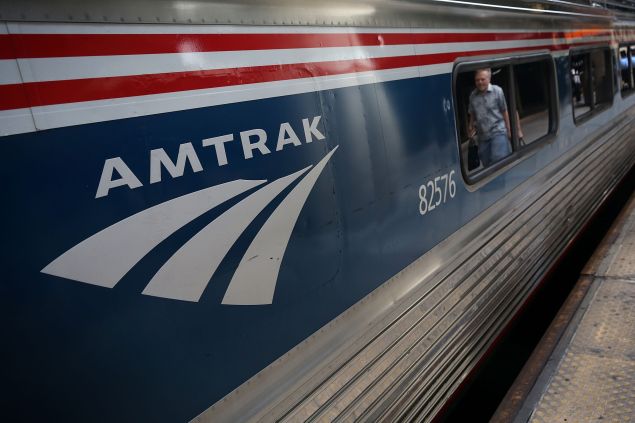 The top elected officials representing Astoria claim Amtrak is railroading their constituents.
For decades, Amtrak has leased the property underneath the trusses of the Hell Gate Bridge (known as the Hell Gate Line Right-of-Way) that is partly in Astoria—which owned by the agency—to homeowners for a nominal fee, which frees the public-private railway company of any responsibility to maintain the premises. Residents were given a 30-day notice to accept a yearly rent increase that is as much as 100,000 percent, in the tens of thousands of dollars.
Congressman Joseph Crowley—the fifth-ranked Democrat in the House—said homeowners in his district have been taking on the job that Amtrak both refuses to do and cannot do, adding that it is hard for Amtrak to maintain even a "tenth of their own property to begin with."
He called the agency's behavior "obnoxious" and that he, along with Assemblywoman Aravella Simotas, Councilman Costa Constantinides and State Senator Michael Gianaris are "not going to sit for that." He also said the homeowners should not be held responsible for commercial exploitation as it is a separate issue.
"What they're trying to do is intimidate our constituents," Crowley said. "What they're trying to do is railroad our constituents who have lived aside this eyesore in many respects, this noise creator and they're trying to railroad them into paying more money. It's a money grab on behalf of Amtrak."
In a letter addressed to homeowners, Amtrak argues that a review of the lease and the premises it covers indicate that the lease is significantly undervalued, according to the elected officials and homeowners in attendance.
For some, the rent will jump from $25 annually to more than $26,000 and the lease would be terminated 30 days from the notice upon failure to approve the new rental amount, they said.
Simotas noted that only a handful of residents in the area—roughly six to eight—received the threatening letter from the agency, calling for Amtrak to leave the "hardworking, middle class Astorians" alone.
"It's crazy. It is crazy," Simotas said. "It makes no sense other than me trying to understand that Amtrak is trying to do a money grab to pay their expenses, their mismanagement of funds and trying to take the money from these hardworking residents and it is unfair, it's uncalled for."
Constantinides said he was "dumbfounded" and bewildered by the letter when he learned of it, thinking it was merely a scam and describing the situation as "unconscionable."
"When you open a letter like that, you wonder, 'Is this real? Is this some sort of a scam? Is this someone trying to hoodwink me and take my money?'" Constantinides said. "But sadly, this is real and these are families that made their investment."
In an emailed statement, Amtrak said that "as good business practice," its Real Estate Department reviews all leases in its asset portfolio.
In a recent review, the agency said it identified several leaseholders in the Hell Gate Line Right-of-Way who had not seen property increases in more than 70 years.
To guarantee reasonable leases at fair market value, these leaseholders, who currently pay $25 a year, can expect to be charged a fraction—less than 1 percent—of the fair market rental rates.
"Those lease holders who are using the property for commercial purposes, will be notified that Amtrak is requesting rates equivalent to the commercial fair market value," the agency said. "Amtrak has been, and will continue, to work with all lease holders on an individual basis."