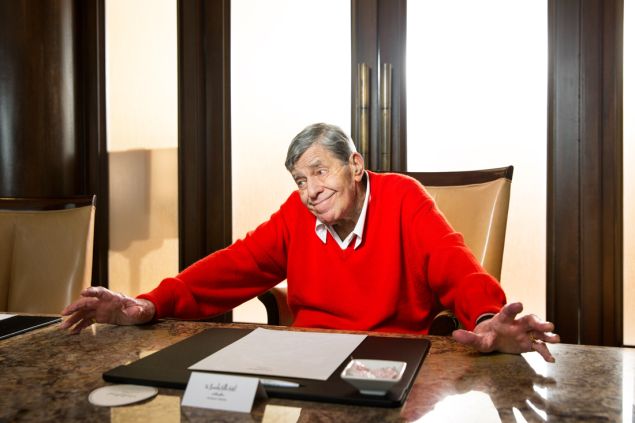 It's toward the end of my 30-or-so-minute conversation with Jerry Lewis, and the subject of love comes up, as it has for maybe the third or fourth time. 
"How do you keep love alive and keep the world from not beating it back and grinding it out of you?" I ask him.
"When you open your eyes in the morning, that's it, that's love," he says. Lewis is wearing a bright red sweater over a white shirt, cane beside him, one leg crossed over the other in a sharp angle, dramatically hiking one of his pant legs high above his white sock, which is also pulled up high. 
"So just being alive is love?"
"Of course it is," he says. Then there is a beat. 
For a majority of the last century, Lewis' beats have been one of the most exciting and unpredictable things in all of show business. Electric and full of possibility, they could be followed by pretty much anything—outrageous bits of humor, real anger, vulnerability or more likely all of that at once. Today, it's mock incredulousness. Or at least I think it's mock. 
"Just being alive?" he says. "Think about what you just said. Just being alive. If God heard you right now, Oliver, he'd smack you. He would smack you all over this joint."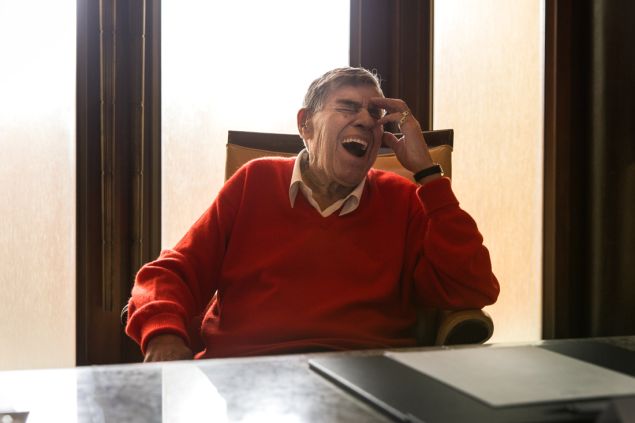 The joint in question is a room off the grand, curvaceous main lobby of the Beverly Hills Hotel and it is safe to say that at 90 Jerry Lewis is perhaps the only person still around who can still call it that. He is here to talk about Max Rose, his first film in 20 years and one about the small and often painful miracle of still being alive after many of the people you love most have gone. Lewis plays the titular Max, a mildly successful former jazz pianist who drops a bomb at the memorial service of his wife of 67 years: He believes she had an affair a half century earlier and that the life they shared was a lie. Most of Lewis' talk of love is directed toward the film's writer and director Daniel Noah, who over the film's long gestation and release process (it was shot three years ago) has become like a son to Lewis.   
"This film was very difficult to finance," says Noah over the phone a few days later. "There is a general belief that there is not a desire for films about people who are at that stage in life. So while that was quite frustrating, it afforded Jerry and I a few years to become close. I remember our first meeting. He said to me, 'If this thing is going to work, we have got to love each other, and I am going to start loving you right now.' And that is what he did. He welcomed me into his family."
Just as it has been in Lewis' later films, 1983's iconic The King of Comedy and 1995's remarkable and remarkably overlooked Funny Bones, Max Rose features nary a dishonest moment from Lewis. It also has few of the comic ones that one might expect from the nutty professor himself, an actor whose manic, precise and somewhat surreal physical presence has come to define a certain type of screen comedy, a legacy that has inspired everyone from Jim Carrey to Will Ferrell.   
"There were moments that I would've loved to have gone nuts on this," says Lewis. "But no, you can't. First, you have to respect the material. Second, you must respect your audience. And third, you must respect that you are doing it and doing it right."
"He was impeccable," says Lewis, about his father. "He was the one who said to me, 'The day you walk out on the stage and you do not respect that audience, you might as well get a job at the firehouse.'"
Lewis brings up this concept of respect, and specifically respect for the audience, almost as often as he brings up love. It is the first lesson his own father Danny, a vaudevillian who passed away 36 years ago at age 78, taught him when he took to the Catskills stage at 5 years old.  
"He was impeccable," says Lewis. "He was the one who said to me, 'The day you walk out on the stage and you do not respect that audience, you might as well get a job at the firehouse.' I listened to him, and it was beautiful."
Adds Lewis, "He would say, basically, 'You got a bunch of people out there that have maybe $4 in their pocket, and they're going to spend half of it to see you. When they look at you, and they recognize that they are $2 short in their pocket, but it's worth it. When you can get them to say it's worth it, that's when you've done your job.' "
Responsibility is also the reason he is still performing 85 years after he started. Lewis, who lives in Las Vegas and gets around 11 scripts a month, says he has little left to express as an actor. Instead he feels like he is required to do the job in instances like Max Rose, where he knew he could bring something honest and real to the proceedings.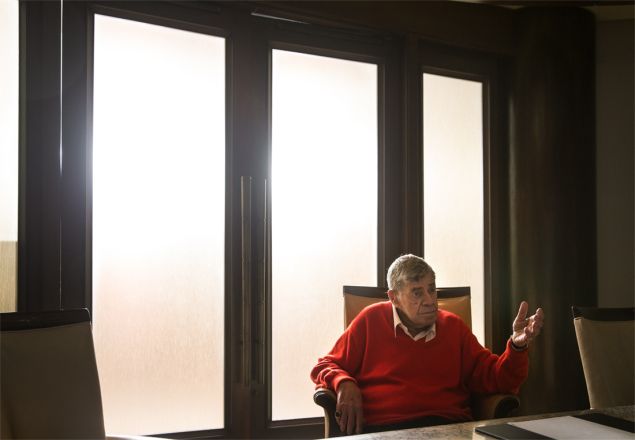 "You keep doing it because you have a responsibility to keep doing it," he says, never letting me loose from his vice grip of a stare. "You have a responsibility to the filmmaker, to your audience. If it's important work, you have to be there. If it's not important, you don't need to be there. You shouldn't be there."
For Noah, who based the film on his own grandfather, Lewis' sense of responsibility to tell the story honestly lead to a director-star relationship of unusual depth. 
Explains Noah, "In many ways my relationship with my grandfather started to be recreated with Jerry to the point where I would sometimes get a call from him on a weekend and he would say, 'I thought I would be hearing from you!' He was giving me the same kind of guilt calls that you get from your grandparents. He did that anytime I'd forget to call him."
While there are obvious upsides to that kind of closeness, the one drawback is also apparent.  
"It has struck me that I was so grief stricken by the loss of my grandfather that I went out and created a situation where I am going to have to go through it all over again," says Noah.
In this way, Max Rose is a difficult film to watch: We all are going to have to involuntarily go through the painful process of having a grandparent or parent die, so why volunteer? It is after all, not very pretty: Lewis plays the bitterness that often accompanies people who are near the end of life with searing honesty, lacing his sarcastic rejoinders with anger and vulnerability. Most of that pain, as many people who have been through the situation can attest, is directed toward his character's son, played by Kevin Pollak. By contrast, his grandchild, played by Halt and Catch Fire's Kerry Bishé, can do no wrong.
"What you have to do is to stick a pipe in your ear and let it suck out all memory of what you are supposed to do,' Jerry Lewis says, describing his process. 'You do that and then you make the movie…It helps with your spontaneity."
For his part, Lewis credits his ability to tap into something searingly real about the process of dying to being a pro but approaching the moments of the film like a first-timer. 
"What you have to do is to stick a pipe in your ear and let it suck out all memory of what you are supposed to do," he says, describing his process. "You do that and then you make the movie. Suck out all of the information in your brain and go and do this as a novice and hope you're O.K. It helps with your spontaneity. That's a good actor."
I mention Jack Lemmon as an actor who was pretty good at that sort of thing. Lewis, who turned down one of the leads in Some Like It Hot a lifetime ago, agrees. It makes him think of his old friend, the late Walter Matthau. He wants to tell me a Walter Matthau story, but first he asks me to remind him of my name. By the time I tell him, he has forgotten what he is going to say and is cursing himself for it. The Matthau story is lost for good, or at least for now.
"Yeah, that's 90," Lewis says. "If you wanted to see what 90 is, I just showed you."