Skincare routines are getting longer. Any reluctance to add one more step would be well understood. But say that, in spite of a prodigious routine, your skin is still dry, or you love your day cream, but it doesn't pack a big enough antioxidant punch. Enter: boosters.
The category has been quietly growing for some time now. Most recently, Clarins introduced a colorful trio and these boosters can now be spotted on the pages of all the September issues.
The concept leans into beauty's increasing obsession with personalization. Short of a personal apothecary, boosters allow new levels of skincare customization. At Dermalogica, they're already old hat, according to Beth Bialko, the company's Global Curriculum Developer. "Dermalogica was ahead of the times when we introduced the concept of boosters over 20 years ago. Boosters were born in the treatment room, out of necessity, in order to customize our moisturizers to address the client's ever-changing skin conditions—sensitivity, aging, dehydration, even breakouts," Bialko explained.
In the age of the #shelfie, an abundance of beauty products is common. It is already de rigueur to layer serums. Boosters beg the latent beauty chemist in all of us to come out and play. Think of boosters as superpowered serums.
"A booster is a much more concentrated selection of ingredients designed to treat specific concerns, while serums are more all-encompassing. Boosters are great for working on stubborn skin concerns because they have a more narrow ingredient focus, often containing a much higher amount of key ingredients," Paula's Choice brand experts, Desiree Stordahl and Bryan Barron explained.
"If you find a great skincare routine that works, then you're likely going to want to stick to that. But skin isn't static; its needs change with time and seasons. Boosters are a great way to add specialized ingredients to the routine you already love, depending on your skin's needs," Stordahl and Barron noted.
Do They Work?
I asked Dr. Elizabeth Tanzi, Founder & Director of Capital Laser & Skin Care and Assistant Clinical Professor, Department of Dermatology at the George Washington University Medical Center, quite simply, if she thinks they work: "Maybe, but I would be careful "mixing" them in regular beauty products because the ingredients in the booster haven't been tested when mixed with something else. So it could inactivate the booster or inactivate the product it's being mixed with." Of the Clarins formulas I asked her to take a look at, she said, "I think it's marketing and another way to get people to buy more "stuff." However, having said that, the ingredients are good and it looks like a nice serum."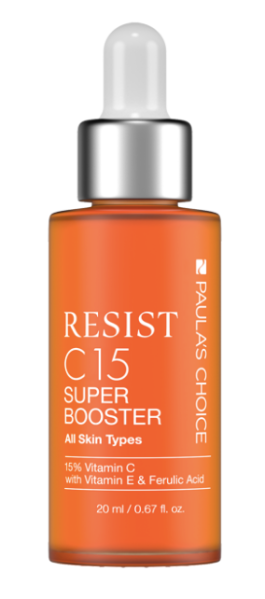 While Dr. Tanzi is skeptical, Stordahl and Barron make the case for boosters. "Based on their individual formulas, each works in synergy with existing products to ramp up results, especially for more stubborn concerns like discolorations, large pores, and deep wrinkles," they said.
The verdict: if you're unsure about blending the ingredients in your chosen booster and moisturizer, check with your derm.
How Do I Use Them?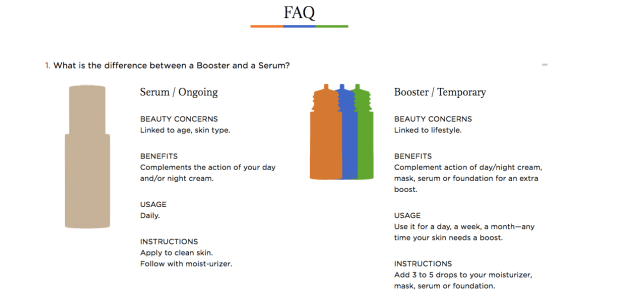 As for the how-to, that's where some bathroom mixology comes into play. The most common mixing tactic is simple—just add about five drops to your moisturizer of choice to enhance its treatment function. (It should be noted that Clarins warns against using theirs alone and even has an infographic to explain the difference between boosters and serums). "You can use them either on their own or with your favorite skincare product; the only product you shouldn't mix them with is sunscreen, since sunscreen should be the last product you apply, and mixing it with a booster can dilute its effectiveness."
Which Should I Buy?
For hydration, which everyone needs more of (especially come fall) look for something packed with hyaluronic acid—Dermalogica's Skin Hydrating Booster ($56) is rich in it and contains moisturizing panthenol and algae extract. 111Skin's Space Aqua Booster ($160) is made with D.S.H. CN, a hyaluronic acid complex, which promises to boost the skin's hydration by 30 percent in three hours. Nourish the skin with the Sonya Dakar Organic Omega Booster ($52), a nourishing formula rich in Omegas 3,6, and 9.
Combat dark spots, and protect your skin from the sun with antioxidant rich boosters like Paula's Choice's first booster launched in 2013 (now there are five), the Resist C15 Super Booster ($49), which is richly concentrated at 15 percent pure Vitamin C. 111 Skin's Space Antioxidant Booster ($160) protects against urban aggressors (fancy speak for pollution) and free radicals. Ole Henriksen's Truth Serum Vitamin C Anti-Aging Collagen Booster ($48) packs a heavy vitamin C punch, hydrating, protecting, boosting collagen production, and reminding us all of the plentiful powers of its namesake vitamin. You might also choose Clarins' Booster: Energy ($39) which gets extra points for its scientific looking packaging, plus it packs a radiance-boosting punch thanks to that hallowed plant, ginseng. Reach for this one after too many sleepless nights.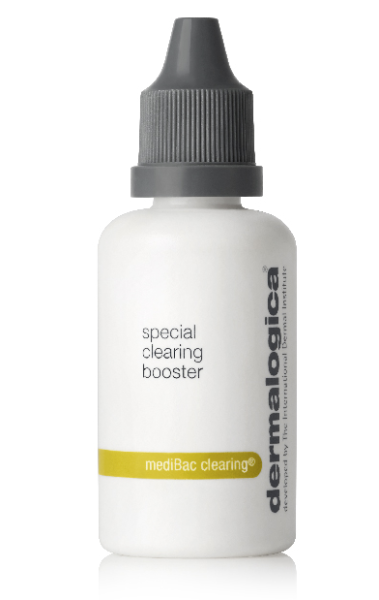 Get specific—Dermalogica's Special Clearing Booster ($46) contains 5 percent benzoyl peroxide to bid acne adieu and control bacteria, while their Skin Renewal Booster ($50) uses lactic acid, salicylic acid, and hibiscus extract to exfoliate, and promote cell turnover. Firm skin with a 1 percent boost of retinol included in Paula's Choice Resist 1% Retinol Booster ($52).
While there's certainly already a booster for most common skin concerns, should you be looking for something different than these offerings, it seems likely the beauty world will be serving up more options in no time.