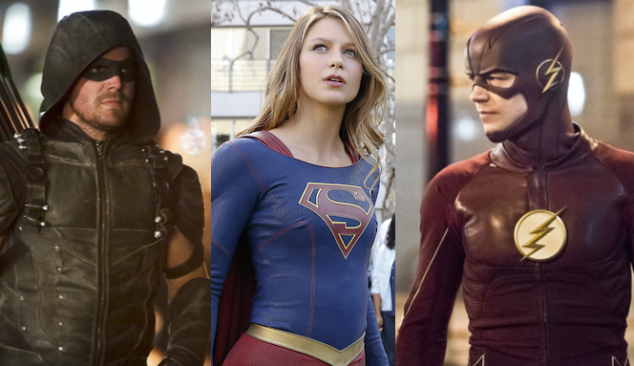 It was on the very last day of the Television Critics Association multi-week press tour– when spirits were low and energy depleted–that CW's comic-book hero slate appropriately swooped in to save the day. The showrunners and executive-producers of Arrow, The Flash, Legends of Tomorrow and recently-acquired Supergirl arrived bearing no shortage of news, tidbits and teasers for the next chapter of DC's small-screen heroics:
The Flash and Supergirl will crossover one again only this time, because dreams really do come true, their interaction will come during a Buffy-style musical episode. The track-list will be made up of "mostly pre-existing songs," according to uber-producer Greg Berlanti, who joked is "happy to take requests."
 Arrow and The Flash E.P. Andrew Kreisberg clarified that there will be a storyline reason for otherwise sane costumed heroes spontaneously breaking out into song. "It will probably be an element of being inside a character or characters' head," he noted. 
A character who is "significant" across the board in the CW DC universe will be "exploring their sexuality, and dealing with coming out."
"Flashpoint", the universe-altering storyline that concluded season two of The Flash, will in fact affect Arrow and Legends of Tomorrow as well, Berlanti confirmed.
Over on Supergirl, we left off with a mysterious, Kryptonian pod crashing to Earth. Supergirl showrunner Ali Adler confirmed the pod contains Mon-El, played by actor Chris Wood (The Vampire Diaries, Containment), another Superman-esque figure in the DC Universe (Clark Kent gave him the name Mon-El because he crashed to Earth on a Monday, proving the extend of Clark Kent's creative powers).
Also coming aboard Supergirl is Sharon Leal (Grimm) as Miss Martian (best known as a member of the Teen Titans, and not to be confused with Martian Manhunter. Totally different alien species, man).
Dolph Lundgren, of Rocky IV and Universal Soldier fame, has been cast as a big bad in Arrow season 5's Russia-set flashbacks, showrunner Wendy Mericle told the press. Related: "This will be the last season with flashbacks," confirmed Arrow executive-producer Marc Guggenheim.