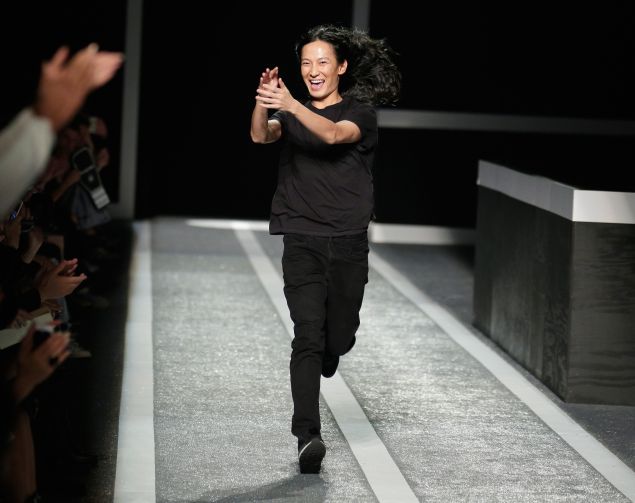 Fashion designer Alexander Wang has a very particular aesthetic when it comes to his clothing designs. The very downtown, rather minimalist look Wang chooses for his designs has also permeated his interior design mindset, at least when it comes to the Tribeca loft he listed at the beginning of June.
It appears that an interested party has already snatched up the 2,550-square-foot co-op at 39 Worth Street, as the unit is now in contract.
Wang, the former creative director of Balenciaga, purchased the one-bedroom, two-bathroom space from fashion writer Holly Brubach in 2010, paying $2 million.
He embarked on a gut renovation with decorator Ryan Korban, and per the listing photos, the finished product definitely bears the interior designer's touch. The living room, lined with a wall of mirrors, features modern black velvet chairs and a fur-covered chaise. There's a sleek glass table with equally modern black leather chairs in the dining area, and even the wood floors are ebony-stained, according to the listing shared by Corcoran brokers Alex Nicholas and Andy Fink.
It appears that the "industrial chic" loft, which features 12-foot ceilings and oversized mullioned windows with southern and northern light, went into contract at its most recent $3.5 million listing price, which isn't too far from the $3.75 million Wang was first asking.
Both of the bathrooms are "well appointed" with white marble and white tiles, and the kitchen includes white marble counters and a built-in island, with stainless steel cabinetry, of course. Of course the single bedroom has a walk-in dressing room, because this is a fashion designer's apartment. If the buyer isn't quite as clothes-inclined as the seller, the listing promises that there is another space to add an additional sleeping area, if need be.
We wonder where Wang and his surplus of black leather and fur-covered furniture are headed next. Wang stepped down as creative director of Balenciaga in 2015, a position which required him to split his time between Paris and New York, though that doesn't sound too horrible to us. He recently announced he would be taking over as CEO and chairman of his namesake line, Alexander Wang, along with continuing as creative director—perhaps now that he no longer has to flit between Paris and New York, he's looking for a larger abode here.