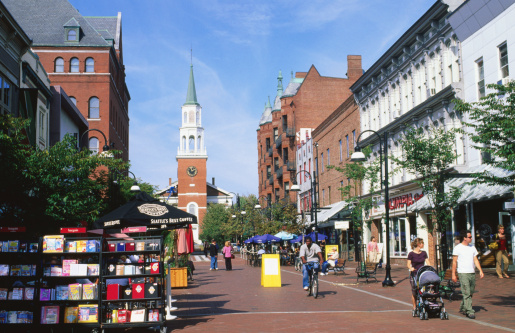 The secret to survival all New Yorkers eventually learn is that, every once in awhile, you need to get the hell out of this place and breathe in some fresh air. As summer has us all itching to escape, places that feel simple and eclectic as well as reminiscent of coveted fictional towns, like Gilmore Girls' Stars Hollow, are calling our names. If you want a perfect destination for this craving, head to Burlington, Vt., a town that mixes chic city luxuries, good food and boutique accommodation with proximity to nature. Only a one-hour flight, it's the perfect weekend retreat.
Heavy on the quirks, Burlington has something fun and refreshing around every corner. Houses are painted bright colors, and nearly everywhere is dog friendly. Everyone is neighborly, and the streets carry nature-loving tree names: Maple, Pine and Cherry. At the local ice cream stands, you can order the signature maple creemee (vanilla soft serve swirled with Vermont maple syrup) as well as ice cream made especially for pups. There's also Ben & Jerry's shop, filled with people into the night even as the streets empty.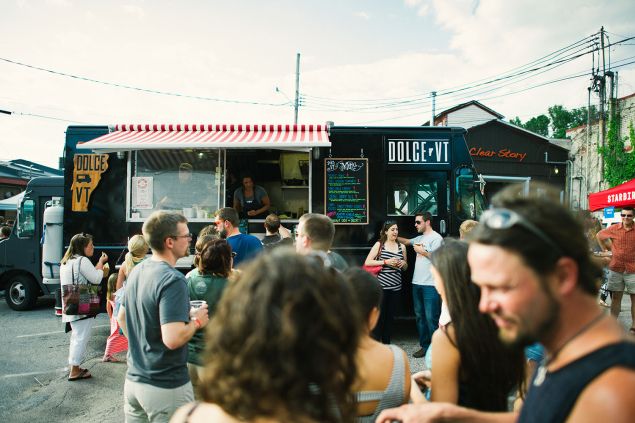 In Burlington, you'll eat some of the freshest food you've ever had in your life. The words "organic" and "locally sourced" appear on nearly everything but not because they're trendy or the key to the best Yelp reviews. Rather, it's the way of life. Only local beers (and there are a lot of them) are available at bars and restaurants. "It's difficult for other craft beers from the country to make their way into bars here because we have so many great ones. There's no reason to drink an IPA from California when you can find one brewed five miles from where you are sitting that was put in a keg only five days," said Matt Canning, beer concierge at Hotel Vermont, the city's must-stay boutique hotel.
The nearby Shelburne Farms, a Vanderbilt family agricultural estate from the 1880s turned nonprofit farm, boasts an astounding 1,400 square acres of nationally recognized historic land used for conserving nature, educating about sustainability and humane farming methods. There you'll find award-winning cheddar cheese, walking trails, a food truck (which cooks only with ingredients produced on the farm, including the grass-fed beef) and The Inn, which still maintains the charm from its Vanderbilt days and provides fine dining and breathtaking views of Lake Champlain.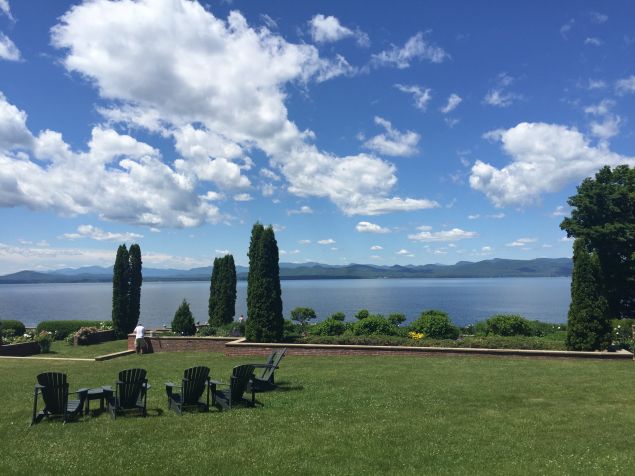 While it's quiet and slow, boredom does not exist in Burlington. Between the nature, art scene and food and drink, you'll have more than enough to do to fill your weekend escape—and then some.
---
Enjoy a unique brew
Burlington is actually one of the world's hottest destinations for craft beer tourism, and it's not just because the state has the second most breweries per capita. While craft beer is a relatively new trend nationwide, it dates back to the '80s in Burlington. Canning's father actually helped jumpstart the scene in 1996 with the first annual Vermont Brewers Festival. Now massively popular, tickets for all four sessions of the July festival sell out within 10 minutes online.
"The poster I have hanging in my room [from years ago] says 'for tickets call…' and lists the home phone number I had growing up," he said. "Now more than 6,000 people from all over the world come."
The greater Burlington area is jam-packed with internationally recognized breweries. Hill Farmstead has taken Best Brewery at the Rate Beer Awards (the Oscars for beer, if you will) two years out of the last three. Nearby is Alchemist, which produces Heady Topper—a beer universally known as the most sought after in the world. Like most of these brews, it's available only in Vermont, but even there, it's still nearly impossible to get your hands on a six-pack. When stores are expecting new shipments, tourists and locals alike line up before opening to get their hands on one. The empty cans sell as "collectibles" on eBay, and the brewery had to close its tasting room because it couldn't handle the crowds. "It was creating traffic jams, and people were parking on neighbors' lawns because they were flooding there for Heady Topper," Canning said.
Scope some art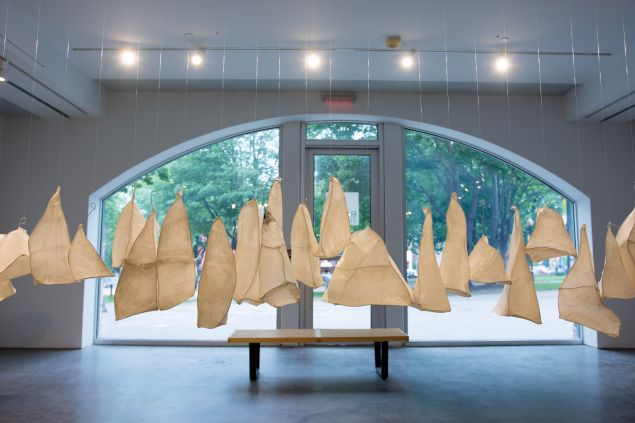 In Burlington, creativity runs wild with an art scene that goes far beyond the folk kitsch often associated with Vermont art. New City Galerie and Burlington City Arts, both contemporary galleries, are downtown, and there is a large artist district in the South End, where hundreds of studios occupy old industrial spaces. Annual art festivals like Art Hops and Festival of Fools are some of the summer's hot events.
"We have such a huge range of disciplines represented here, and the artists are really pushing boundaries," said Rachel Lindsay, a local artist.
Adventure in nature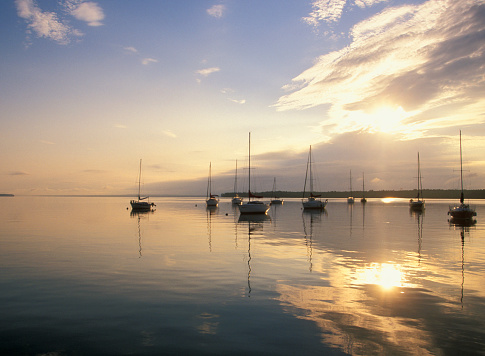 One of the coolest things about Burlington is that you don't need to go far at all to have an adventure in the great outdoors. The city borders the east coast of Lake Champlain, putting beach time, lakeside walking and watersports only a few minutes walking from the hotels, stores and restaurants of the downtown area. At the community sailing center, also only steps from town, you can rent sailboats, kayaks, canoes and standup paddleboards by the hour.
If you want to immerse yourself in nature even more, Vermont holds hundreds of miles of renowned hiking trails within an hour drive of the city. The peak on Snake Mountain, a four-mile trail just 20 miles from downtown, for example, stands alone high above the Champlain Valley and offers million-dollar views.