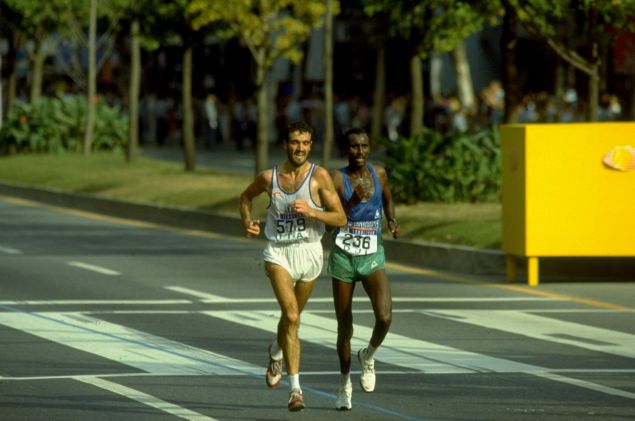 Running, jumping, throwing, fighting. For tens of thousands of years humans struggled to survive—escaping predators or chasing prey; jumping ravines, hurling stones or spears. Whether offensively on the attack—for food, or territory—or on defense, of home and family—wrestling and punching, running, jumping, throwing, fighting. The best athletes survived, reproduced, and led the rest of us.
All the time, sons [children] witnessed their fathers [parents] struggle and, as all young mammals seem to have a play instinct deeply embedded in their DNA, they frolicked while preparing to take their parents' places—by running, jumping, throwing and fighting.
Sport has been with us since time immemorial. In the beginning, it must have been deeply connected, barely distinguishable from preparation for war. Sometimes it still seems that way.
If we are to believe Homer, our first and greatest historian, sometime around 1200 BC, for a moment, great leaders put aside their quarrels and met to celebrate the godlike spirit that dwells in humanity. During the Trojan War, Achilles, the great Greek warrior, avenged the death of Patroclus, his closest friend, by slaying Hector, the Trojan warrior who had killed Patroclus. Distraught at the loss of his closest friend, Achilles organized Patroclus' funeral and celebrated the fallen hero's life with a series of physical contests among the great leaders.
The funerary contests Homer describes in Book 23 of the Iliad began with a chariot race, with the five competitors drawing pole position by lot. At one point in the course the chariots disappear from view and two spectators, arguing over who is leading, bet on the outcome.
Homer takes us next to more direct physical contests between athletes—boxing and wrestling. Rules, written or unwritten, clearly restricted these dangerous, even deadly contests. Before his boxing match begins, Epeius engages in classic pre-fight trash talking, threatening to tear his opponent's flesh to ribbons and break his bones. He declares himself "the greatest" and proves it. But Epeius also concedes that, while he may be the greatest boxer, he was far from the greatest fighter in battle. 3000 years later, the late Mohammed Ali also declared himself "the greatest" and proved it. But he later refused America's call to battle in Vietnam. So already by 1200 BC, boxing and fighting, athletes and warriors—sport and war itself—have begun in spots to go their separate ways.
The most interesting sports contests today often match strength and speed against skill and strategy. And so it was when Ajax and Odysseus wrestled. Spectators were getting bored as neither could throw the other. Ajax suggested a tie breaker—each would attempt in turn to lift and throw the other—but even that failed to resolve the contest between brute strength and cunning. Achilles declared the match a draw and gave the combatants equal prizes.
This first sports contest of record did result in great prizes, although Homer's account consistently celebrates the pure joy of the contest itself. We can only guess that these chieftain athlete/warriors hardly needed any financial incentive to compete and would have contested as fervently without them. We do know, however, that outsized financial rewards for Olympic champions would divide the Greeks over the next several centuries. But that's ahead of our story.
Next came the foot-race between three competitors—a sprint to some point and back to the starting line. As they approached the finish, Odysseus, close behind but trailing, summoned help from the goddess Athena who made his "limbs feel light." In a classic spurt, Odysseus won while his patron goddess also made his opponent slip and fall. We don't know whether that unauthorized intervention diminished the sense of victory.
In addition to boxing, wrestling and running, this first sports competition of record included sword fighting, throwing a heavy stone, and archery. These three events would be dropped from the ancient Olympic games as we'll see in future columns, but 3000 years later, the modern Olympic games would restore them in the form of fencing, shot putting and archery.
Homer concludes Patroclus' funeral games with the javelin, an event whose connection to war was as obvious then as it is quaint today. The javelin turned out to be no contest, literally. Once Agamemnon declares himself ready to compete, Achilles declared it no contest and awarded him the prize. Thus the funeral games of Patroclus resolved the Trojan war.
Achilles, the great Greek warrior, gives his friend a well-deserved sendoff, returns the unburied body of his enemy Hector, and patches up his quarrel with Agamemnon, his nominal commander in chief and sometime foe.
Following Homer, Hesiod, the second great historian of record—roughly 8th century B.C.—at the beginning of his Works and Days, distinguishes "two types of strife, all over the earth," "wholly different in nature."
One type of strife "fosters evil war and battle being cruel." All people rightly detest this, Hesiod insists. But the second, a competitive spirit "far kinder to men" drives us to greater achievements. As the 2016 Olympic Games open, we still cling to a hope that good strife in the form of vigorous physical contest, will as it did in ancient times, bring the world together, and at least for a moment, substitute for war.
Robert Blecker, a professor at New York Law School, will be covering the Olympics for the Observer through a lens of culture and sport.