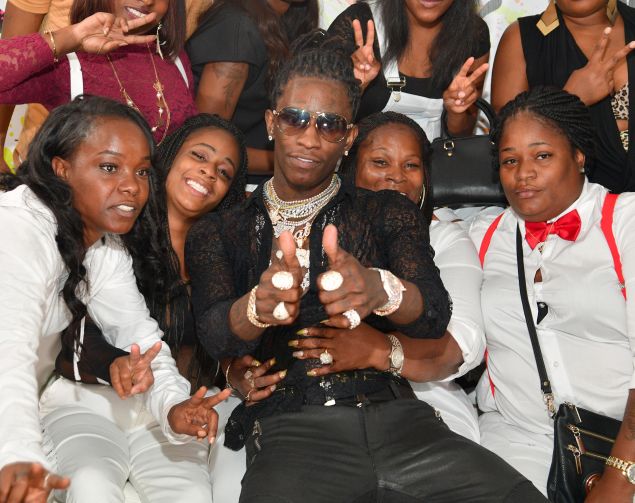 For the past six seasons, VFILES has been putting the spotlight on a international group of emerging designers with their runway show during NYFW. After being acknowledged by the platform, designers such as Ximon Lee and Discount Universe have gone on to snag recognition from the LVMH Prize, the H&M Design Award, the CFDA as well as many others. Other participating brands have landed on the shelves of Dover Street Market and Selfridges. Celebs such as Rihanna, Justin Bieber and Kylie Jenner have donned designs by VFILES alums. This season though, an early winner out of the program has to be a mentor: Young Thug (who has temporarily changed his name to No, My Name is Jeffery).
The mentor group is rounded out by legendary industry personnel Naomi Campbell, Mel Ottenberg (who styles Rihanna), makeup artist Pat McGrath as well as Fear of God designer Jerry Lorenzo. The group Thug will help to select and consult with designers, models, hair and makeup team, photographers and stylists scheduled for this season's presentation. It may seem like a small task, but with everything else that has happened for the rapper in the fashion space this summer, it's another step in his gradual takeover.
"Young Thug brings an incredible vision to the table," Julie Anne Quay, VFILES founder told Complex about choosing the entertainer for a judge. "I think he is going to have a major impact on the way fashion and music come together in the future as he looks through a lens that is totally unfiltered and not subjected to pre-existing paradigms of how one should approach they way they dress. His approach to gender fluidity is a very powerful moment I think for fashion because it is connected to his approach to music and the message he shares through that medium."
Specifically, Quay was pointing at Young Thug's penchant for wearing women's clothing. The rapper appreciates the fit of women's clothes on his slim frame, more so than men's. That attitude landed him a place in a Calvin Klein campaign, wearing a dress. In the accompanying video, the star said "In my world, of course, it don't matter; you could be a gangster with a dress or you could be a gangster with baggy pants. There is no such thing as gender."
https://www.instagram.com/p/BIs19LNhGgA/?taken-by=thuggerthugger1&hl=en
Just this week he was added to Puma's Suede campaign, joining stars Kylie Jenner, Rae Sremmurd and YesJulz — Rihanna is a face of the company as well with her Fenty line. Wearing a suede tracksuit, Jeffery cuts a slim figure in a seeming ode to old school hip hop.
If this is any indication, Young Thug could be the makings of a new fashion icon in the music industry.