Though one may not find many castles in the East Village, a prince does reside there.
As one may have guessed, it's not Prince William or Prince Harry—no, it is fashion and celebrity photographer Alexi Lubomirski, who also happens to be a Polish prince.
If a palace is a tad out of the price range, perhaps the two-bedroom, two-bathroom abode Lubomirski and his wife, Giada put on the market will do.
The Lubomirskis purchased the 1,359-square-foot condo at 52 East 4th Street, just off Bowery, for $2.095 million in 2009—the same year that John Legend bought his own unit in the building, though Legend offloaded his condo in 2012 and headed to Nolita.
Normally, a description with the phrase "oasis of chic" brings about an eye roll (okay, there may have still been a minor one), but this particular listing, shared by Douglas Elliman brokers Andrew Anderson, Bruce Ehrmann, Andrew Yeh and Christopher Morales, really is quite charming.
There are the 13-foot ceilings, walls of floor-to-ceiling glass and exposed beams, and bleached white French oak floors, as well as the perfectly curated photographs adorning the walls and carefully selected coffee table books piled onto shelves and Lucite tables. We suppose that's all to be expected of a home inhabited by a man who has photographed the likes of Julia Roberts, Kate Winslet, Victoria Beckham, and Lupita Nyong'o for publications like Allure, GQ, and Harper's Bazaar, and a woman who was formerly a curator for Milk Studios. And, you know, the whole royalty thing.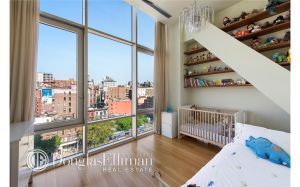 It's not the first time the Lubomirskis have attempted to part ways with their condo, though—they first put it on the market for $3.2 million July last year, before taking it off the market. It has now reappeared, with a slightly lowered price tag of $3 million attached.
Not to worry, East Village denizens—the Lubomirskis aren't going too far. In fact, they purchased Molly Ringwald's duplex at 122 East 10th Street for $1.7 million earlier this month, so perhaps that gave them some more motivation to part ways with their Bowery condo. Besides, Ringwald is pretty much 1980s teen queen royalty, so maybe they felt a kinship with her co-op…or maybe they're just big Sixteen Candles fans.