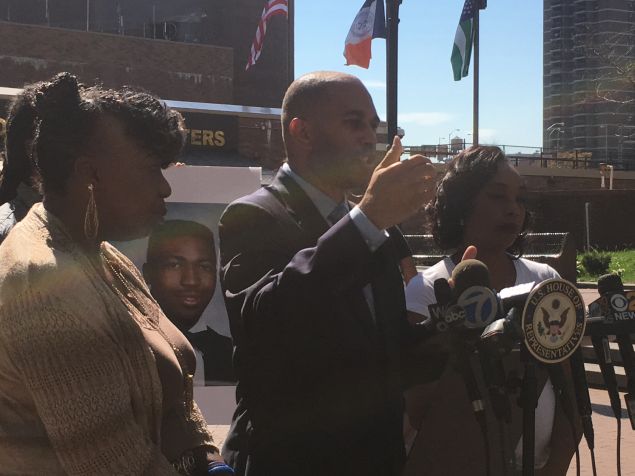 A prominent Brooklyn congressman and a protege of the Rev. Al Sharpton—along with the mothers of two black men killed by cops—ripped into Mayor Bill de Blasio today for denying the press and the public access to the NYPD's internal disciplinary records.
Congressman Hakeem Jeffries and Kirsten John Foy, the Northeastern Regional Director for Sharpton's National Action Network, joined the mothers of Eric Garner and Ramarley Graham outside One Police Plaza to assail the administration for its "shameful" record on police accountability. The ostensible purpose of the press conference was to attack the nearly $120,000 paycheck ($23,000 of it overtime and almost $13,000 in unspecified extra cash) Politico found the NYPD gave Officer Daniel Pantaleo last year—a massive boost that came while local and federal authorities probe Pantaleo's killing of Garner.
But they also turned their fire on de Blasio's decision to appeal a New York Supreme Court judge's demand that the NYPD to unseal Pantaleo's disciplinary record—and on the administration's radical reinterpretation of a 40-year-old state law that it claims forbids the disclosure of the internal penalties levied against any officer.
"This administration has coddled Daniel Pantaleo, who killed Eric Garner in cold blood for the whole world to see," Jeffries declared, recalling the viral video recording of the black Staten Island man crying out for air in Pantaleo's chokehold. "The de Blasio administration promised transparency on the way in, but we've got secrecy during the actual, substantive years of his administration. So the question is, 'why hasn't the rhetoric matched the reality?' And the people of New York City deserve to know what types of disciplinary and administrative action against officers who have either violated police procedure or broken the law."
Jeffries and Foy both noted that the NYPD turned over such information with little resistance for decades, a policy the mayor now claims was "a bureaucratic error." Foy, who served under de Blasio in his previous position as city Public Advocate, remembered that the mayor made liberalizing the NYPD a central plank of his platform while running for office three years ago and that he won with overwhelming minority support.
The Sharpton aide hinted an ominous political consequences should de Blasio not honor his mission.
"It is, I promise you, going to be an issue in 2017 when we return home and have elections right here for the leadership of this city," Foy said. "As it was in 2013, a deciding factor and a mandate for who will lead this city, police accountability and police reform will be a mandate for who will lead this city coming out of next year's elections."
The mayor has insisted that Albany must amend the 1976 law in order for the city to go back to publicizing disciplinary records. But the NAN leader praised Gov. Andrew Cuomo, the mayor's bitterest foe, for proclaiming the matter "a decision for New York City."
"The governor has spoken to this issue," said Foy. "No other administration has advanced this notion that the police are protected somehow, and their public records are sacrosanct and you can't touch them. No other administration has been that aggressive. Why is the administration who came in on the backs of our votes being that aggressive in opposition to transparency?"
The mother of Ramarley Graham—an unarmed black youth who police killed in the bathroom of his Bronx apartment in 2012—also raged against the mayor and his tight-lipped NYPD.
"They have killed people before. They have committed crime before. But we are not allowed to know about it. Why not? These are public servers. We should know what's going on," she said. "We cannot tolerate this. It's ridiculous. We need changes and de Blasio must go! He must go! We can't have it—he doesn't do anything. He continues to back these officers. So he has to go."
Such rhetoric might stoke longstanding speculation that Jeffries will challenge de Blasio in the next year's Democratic primary. But the congressman dismissed the idea today, though he did not foreclose on the possibility completely.
"I have no interest in running for mayor at this time, and don't expect that I'll have any interest in running for mayor at any time in the near future," the representative said.
De Blasio's cozy relationship with Sharpton has long earned him scorn and outrage from police union leaders and their supporters. The mayor's office did not immediately respond to requests for comment.