Tenant buyouts! The real estate equivalent (for landlords, anyway) of an M.C. Escher sketch. How much would you pay to purchase an apartment that you already own?
The answer? Quite a lot sometimes. In a city where development parcels are in hot demand, rent-stabilized properties are natural targets. Before you can build, though, you have to somehow accommodate existing residents, and while stabilization is primarily a tool to protect New York's middle class from a voracious housing market, the ongoing building boom has given some rent-stabilized tenants shots at a jackpot.
For instance, Steve Wagner, co-founder and partner at real estate firm Wagner Berkow, told the Observer that in the past two to three years he has negotiated for clients "six seven-figure buyouts." And that, he noted, isn't counting a number of others that came in just under the million-dollar mark, or a case he's currently working on in which his four clients have actually turned down million-dollar offers.
You could always, of course, just try to harass your tenants away. And certainly some landlords do—refusing repairs, cutting utilities, violating construction codes, even, on occasion, employing physical intimidation. But aside from being unethical, immoral, and just generally the mark of a terrible human being, such practices are typically frowned upon by law enforcement and might well land you in jail. For instance, Manhattan landlord Steven Croman was this spring brought up on criminal charges after years of allegedly harassing his rent-regulated residents. (Christened the "Bernie Madoff of landlords" by New York Attorney General Eric T. Schneiderman, Croman is also up on fraud charges for, among other things, allegedly inflating his buildings' rental incomes in order to score some $45 million in loans.)
Easier, then, to just pay your tenants to leave. Which brings us back to the original question—how much?
That depends on a variety of factors, Wagner said. Among the most important is the strength of the resident's claim to tenancy.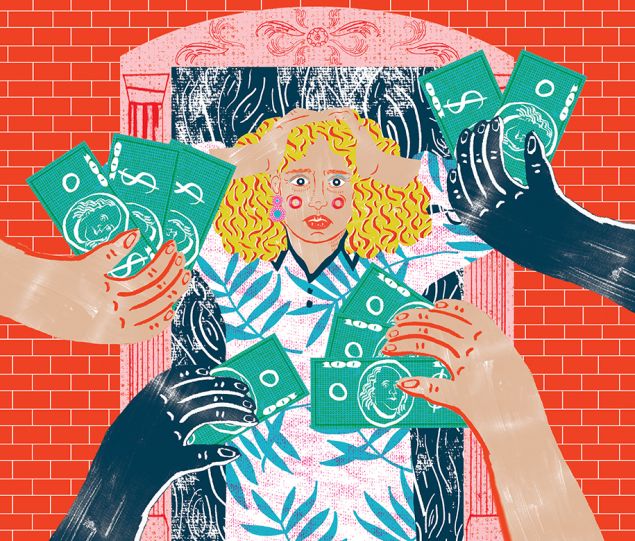 "That is No. 1," he said. "Is that tenant illegally subletting? Is that tenant not using the premises as his or her primary residence? Have they altered the apartment illegally?"
Wagner noted a recent case involving a client with what amounted to a very weak claim to her rent-stabilized unit. "She hadn't lived in the apartment for years and was subletting it to somebody," he said. "Her tax returns didn't show the apartment. Her voting records didn't show the apartment. Her driver's license didn't show the apartment."
Even so, she was able to score a five-figure buyout, Wagner said, calling it a "decent settlement under the circumstances." Given the woman's weak tenancy case, the owner likely could have gotten her out through litigation, but Wagner noted that the delays involved in such a process have their own costs to a development project.
In fact, the state's Division of Homes and Community Renewal has a formal process developers can use to remove rent-stabilized tenants from buildings they plan to demolish that involves relocating and compensating these residents. It's almost never used, though, said Robert Sedaghatpour, principal of real estate firm STRATCO Property Group, which advises investors on repositioning properties.
Taking a project through the DHCR takes an average of around five years, Sedaghatpour said, meaning that by the time a developer receives approval, the market might have completely changed. Sitting on a project that long can also significant cut into a builder's rate of return.
"I've yet to see a landlord apply to DHCR in any of the deals I've been a part of," Wagner said. An opposing lawyer once threatened to do so, he said, but his developer clients quickly put the kibosh on that idea and instead upped their buyout offer.
"Their attorney was making a legal argument, but the [developers] knew that the [DHCR approval] wasn't guaranteed and that it was going to take so long it would kill their internal rate of return," he said. "They wanted us out now, not two years from now."
Buyout money should be set aside for any project based on removing rent-stabilized tenants, said Aviv Zumin, president of FirstService Realty. "You have to include it in your development budget just like you would construction or marketing or anything like that."
Sedaghatpour added that developers often come to these projects unprepared for the more personal aspects of the process—to wit, how to incentivize someone to leave their home.
'When [developers] are looking at these projects, they are looking purely at how the numbers work out on paper. The intricacies of how to handle the human aspect are often not at the forefront of their mind.'—Robert Sedaghatpour of STRATCO Property Group
Cooperation on details like taxes can help smooth the way, Wagner said. He recalled a case in which he negotiated a nearly million-dollar buyout for clients who'd somehow swung a rent-stabilized penthouse on the Upper West Side.
"There was no construction going on, it was just that the tenants were paying this amazing low rent for this apartment with views and a terrace and everything else, and the landlord wanted it desperately," he said. The two parties agreed on a number, but Wagner and his clients wanted the deal structured such that the buyout would be taxed at the (lower) capital gains rate, as opposed to as conventional income.
"The landlord was refusing to give my clients what they needed in order to get capital gains treatment, even though it was going to cost him nothing," he said. "So I went back to the attorney and told him we can't do the deal at $975,000 or whatever it was. I said, 'We'll pay the tax, but you have to pay us more money.' That changed his mind."
Whatever you do, landlords, don't come to the table with a low-ball offer, Sedaghatpour advised. Fundamentally, he said, tenants, assuming they have a strong tenancy case, hold most of the leverage in such situations. And things are more likely to get contentious—and by extension, costly and time consuming—if they suspect they're not being treated fairly.
"Unless [a rent-stabilized tenant] is doing something outside the terms of their lease, they have no obligation to go anywhere or even entertain any type of buyout," he said. "You have to be prepared to give them enough money to maintain their quality of life in their neighborhood."
He cited the cautionary tale of a building in Midtown that recently tried to buy out its tenants for around $250,000 each—well below the going rate of pretty much anything in the neighborhood. Rather than take the offer, the tenants hired an attorney to help them negotiate. In the end, Sedaghatpour said, the buyouts will likely prove more expensive than if the developer had simply come with a reasonable offer in the first place.
"What happens is, many shortsighted operators come up with initial negotiations that may be very favorable to them, but that don't work for these residents. And it ends up creating two sides that are often antagonistic, and the negotiation ends up being much more expensive," he said.
Sometimes staying is better anyway. Mirador Real Estate agent Jessica Milton noted a friend of hers who was offered a $10,000 buyout to leave his Clinton Hill apartment but declined.
"I wasn't interested in moving at the time, so I didn't make a counter offer," the friend, who requested to remain anonymous, told the Observer. Instead, he stuck it out through construction and now has a renovated building and partially renovated apartment.
And what good is buyout money, if you feel it's not just your apartment but also your city that you're losing? ("Plenty good!" say all the people who didn't get any buyout money. Nonetheless, it's not an entirely unreasonably question to ponder.)
One of Wagner's clients, Vimi Bauer, recently negotiated a settlement from the Greenwich Village apartment where she and her late husband Irvin, both of them writers, had lived for many years. Even before they left, though, it felt like the neighborhood had moved on without them.
"Our building was in a prime, prime, prime area next to the New School, so we had seen a lot of changes," she said. "It was clear what was happening. The Chinese restaurant that we went to had to close. This closed, that closed. The neighborhood was changing."
The couple had received buyout offers from their previous landlord, but they never considered them seriously, Bauer said.
"They were very decent to us even though it was clear they would like us to leave," she said. "But we were not about to spend our life playing golf—we didn't play golf—so every time they would call and ask us what were our thoughts, our thoughts were the same, to stay in the city."
When new ownership took over the building and began making buyout offers, though, the Bauers decided it might be time for a change.
"We had thought about even with our previous landlord what a chunk of money could do for us," she said, "but a chunk of money is all relative to what you can buy with that chunk of money, and how big is the chunk? The chunk that the previous guy was offering was certainly not big enough, but with this new situation and watching what was going on around us…"
They took the deal, intending to buy something else in the area. But, Bauer said, finding something has been "absolutely impossible," and so she has set up camp, for the time being anyway, at the couple's vacation home in Florida. Bauer died in 2015.
"We decided to go there and regroup and see what we could afford," she said. "October 14 will be a year [since the move]. I can't say the decision is final, but that's where it is at the moment."