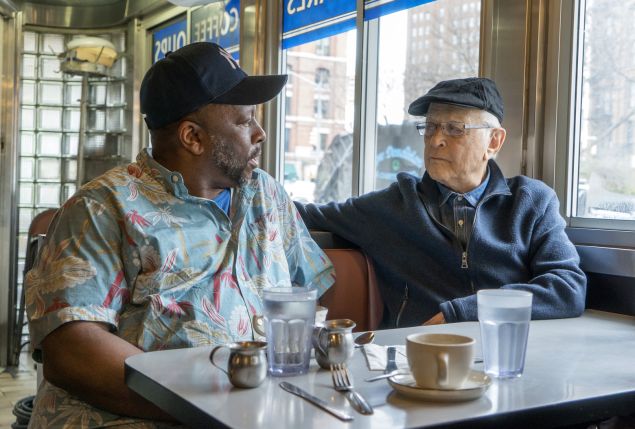 When TV icon Norman Lear looks into the camera and says, "I can't fucking believe it," with a level of conviction so clearly obvious, people will no doubt be compelled to listen to what he has to say.
Lear's statement is part of his work on the series America Divided, an eight-story, five-part documentary that presents interwoven narratives about inequality in education, housing, healthcare, labor, criminal justice and the political system.
Executive produced by Lear, television creator Shonda Rhimes and musician Common, the series features that trio, along with high-profile correspondents Rosario Dawson, America Ferrera, Zach Galifianakis, Amy Poehler, Peter Sarsgaard and Jesse Williams.
"Each of these individuals delve into a topic, addressing it in a journalistic fashion, to explore the complexities of these issues, all of which highlight disparities in social class," says Solly Granatstien, who along with Lucian Read, and Richard Rowley, created the series.
A nine-time Emmy-winning producer. Granatstein has worked at ABC News, NBC News and CBS' 60 Minutes. Rowley's credits include the 2013 Oscar-nominated documentary Dirty Wars while Read, with Granatstein, produced the docuseries, Years of Living Dangerously, which addressed the threat of climate change.
Granatstein admits that the idea of 'celebrity correspondents' was not appealing to the team at first, saying, "We were sort of skeptical about doing that, because it seemed sort of 'gimmicky' in a way, but we quickly realized there's a whole skill set that someone who spends time working in front of the camera brings. They have this ability to connect and an empathy that's ever present. And, they're great at drawing people out and helping tell real stories."
Each of the correspondents had a very real connection to the issue that they were working on, explains Rowley. "Zach (Galifianakis) is from North Carolina and he wanted very much to talk about the politic divide in that area. Peter (Sarsgaard) said, 'I come from working class people who've struggled with addition so I want to tell that story,' and Jesse (Williams) was a teacher so he wanted to report on educational issues. None of this was random. There was a real reason and purpose for each of them to work on exposing a particular issue."
Along with Galifianakis, Saarsgard, and Williams, Common looks at disparities in the criminal justice system in his hometown of Chicago, Rosario Dawson travels to Flint, Michigan, to probe that city's water crisis, America Ferrera, whose family emigrated from Honduras, travels to Texas' Rio Grande Valley to report on the plight of Central American refugees, and Amy Poehler ventures into the world of immigrant women who are domestic workers.
Read says that the producers worked closely with each participant to create a truthful narrative. "We gave them a journalistic edge with the tools they needed and they set about doing the work, telling the real stories of people facing these issues. Each of them went on a journey and the result is something very impactful, for them certainly, but we think for everyone that sees this as well. "
The project, in the works for more than two years, was timed to air right in the middle of the run-up to the 2016 Presidential election, in the hope that issues from the series might help shape campaign dialogue.
Granatstein explains, saying, "The series doesn't engage with the candidates directly but these are concerns that will be affected by who we put in office, so airing this at a time, when political decisions are being made by citizens, was very important to us."
Lear, who's made a career of bringing social commentary to the masses via entertainment with his award-winning television series — All in the Family, Maude, The Jeffersons, Sanford and Son, One Day at a Time, and Good Times — admitted that working on a project like America Divided was much different than he initially anticipated it would be. "I wasn't really prepared for all of the things that I'd feel, that I felt, while I was doing this, and some if it really just hurt me to my core."
He explained that as a child of the depression he grew up watching his family struggle with their living situation on a daily basis. "The whole area of housing has been of great interest to me all my life, so my piece of this was to look at the current status of housing in our society. It was shocking, but it shouldn't have been because we all know what's happening – how much inequality there is out there, in race and class. It's just terrible."
In a particularly searing segment, Lear goes 'undercover' as a prospective renter to show how landlords discriminate against African-Americans. This was just one of the atrocities he unearthed in his expose of the housing industry.
He relates a little more of his experience, saying, "There was a woman with three kids whose rent had been escalated to a high level because the owners just want her out. I also met a family with a young child who had breathing problems and we learned that the landlord was doing this shady work to keep dust in the air so as to make the family want to get out. I have to say it again; it's just terrible. Really, really terrible."
A close relative motivated Sarsgaard's to participate in the project, he says. "I have someone in my family who continually battles an addiction — that's how it is when you have an addiction, it's an ongoing thing – so I wanted to understand the circumstances about how this happens and what the future looks like with regard to this issue."
Sarsgaard admits that he found the lack of hope one of the toughest things to understand, but that it's prevalent now in society. "I saw a lot of young people just in the grip of a life that they don't see getting any better and that's just so…." His head drops and he sighs as he continues with, "…it's not just sad, it's almost crushing in a way to see that and know that this is how they really feel. How do we change that?"
Clearly agreeing with this thought, Lear says, "It's distressing to think that right now in America so many people feel that they just don't have a chance. Any chance."
Lear points to another of the reasons that he agreed to join this effort; because he believes that America Divided is providing the audience with knowledge that's extremely important. "Before you can take action, you need information. Our government, and the success of our way of life, is dependent on informed citizens, so this is an opportunity to really show people what's going on right now in our country and to help them decide how to take action."
Echoing this sentiment, Sarsgaard adds, "There are issues that mainstream media covers but the ones that we're covering don't seem to be 'sexy' enough to get the attention they need. I can pretty much guarantee that everyone is going to be affected in some way by watching this. You may think that maybe this one issue doesn't affect you, but you'll see soon enough that it's really all connected, we're really all connected, so we need to understand each other and work together."
In choosing these particular topics, Rowley says, "We really feel that we tried to keep our ears to the ground and listen the cry of the people, and that's what the series is all about, answering that cry."
Granatstein points out what he, and his co-producers, feel is the real message of the series, empathetically saying, "Everyone involved in this thinks that inequality is the greatest crisis facing our country right now and I'm pretty sure that the majority of the population will agree with that. This is a series that tackles that subject, and all its implications, in a nuanced, but complex, way, with an emotional depth that's unlike really anything that's been seen on television up to this point."
Adding to this, Sarsgaard says, "If you look at it as a whole, this is a huge storm, and right now we're really just holding a single umbrella, but you have to start somewhere, and that's what this series is all about. Let's get things started, get people talking, create awareness, spur people into action, and make sure somehow, some way, we generate a shift in attitude and practice."
Lear then jumped into proclaim, "Now that's what a television series should do!"
And Lear is a guy who should absolutely fucking know.
'America Divided' premieres Friday, September 30, at 9pm et on Epix.