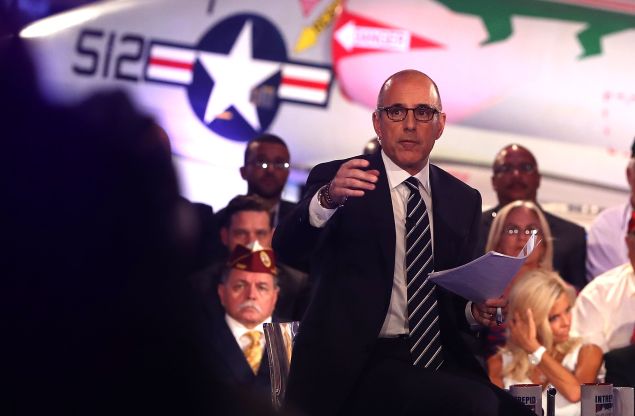 Donald Trump and Hillary Clinton attended a Commander-in-Chief forum Wednesday night to answer questions on their records, statements and policies. But the big story out of the night was not really about either candidate, but about how NBC host Matt Lauer questioned them.
Lauer is getting raked over the coals by the Left, who contend that he wasn't as tough on Trump as he should have been. The Washington Post said Lauer "was tougher on Ryan Lochte than on Donald Trump," referring to the Olympic swimmer who was accused of lying about a robbery in Rio de Janeiro, Brazil (it turned out Lochte may not have been lying after all).
The New York Times had two separate articles on Lauer's performance, one titled "Matt Lauer Fields Storm of Criticism over Clinton-Trump Forum." The other headline called his performance "pathetic." The Times' Nicholas Kristof called Lauer "an embarrassment to journalism."
Huffington Post declared Lauer "failed the moderator test." Vox lamented that Lauer didn't sufficiently follow-up on Trump's responses, which the media outlet called "bald-faced, on-camera lies."
Clinton's campaign even used Lauer in a fundraising email, writing: "Not only did the moderator, Matt Lauer, fail to fact-check Trump—he then kept the conversation moving."
Suddenly the Clinton campaign is complaining about media bias? It is funny to watch the liberal media get wrapped in this. Do they think Lauer is biased in favor of Trump? Do they think Lauer is a secret Trump supporter? Laughable.
The problem the Leftist media seems to have is that Lauer didn't go balls-to-the-wall against Trump, trying to expose him as the monster the media thinks he is. Trump said some inaccurate things, to be sure (as did Clinton, as does every politician), but he carried himself well last night, even as he was asked twice as many questions during the event.
That didn't give the Left the ammunition they wanted to turn Clinton's downward-spiraling campaign around. They were hoping Trump would say something so dumb, or so outrageous that it would be the big takeaway from the evening.
The media could have made that happen, it's not like they haven't done it before. Just last month members of the media twisted Trump's words to claim he was inciting violence. Instead, the biggest takeaway from Wednesday night's forum was the haterade lodged against Lauer.
Some in the media also had a problem with the amount of time Lauer devoted to asking Clinton about her email scandal. The controversy was reignited last Friday, so I think it's fair to say it's topical. The problem for Lauer is that the forum was supposed to be about military issues, so focusing on the email scandal took away from getting deep into Clinton's policies, and her national security failures.
Apparently, Lauer was supposed to nail Trump to the wall until he broke and spewed hot garbage everywhere, and he was supposed to just gently prod Clinton about her national security policies.
The forum was seen as a kind of precursor to the presidential debates between Clinton and Trump (and, who knows, maybe Gary Johnson if his polls pick up—2016 is weird). If Trump can remain composed, like he did Wednesday night, he will continue to improve his image with the American people. Clinton won't be able to appear incensed over legitimate questions about her lies to the American people and come off looking presidential, unless Trump beclowns himself.
If last night is an indication of what the debates will be like, Trump might surprise everyone.
Disclosure: Donald Trump is the father-in-law of Jared Kushner, the publisher of Observer Media.