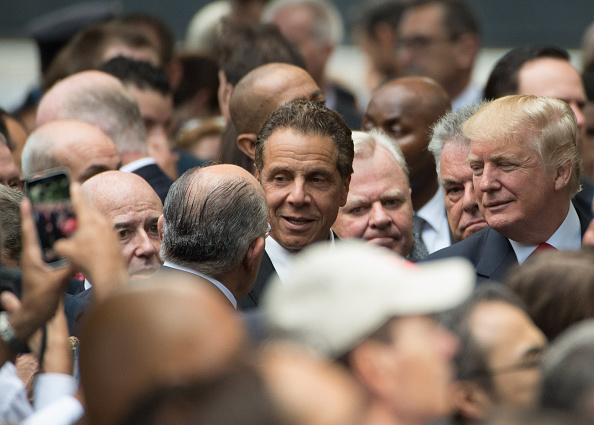 Gov. Andrew Cuomo argued today that he did nothing wrong by publicly meeting and speaking with Donald Trump—a man whose ideas he's condemned and campaign donations he's taken—at Sunday's September 11 memorial at the World Trade Center site.
Speaking to reporters after an unrelated event in Queens—the birthplace of both the Democratic governor and the Republican presidential nominee—Cuomo insisted what transpired on that "sacred ground" transcended partisan differences. Trump had claimed he and Cuomo "get along very well" in an interview with the New York Post's Fred Dicker yesterday.
"I know Donald Trump. I've known him as a New Yorker. I've known him for many years," Cuomo said. "But there's also no question that for me, as governor of New York, I do not believe  Ground Zero, on the day we're celebrating 9/11 is the time for politics."
An analysis the firm Competitive Advantage Research shared with the Observer in March revealed Cuomo has received some $64,000 in political contributions from the brash businessman and his family over the course of his political career. Cuomo has brazenly refused to return the funds.
Trump also told Dicker that he and the governor had discussed the weather. Cuomo, however, seemed to suggest the conversation in front of the cameras was more formal
"Anyone who comes to 9/11, and that site, I thank them for coming, I thank them for their attendance, I thank them for joining with New Yorkers and remembering those we lost," he said.
The governor insisted that the public meeting did not in any way suggest a slackening in his support for Hillary Clinton. Cuomo even threw in a jab at his bitter rival, Mayor Bill de Blasio, who demurred in endorsing Clinton in an apparent bid to build up his influence and "progressive" credentials.
"While other people were trying to make up their mind and playing politics, I was there 100 percent. So there's no question about my supporting Hillary Clinton," Cuomo said, recalling that he endorsed Clinton the same day she announced her presidential bid.
But other top Democrats have attacked Trump's behavior and business activities in the aftermath of the 2001 tragedy, which they claim the property magnate has misrepresented. Queens Congressman Joseph Crowley devoted his speech at the Democratic National Convention in July to pointing out how the mogul took advantage of government grants intended for small businesses struggling in the aftermath of the attack.
"It was one of our nation's darkest days, but to Trump, it was just another chance to make a quick buck," Crowley, who lost a firefighter cousin to the disaster, said onstage in Philadelphia.
Cuomo also has some history of undercutting fellow Democrats by making nice with their Republican rivals shortly before elections. He repeatedly praised the Republican-led State Senate in 2014 despite having vowed to help his fellow Democrats seize control of the body.
That same year, just days before Democratic Councilman Domenic Recchia was due to face indicted GOP then-Congressman Michael Grimm in one of the nation's closest-watched races, Cuomo appeared with Grimm at a Hurricane Sandy-related event—and refused to commit to campaigning for Recchia.
Disclosure: Donald Trump is the father-in-law of Jared Kushner, the publisher of Observer Media.