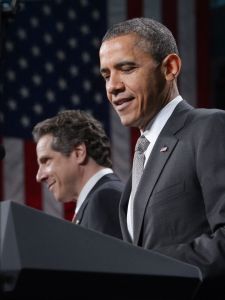 Gov. Andrew Cuomo reported today that he had spoken on the phone with President Barack Obama about the bombing in Chelsea Saturday night—and argued the commander-in-chief was right not to have yet formally addressed the public on the act of terror.
Speaking to the press at Penn Station, Cuomo related that the president had offered congratulations and warm regards to the city and state's first responders for their "phenomenal job" reacting to the explosion at 23rd Street and Sixth Avenue—and to the improvised bombs recovered both a block away and in Elizabeth, New Jersey. Asked by reporters why Obama had only relayed remarks through him rather than issuing his own statement, the governor defended his fellow Democrat and asserted the president was fully cognizant of the status of the investigation and the situation in New York.
The president was in Manhattan last night for a political fundraiser.
"He was very well-informed, I can tell you that," Cuomo said. "He was fully up-to-date on the investigation. So he has been getting briefings all along, that was clear. That was his primary focus. And he wanted to make sure we had everything we needed in New York. And I told him the FBI couldn't have been any better, Department of Justice has been great. We've been dealing with a lot of federal officials and coordinating."
The governor even  argued that having a presser too early on could impair the efforts to gather information and capture the suspect, Ahmad Khan Rahami. Rahami was reportedly apprehended in Linden, New Jersey shortly after the governor's press event.
"I'm sure he will. I'm sure he wanted to get to a point in the investigation where we have facts, you know," Cuomo said, recalling his own legal work as former state attorney general. "It doesn't, it's not helpful when you do not have facts, and you just take a lot of questions and have no answers—or, early in an investigation, when it's not appropriate to be talking about the investigation."
The governor insisted he was also "in lockstep" with another Democrat—his bitter rival, Mayor Bill de Blasio. The two held their first joint appearance together in months when they toured the bombing site yesterday. They had previously held separate press conference on the attack.
Cuomo and de Blasio had initially differed on describing the event as "terrorism"—with the mayor not declaring the attack as such until this morning. The governor blamed this, oddly, both on "semantics" and on differences between the different presidential candidates.
"I also believe you had a little politics going on yesterday, where, well 'Hillary Clinton called it this, and Donald Trump called it that,'" he said, alluding to how Trump referred to the incident as a bombing before any details were known. "So the media loves the politics in the silly season. And we are in the silly season. Which is more like the 'crazy season' this season."
De Blasio also notified press this morning he had spoken with the president.
The governor has deployed some 1,000 state police and National Guard troops to key sites, and vowed the "highest police and security presence ever assembled." Cuomo added that it was still unclear whether Rahami had ties to international terrorism, and whether he was connected to a bombing in Seaside, New Jersey on Saturday morning or to pipe bombs recovered in Elizabeth, New Jersey—where the suspect resided—last night.
Disclosure: Donald Trump is the father-in-law of Jared Kushner, the publisher of Observer Media.