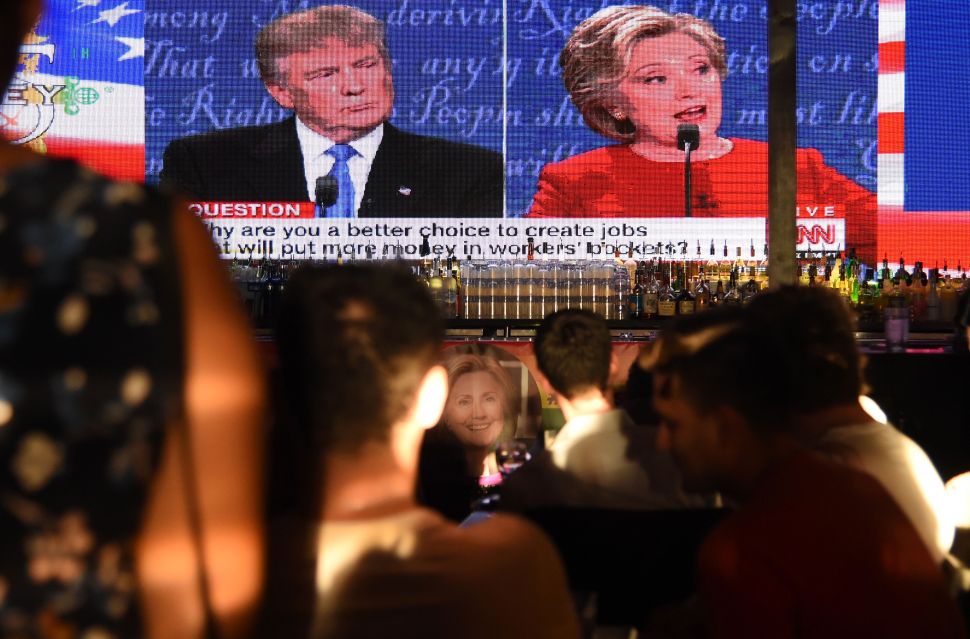 Again and again, professors, staff and students told me of their reluctance to watch the 2016 presidential debates. "I don't want to get my blood pressure up to dangerous levels," one colleague told me. That got me thinking…what if the debates were bad for your blood pressure? Like any fan of the Discovery Channel show Mythbusters, I decided to try it for myself.
There's a long list of studies about blood pressure and how external factors can have an impact. In a Los Angeles Times interview, Beverly Hills Cardiologist Dr. Joshua Penn with Cedars-Sinai Medical Group stated that stress, emotional concerns and certain foods can boost your blood pressure, which can result in hypertension.
To test what impact a contentious debate could possibly have on me, I pulled out a home blood pressure device, taking readings before the debate began, during the debate, and after the debate, to see if there was any change. It's one we used in my Civil War class, testing stress levels experienced by charging versus marching up the hill.
Do home devices work as well? According to Dr. Penn, those that work on the biceps can be reasonably accurate, within a few points of accurate readings, according to L.A. Times writer Janet Cromley.
It was time to play "mythbuster." Before the debate started, my readings showed 135/80 (Systolic/Diastolic readings) with a heart rate of 76 beats per minute. That's an elevated reading for me. Perhaps it was high because I ran for 3.1 miles in the early evening after a busy day at work, and then enthusiastically cheered my son as his team won their first league soccer game before the debate. But some of it could have been the same result many anxious Americans felt as they tuned in to the historic debate.
Initially, I thought Trump had the upper hand. He gave strong, measured answers on the subject of trade and jobs, while Clinton seemed to try and dance around her position on each issue, or tried to pivot from the subject of losing jobs to competition abroad.
It was a different story during the debate. Midway through the battle, I was shocked to see the blood pressure machine spike to 150/92 with 82 beats per minute. I thought it would go up a few points, but this showed that I had some hypertension! I haven't seen those numbers in a while, perhaps since the last election.
Though I didn't take readings every few minutes, I thought about which moments of the debate made me "feel stressed." I think the discussion on Clinton's emails, Trump releasing his taxes, the Iraq War, and the birther issue made me feel noticeably nervous. My wife didn't take the pressure test, but got annoyed when candidates interrupted each other.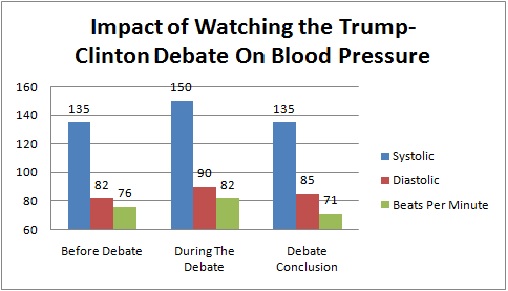 Towards the end of the debate (in the last 15 minutes), the blood pressure machine showed my scores dropping to 135/85 with 71 beats per minute. If I had to venture a guess as to why my blood pressure lowered, I think the candidates eventually saying they would honor the election results, if they lost, played a role in lowering my stress levels. That was a concern I had.
Are the levels that I experienced dangerous ones? The Los Angeles Times story noted that blood pressure below 120/80 is pretty good, it is a different story for while levels above that. Readings up to139/89 are a sign of concern, and those readings above 140/90 may reflect at least Stage 1 Hypertension. Stage 2 Hypertension is 160+/100+. Hypertensive Crisis is 180+/110+, according to the American Heart Association (AHA), and that's not a good thing to have.
I know you're thinking what's so bad about some hypertension. Well, I've driven a friend to the hospitable in the middle of a hypertensive crisis last year, and that's not fun. When your breath gets short, you have strong headaches, severe anxiety and nosebleeds from stress, it means you better have a friend with a car handy, or something to dial 911 to get an EMT out there. You could suffer a stroke, heart attack, lose your memory, damage your eyes or kidneys, and those are just for starters, all according to the AHA. This is serious stuff.
But couldn't watching any exciting event produce this kind of reaction? To test this, I took the readings again with the TV off. My blood pressure was 126/89 with 71 beats per minute (still a little higher than normal for me). I then turned on the television to watch the Atlanta Falcons play their rival, the New Orleans Saints, and the game was already into the final quarter. Midway through the fourth quarter, my readings were 131/90 with 63 beats per minute, during this exciting game, as the Saints mounted a furious comeback against our home team. After the game, when the Falcons held on to win, the machine read 125/77 with 63 beats per minute, which is a little closer to my regular readings. Despite the fourth quarter fireworks, I was more stressed during the debate than I was during the Monday Night NFL football game.
Others have looked at stress events and blood pressure readings. In the journal Social Science and Medicine, Nancy Krieger reported on the role that racial and gender discrimination can have on stress levels. She found that when the person facing discrimination kept quiet about the event, and did not openly respond to it or report it, such subjects reported higher levels of hypertension. Just keeping your mouth shut about intolerance isn't always the best plan.
Marital problems are another source of stress people report. A study by Craig K. Ewart, C. Barr Taylor, Helena C. Kraemer, and W. Stewart Agras in the journal Health Psychology found that arguments boosted blood pressure numbers among those with hypertension. It's a similar finding to Lisa Rapaport's article in the Huffington Post about marital relationships and stress, where couples in trouble found themselves with higher blood pressure numbers.
Dr. Penn adds that there are also some elements that can lower your blood pressure, like "alcohol, cessation of exercise and a warm environment." I found a change in my diet and the introduction of new foods helped replace my high blood pressure readings a few years ago.
Now if doctors can only tell us how to "de-stress" during and after a debate, we'll be set for future confrontations between Mike Pence and Tim Kaine in October, and even a rematch or two between Donald Trump and Hillary Clinton later next month.
John A. Tures is a professor of political science at LaGrange College in LaGrange, Ga. He can be reached at jtures@lagrange.edu.