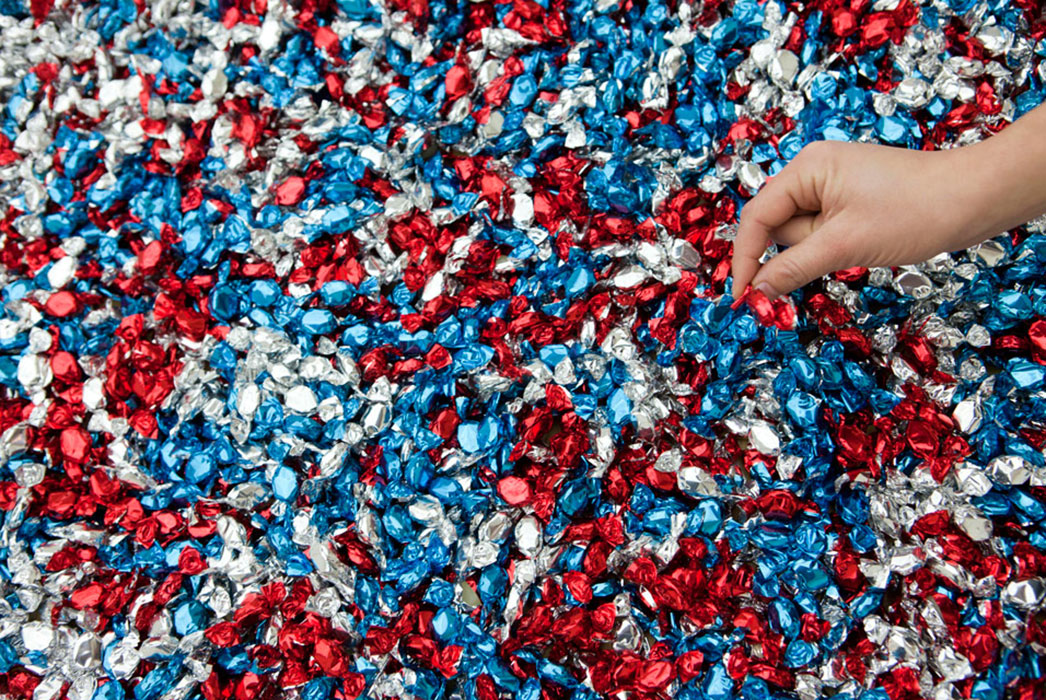 FRIDAY, SEPTEMBER 16
Opening: "Take Me (I'm Yours)" at the Jewish Museum
Over 40 artists have created works for visitors to both appreciate in the gallery and take home with them if they so wish. Originally conceived in 1995 by curators Hans Ulrich Obrist and artist Christian Boltanski for London's Serpentine Gallery (but on a much smaller scale), the exhibition "Take Me (I'm Yours)" touches on themes of ownership and consumer culture and encourages viewers to engage with artworks by giving them away. Freebies by Andrea Fraser, Gilbert & George, Carsten Höller, Daniel Joseph Martinez, Yoko Ono, Rachel Rose and Martha Rosler are yours for the taking.
Freebies by Andrea Fraser, Gilbert & George, Carsten Höller, Daniel Joseph Martinez, Yoko Ono, Rachel Rose and Martha Rosler are yours for the taking.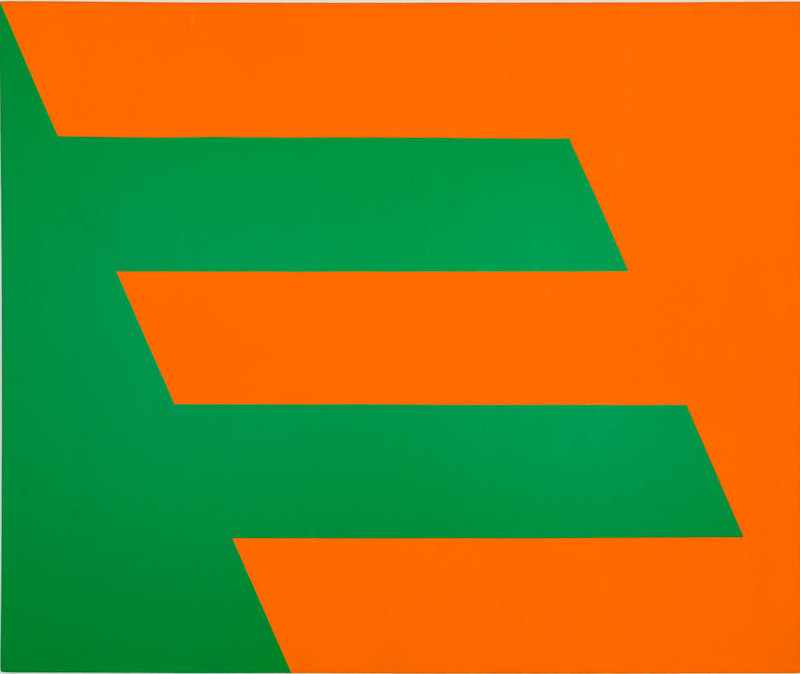 Opening: "Carmen Herrara: Lines of Sight" at the Whitney Museum of American Art
At 101 years old, Cuban-born artist Carmen Herrara is only now having her second major museum retrospective in New York, featuring key works in her signature geometric style produced between 1948 to 1978. Herrara is a living legend, whose obsessive investigations on the straight line have long been overlooked.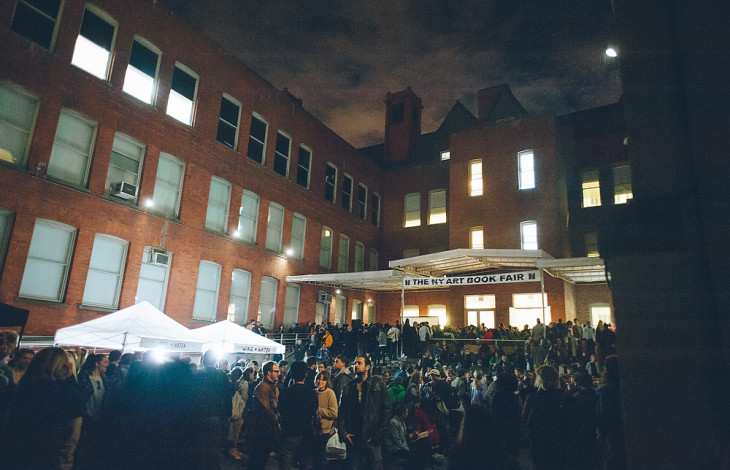 Opening: "Printed Matter's NY Art Book Fair" at MoMA PS1
Hands down one of my favorite events of the fall, the New York Art Book fair is a massive DIY trade show for artist books, prints, zines, and a whole lot more. This year, artists Martha Wilson, Gary Panter, Cory Arcangel and filmmaker Jonas Mekas will be participating in talks and signings, a special exhibition will spotlight Toby Mott's monumental collection of punk ephemera, and tattoo artists from Brooklyn's Flyrite will ink visitors with designs by Kim Gordon, Genesis Breyer P-Orridge and Devendra Banhart.
Opening: "Independent Art Book Fair" at Greenpoint Terminal Warehouse
If you didn't get your fill at the NY Art Book Fair, head to Greenpoint for the inaugural edition of the Independent Art Book Fair. The event, founded by Ed. Varie's Karen Schaupeter, will feature a wide range of independent projects, including works by Spring/Break Art Show director Ambre Kelly at Equity Gallery's booth, a panel on photographer Stephen Shore's quarterly DOCUMENTUM and a photo booth for visitors to compliment the release of Hana Pesut's self-published book Switcheroo based on her hit blog about clothes-swapping couples.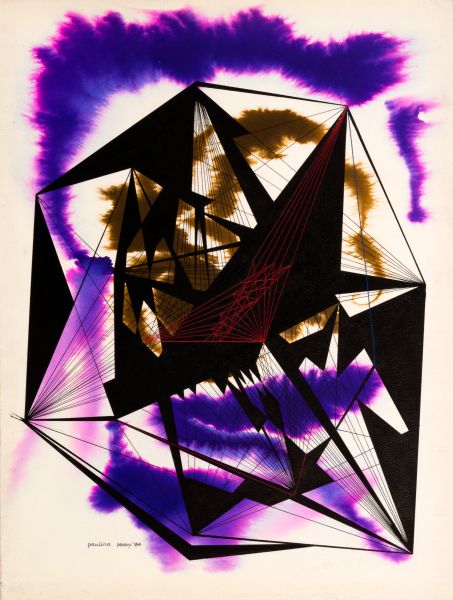 Opening: "Paulina Peavy: The Artist Behind the Mask" at Andrew Edlin Gallery
Paulina Peavy created a remarkable series of watercolors, drawings, paintings, beaded masks and films in collaboration with a UFO she called Lacamo. Themes of androgyny and reincarnation weave through Peavy's dreamy work, and are expanded upon at length in two philosophical tomes she authored.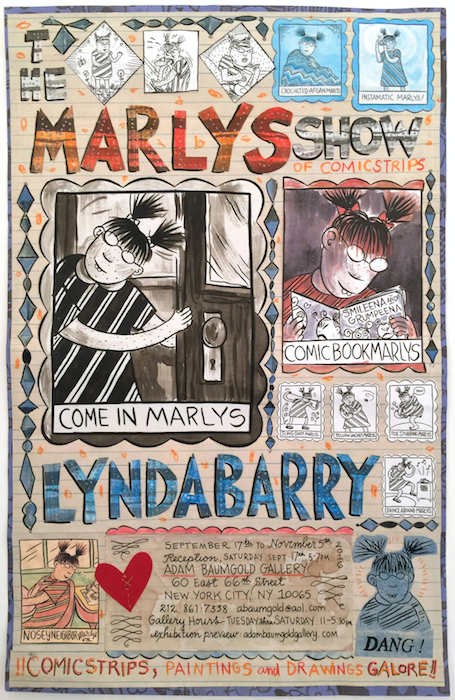 SATURDAY, SEPTEMBER 17
Opening: "Lynda Barry: The Marlys Show" at Adam Baumgold Gallery
Marlys is perhaps two-time Eisner Award-winning cartoonist Lynda Barry's best known character, and over 80 drawings of the bespeckled, pig-tailed little girl will be on view in this retrospective exhibition. Barry's strips have over the years been featured in the Village Voice, the New York Times, Newsweek and Esquire and her compendium of Marlys-related work, The Greatest of Marlys, is due to be reissued by Drawn and Quarterly this year.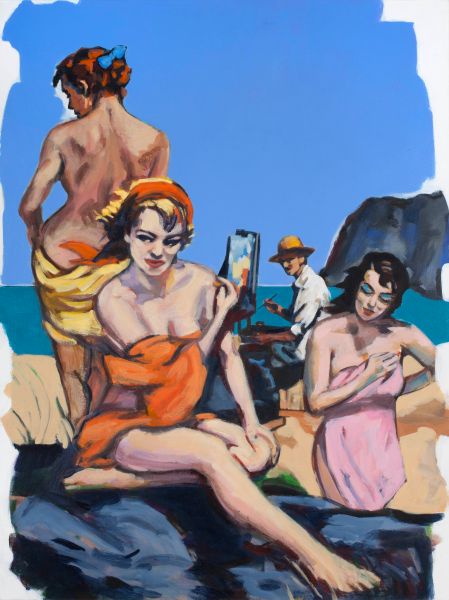 Opening: "Walter Robinson: A Retrospective" at Jeffrey Deitch
Artist, Artnet magazine founder and occasional Observer contributor Walter Robinson will inaugurate star curator and dealer Jeffrey Deitch's return to his Wooster Street gallery space. Deitch, who has know Robinson since his gallery assistant days in SoHo, blamed the artist's "modest manner" and "disdain for aggressive careerism" in the show's press release for leaving his work under recognized. However, Deitch's retrospective will likely soon right that wrong.