In the age of the $100 million apartment, it's not particularly easy to makes waves in the realm of New York City real estate.
And the Soho loft that artist Abraham Lubelski just sold isn't anything incredibly groundbreaking.
Sure, it's perfectly nice, at an expansive 4,100 square feet, with 14-foot ceilings. But what is rather impressive is that Lubelski, who founded (now-defunct) NY Arts Magazine in 1995, just made a $4.5 million profit off the space at 46 Mercer Street, for which he paid just $500,000 in 2003.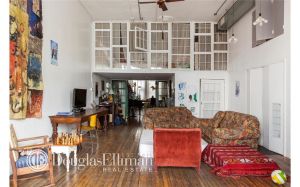 The final price isn't exactly what Lubelski was hoping for when he put the unit, which features a private elevator landing, sixteen windows, and original hardwood floors, on the market for $7.4 million in 2011. Perhaps he overestimated how much buyers would love a space that is in need of some TLC—the listing, shared by Douglas Elliman brokers Ariel Tavivian, Lenny Sporn, Yair Tavivian and Noam Gottleib, notes the full-floor abode is for someone ready to "bring your architect to overhaul and customize" it.
Still, buyers known as 46 Mercer Street Holdings and Avina US 2 Inc. must have been quite taken with the artist's five-bedroom, four-bathroom home and its open views to the east and west, since they shelled out $5 million for the apartment.
This particular apartment has stayed somewhat true to Soho's origins as an artist's haven, and is currently laid out with two galleries and loft, along with  a home office. We assume that the aforementioned architect will be renovating the place quite a bit, as it does look like it could use some, shall we say, sprucing up.
According to The New York Post, however, Lubelski might not be able to enjoy the $4.5 million he just made as much as one would think, as per The Post, Lubelski owes a number of artists thousands of dollars that they paid him for "gallery showings and magazine promotions that never materialized."
As for the loft's place in all of this? "I couldn't go back to my home. I cannot use it as a gallery. I can't use it to work," Lubelski told The Post, saying he shut down all his operations. On that note, maybe that architect should work together with a feng shui expert on this one, or some way to get rid of the bad karma here…though on the other hand, perhaps exposed brick negates such things when it comes to a New York City apartment.