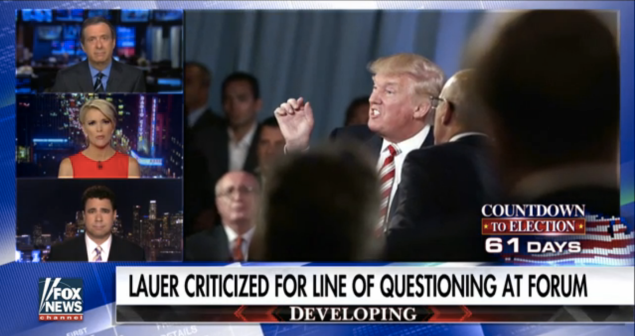 The banter about the new hosts on the two networks could not have been more different.
On MSNBC, during the new 11th Hour show with Brian Williams, left-wing team captain Rachel Maddow gave the resurgent anchorman a pep talk.
"I'm so happy you're doing this hour and you're knocking it out of the park," she told the comeback kid, no longer doing penance for stretching personal war stories. "It's such an honor for MSNBC to have you on at this time until the election. You are so good at this and I'm really glad you're here."
Over at Fox News, Brit Hume's usually frowny face seemed to deepen into a scowl as he finished up his first On the Record show and explained why he was replacing Greta Van Susteren, whose abrupt departure deepened the grief of a top-rated network already reeling from an in-house sex scandal.
"She has left Fox News, saying today the place just didn't feel like home anymore," Hume said. "I count Greta a friend and I'm sorry to see her go. All of us here certainly wish her well. She made a big contribution and we will miss her."
Hume added that he will do the 7 p.m. hour only until the election. Hey, it's a comedown for a superstar with serious self-regard. Instead of merely informing the viewers, Hume's tone of voice sounded as if he was warning his bosses, who have bigger things to worry about.
Much as the Republican Party is in chaos, so is Fox, where, it has been charged, former emperor Roger Ailes often tried to use his female staff as a personal harem. Despite his denial of Gretchen Carlson's allegations, settlement of her sexual harassment lawsuit has cost Fox $60 million so far.
Of that total, $20 million went to Carlson this week. And $40 million went as a going-away present—here's your hat; what's your hurry?—to Ailes, who ran Fox for its first 20 years and used sophisticated propaganda techniques to change the national conversation, revolutionize TV news media and divide the GOP. Oh, and make lots of money for Rupert Murdoch.
While Ailes waits to deal with another sexual harassment lawsuit—this one from Andrea Tantaros—he works—without title and behind the scenes—in the deep shadows with Donald Trump, the Republican candidate running for the White House (and control of nuclear weapons) against the Democrat, Hillary Clinton.
Ailes, who helped sell "The New Nixon" in 1968, could finish off his reptilian career by helping to elect a president who frightens even many Republicans and conservatives. Liberal Democrats like Howard Dean say what you might expect, albeit colorfully.
"I actually think Donald Trump is just a crackpot at this point," Dean told Lawrence O'Donnell on The Last Word on MSNBC Thursday night. "He really has no business in this race at all."
'Ask Donald Trump if he thinks the U.S. government should give North Korea a state dinner. Seriously.'
Dean also questioned Trump's military buddy, General Michael Flynn.
"I don't think Michael Flynn is playing with a full deck," Dean said. "There's something wrong with him . . . I'd like to know under what conditions he had to leave the service."
Both Flynn and New Jersey governor Chris Christie issued statements Thursday denying an NBC report that—during a recent intelligence briefing for Trump—Christie had to tell Flynn to "shut up" and stop interrupting the intelligence officials.
All this followed the "commander-in-chief" forum on NBC and MSNBC Wednesday night in which Trump said the generals of the American armed forces are in "rubble" and that career professionals in the intelligence service—in so many words and with body language—told him President Obama refuses to do as he's told by those old pros.
This, along with Trump's flattery of Russian President Vladimir Putin, alarms pundits like David Gergen, who appeared with Don Lemon on CNN Tonight on Thursday.
"His embrace of Vladimir Putin all the way along in this campaign has been bizarre," Gergen said. "He (Putin) is one of the most hated men in America."
A common theme of the evening was Trump's statement Wednesday that the United States should have "taken the oil" from Iraq after invading it.
Although Trump has been saying this for months, the pundits are just starting to think of exactly what that would mean: Stealing oil after trashing the landscape.
"It would be a war crime," retired Lt. General Mark Hertling told Anderson Cooper on CNN's AC-360. "You don't steal its natural resources."
NORTH KOREA NUKES While coming to the end of another windy opening—this one about silly alt-right web sites and how the Trump campaign uses them—Maddow encountered some delayed serendipity. She spoke Thursday night of how Putin's flattery—perhaps mistranslated—turned Trump's head.
She wondered if someone should prank Trump by sending "a fake mash note" of praise from Kim Jong-un, the dictator of North Korea, perhaps complimenting Trump's hair or suits.
"Then wait five minutes," Maddow concluded, "and ask Donald Trump if he thinks the U.S. government should give North Korea a state dinner. Seriously."
About 40 minutes later, just as her show was about to end, Maddow was the first to report that North Korea may have set off an underground nuclear explosion. She showed on screen a web site story from The New York Times with a headline to this effect.
"If confirmed, this would be North Korea's fifth nuclear test in total," Maddow said. "And, it, of course, will set off a whole new round of international recriminations and worries."
The other networks were slow to catch up. On Fox, it wasn't mentioned at 10 p.m. on Hannity because that show is prerecorded. Fox announced it in a crawl message printed at the bottom of the screen at the top of the show.
In a show break at 10:13 p.m, Patricia Stark gave a brief report about the artificial earthquake from a studio.
CNN caught up to it at 10:26 p.m. when Don Lemon of CNN Live reported a 5.0 earthquake recorded in Japan and elsewhere.
Lemon spoke by phone with reporter Jim Scuitto.
"North Korea is now a nuclear power," Scuitto told Lemon. "This is the nightmare scenario that folks have been talking about for years, worried about . . . It's a really alarming reality that we're facing here."
FREE TIME Everyone in television news production knows that sound bites have been getting shorter as time goes by. So it was curious to see the reverse of this trend on Megyn Kelly's show The Kelly File on Fox at 9 p.m. Thursday night.
She introduced a segment on Clinton's email "scandal" by playing a clip from a Trump speech early in the day. The clip began with "Hillary Clinton's staff deleted and digitally bleached, which is acid cleaning her emails after receiving a Congressional subpoena."
The clip ended with " . . . the world was falling apart." The clip lasted 90 seconds, uninterrupted. That's the length of three commercials. In the 24th minute, Kelly introduced another clip of Trump speaking. This time, it was many short quotes from the same speech presented back-to-back.
It, too, lasted 90 seconds—the length of three commercials. And at 9:32 p.m., introducing a segment about moderator Matt Lauer, Kelly showed a string of clips of Lauer firing hostile questions at Clinton. Clinton's responses were eliminated from the clips except for a couple stray words.
This lasted 50 seconds—almost the length of two more commercials. That give us, what, almost four minutes of free air time that backed attacks against Clinton, who—surprise!—appeared only in brief still and moving images and never was heard speaking on The Kelly File on the "Fair and Balanced" network.
Hey, what does it cost to buy four minutes of commercial time on the hottest prime-time show on the most-watched cable news outlet?
Perhaps the now diligent management there can look into charging Trump for such free advertising on The Kelly File. They could use the money to pay off some of those lawsuits.
Disclosure: Donald Trump is the father-in-law of Jared Kushner, the publisher of Observer Media.