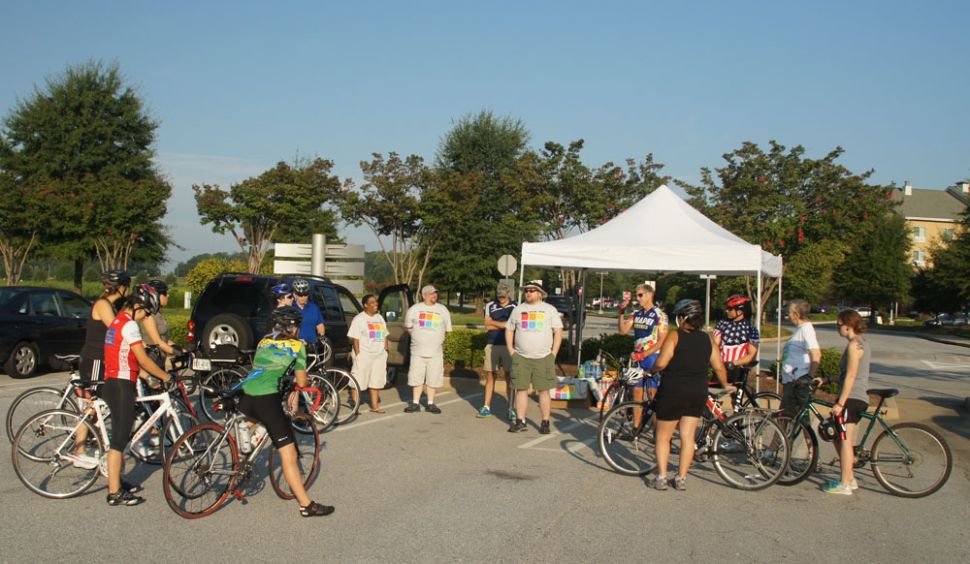 Atlanta's leaders want to encourage the brave pioneers biking its car-dominated streets to keep it up and attract others. First, though, it needs to know where they ride, so it has contracted with a Portland company to see the data gathered by its free mobile app for cyclists, Ride Report.
The region's residents drive the furthest each day to go to work, according to a study released last year by the Brookings Institution. The average in that report is 12.8 miles, and of course most people cover that by driving through the giant Southern city's legendary traffic, but people are starting to consider alternatives. Second term mayor Kasim Reed announced in 2013 that he wanted Atlanta to get on the top 10 of Bicycling Magazine's biennial list of bike-friendly cities.
He didn't make it. The 2016 list just came out yesterday and Atlanta rated 43 of 50, but that's still progress. The city didn't even make the 2014 list (so, in fairness, Atlanta probably couldn't have hoped for much more).
The Observer spoke via phone with Becky Katz, the woman hired by the city last year to keep the city focused on bikes. "The mayor set out very specific goals that he wanted to achieve before next year," Katz said. "A lot of it was adding to our mileage of bike network, but part of it was to create some culture shift and get more people riding."
'We want to see that the bike infrastructure is effective in promoting ridership, and that it promotes equitable and inclusive ridership'
According to Bicycling Magazine, the Atlanta Regional Commission will spend a billion dollars on fostering human powered transit over the next 25 years, but when the city first seriously evaluated local ridership, she said, "we realized we're not collecting any sort of consistent data about bicycling," Katz said. "It was really kind of hard to baseline whether the implementation of the plan would be effective."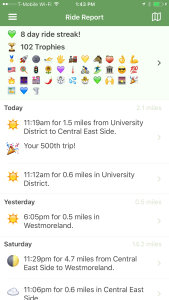 In order to best allocate funds over its 134 square miles, the city is gathering as much data as it can about where people bike and how they feel as they do so. It's added a new tool to that effort, Ride Report, an app first created in Portland to passively track riders' rides.
"The functionality of the app, that it runs in the background of your phone, was a really big thing that we thought was an amazing feature for users," Katz said. She also cited its client dashboard, which makes it easy for cities to analyze aggregate data.
If users have location services enabled on their iPhone, they don't need to do anything to use Ride Report. The app will use your phone's various sensors and know when users are riding their bikes. It then logs rides automatically. "The key problem we've solved is figuring out if you're on a bike, and that's a mixture of accelerometer and gyroscope sensor data," William Henderson, the CEO of Knock Software, which makes Ride Report, told the Observer in a phone call. It can look at a number of data points, such as whether or not repeated GPS location seems to place you in the middle of a street rather than a sidewalk. whether you seem to have the same up and down motion associated with walking or something smoother, associated with riding. Then, of course, there's speed.
The Observer previously reported on how cycling athlete app Strava sells data about ridership to cities, but that app has a more cumbersome user experience. One needs to remember to take their phone out and interact with the app at the beginning and at the end of each ride. Ride Report doesn't require users to do anything. They could ignore it for months and then open it one day and say, "Whoa, I rode that much?"
If a user wants, they can take Ride Report out and rate rides as stressful or not at the end. It's not exactly fine-grained data, but across lots of users and lots of rides, it is enough to figure out where a city has problems. In the map view of the app, shown at left, those are shown as red streets on the map.
That said, the team just launched its integration with the Apple Watch, which gives them nuanced biometric information. "We believe that correlating heart rate data with our stress data will help us build an even more accurate picture of which city streets are the most stressful," Henderson wrote in an email. Cycling doesn't grow where riders are stressed out about riding. Right now, cities have the odd bike census mixed with collision data. Those tools can't catch near misses, as Henderson pointed out, when a riders heart rate spikes after a dicey moment.
Consumers can use Ride Report for free. It's available on iOS and in there's a beta that just went up for Android. Cities pay for access to data visualization tools that let them see anonymized, aggregate data for users. Ride Report has built a dashboard for the data which allows city officials to look at it all kinds of ways. Katz described it as easy to use, flexible, fast and a strong selling point. Atlanta and Austin are the company's two newest customers. Portland has been using the dashboard since its early days. Users don't have to live in a contracting city to track their rides in the app, however. Ride Report will quietly log data that planners will be able to see when and if their town ever joins.
Ride Report isn't Atlanta's first mobile effort. Previously, it created Cycle Atlanta, which was based on an app by the San Francisco Transit Authority, but regional apps have trouble getting critical mass. They also seldom have teams tasked with keeping them up to date. Atlanta also launched a modest bike share program this summer, which provides another source of street level information.
"We want to see that the bike infrastructure is effective in promoting ridership," Katz said. "And that it promotes equitable and inclusive ridership." The transportation team at the city partners with researchers at Georgia Tech to really dig deep into their data, which comes from other sources as well.
Others can also make their own use of the data. "Once the data is aggregated and anonymous, it's open," Henderson said. "We make it available under an open [data definition language]." Cities can publish a feed of any view of the data they want to share.
Ride Report has been bootstrapped so far. Knock Software did well with its first product, a paid iOS app called Knock To Unlock. It freed Henderson to find a co-founder for a second effort focused on urban mobility. After a lot of experimental prototypes, they hit on automatic ride logging.
"There are a lot of places I think we could be expanding in the future, one of them is anyone who wants to encourage biking, such as employers," Henderson said. "We can sort of prove that you took a bike ride."