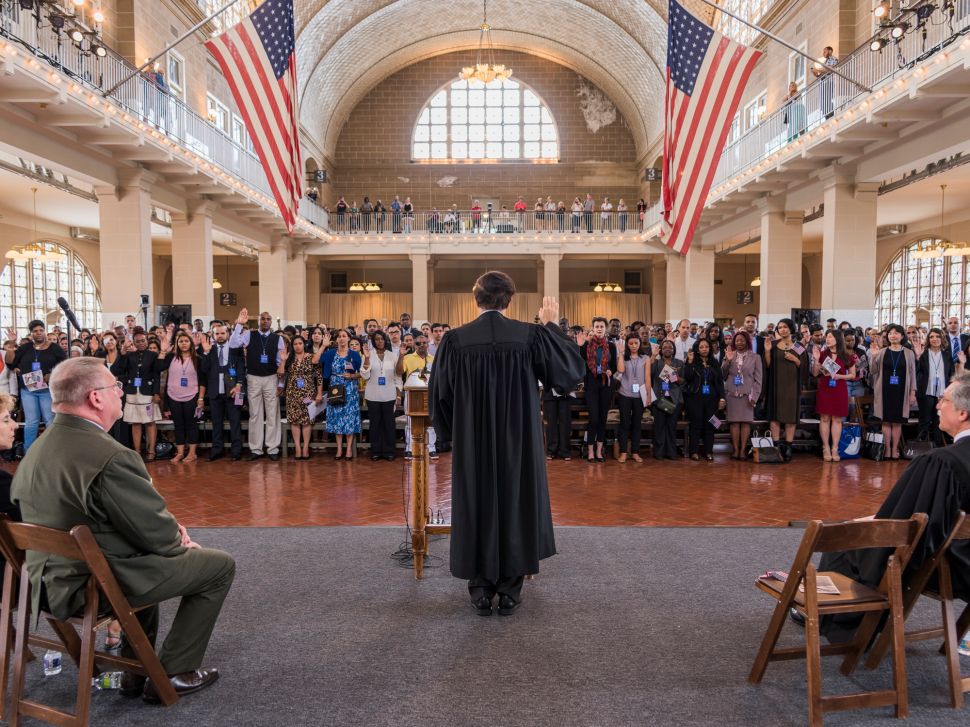 When taxi driver Richard Valdez boarded a ferry to Ellis Island last
Friday, he filed past scores of tourists for what appeared to be a VIP
wedding. As one of 298 candidates representing 53 countries, Valdez
would soon participate in the Super Bowl of naturalization ceremonies,
the largest in the island's history.
A native of the Dominican Republic, Valdez, 26, relished postcard
views of New York Harbor under a cyan sky. Tall and athletic, he wore
a navy sports jacket with brown elbow patches. To quicken his long
commute from the Bronx, he brought Love in the Time of Cholera,
Gabriel García Márquez' novel about love at first sight. Like many on
the ferry, Valdez came to the United States for better opportunities.
Unlike most other new citizens, he stood alone. His grandmother back
home could not witness the day when he pledged himself "to perform
work of national importance." In a few hours, he would be an American
with the responsibility of jury duty and the right to vote in a heated
presidential election.
Nearby, Verna Genus, 66, who hailed from Jamaica, put Betsy Ross to
shame in a white jacket, blue top, red lace skirt and crimson heels.
"I'm like the flag," she remarked. With her braids piled high, she
rattled off answers from her citizenship test in a heavy Caribbean
accent: "There are tree branches of government…The Speaker of the
House is Paul Ryan." Her son, Kirk Genus, 38, would also be sworn in.
"I have never voted in my entire life, and I feel great," said Kirk,
who supports Hillary Clinton. Together, mother and son strode toward
registration tables in the Great Hall, the cathedral-like space that
once processed 5,000 immigrants a day.
This setting, with its relics and ghosts, moved Robert Katzmann, chief
judge, U.S. Court of Appeals for the Second Circuit. His Russian
grandmother came through Ellis Island.
"I admire new citizens," Katzmann said before presiding over the
ceremony. "I like seeing the joy on the faces. Witnessing the tears of
their family members is always emotional. I think of it in terms of my
own forebearers and their stories of sacrifice, service and
patriotism."
As the son of a refugee from Nazi Germany, Katzmann helped found
Immigrant Justice Corps, a program providing legal assistance to
non-citizens fighting deportation. Today, an IJC client would be sworn
in as a citizen, a victory for the nonprofit organization.
After a presentation of colors and the National Anthem, candidates
rose when they heard their various homelands announced. Among the
first to stand at attention was Xinjie Quan, 24, a member of the U.S.
Army National Guard, who emigrated from China and wore military
fatigues. When the emcee announced the Dominican Republic, a large
contingent moved to its feet—cheers ricocheting off the high, vaulted
ceiling. Valdez was among them, raising his right hand.
"I have no doubt that the spirit of liberty will thrive with you as
citizens," Katzmann told the beaming crowd. "To become a citizen, you
passed every test. And as polls show, you know more about our
Constitution and government than most native-born Americans. Because
of your personal histories, you have a special feeling for
freedom…You will keep this country great. You will make it better as
you assume the responsibility of citizenship."
After the ceremony, Verna Genus continued sharing a stream of
impressive trivia from her citizenship studies, even after she and her
son held their official paperwork to secure them to U.S. soil. "There
are 13 original colonies," she shouted. "And the longest rivers are
the Missouri and the Mississippi."
Valdez had fewer words. "I feel like an American now," he said.