Riding around London this past Monday night, one would undoubtedly come across evidence of Burberry's September 2016 collection debut. Whether on the large screen ad in Piccadilly Circle, in the windows of Burberry (BURBY) stores themselves, or even on the sides of bus stops, the brand's latest ad campaign was in full effect. And while the brand's presence in the States might have been less of a full on assault, one major Manhattan retailer went all in.
"We are huge fans of Christopher's work, and have wanted to do something special with the brand for a while now," Daniella Vitale, the chief operating officer of Barneys New York told the Observer in an email Monday night. The brand had just launched their Burberry X Barneys New York collection as a U.S. exclusive, complete with 28 men's pieces and 27 women's piece. The retailer will have first dibs on the British brand's newest range in America for a week, prior to the collection being sold elsewhere. "The straight-to-consumer season was a great place for us to start, as our customers are always craving unique and special experiences. For the launch, we partnered with Burberry on two in-store shopping events at Madison Avenue and Beverly Hills. Customers had the opportunity to watch a live-stream of the show which took place in London, and were able to shop the collection immediately following at 3pm ET." The project will be the first time Barneys will sell Burberry's women's collection.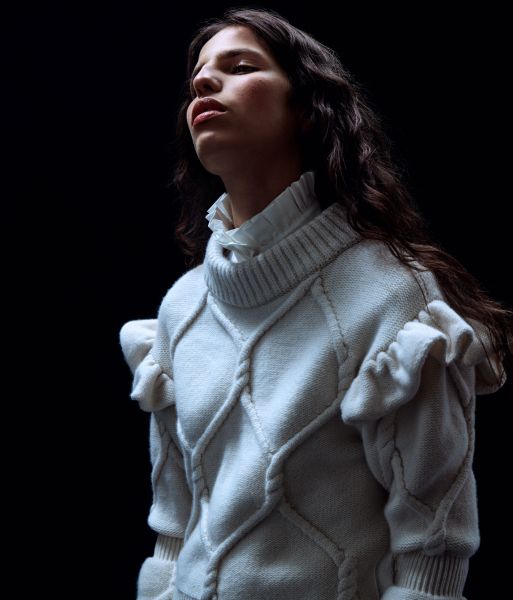 The capsule itself has two parts, composed partially of runway looks from this September's show as well as pieces inspired by those looks. The approach is a first for Burberry but closely resembles an approach Moschino has been taking for the last few years under Jeremy Scott. That Italian brand has routinely made a capsule collection of pieces from the runway available in stores at Nordstrom as well as on their website. Burberry and Barneys' link-up will also be available both in-store at the Madison Avenue, 7th Avenue and Beverly Hills locations as well as online.
For the online launch, Barneys went to London to shoot a lookbook. "Our digital lookbook is an important tool for us to use to convey the Burberry x Barneys New York style," Vitale said. "We went to London to shoot Bradley Phillips and Hayett McCarthy, and we feel as though the result represented the collection in a very authentic and beautiful way. In addition to the digital lookbook and editorial coverage, we actually launched our Snapchat Channel @BarneysNewYork in conjunction with this partnership. Our teams in London, New York and California [took] over the channel to give us real-time behind the scenes updates on London Fashion Week and at our in-store events."
Seems like see-now-buy-now is a little more seamless than we all imagined.