[protected-iframe id="d11192273a38916561f08fbc7042ea6d-35584880-105013903″ info="https://www.facebook.com/plugins/video.php?href=https%3A%2F%2Fwww.facebook.com%2Fobserver%2Fvideos%2F10154323643746620%2F&show_text=0&width=560″ width="560″ height="315″ frameborder="0″ style="border: none; overflow: hidden;" scrolling="no"]
It's difficult to put Ben Feldman's personality on the page. After introductions, I asked him to tell me a little bit about his show, Superstore—the show about which I was interviewing him. "No," Feldman deadpans. "Next question."
And so I worry in putting this interview into text, his words just transcribed on the page might fail to communicate exactly how funny Feldman is in person. For all of the actors one interviews doing who are doing network-mandated promotions, it's rare you get the chance to talk to someone who manages to come across as both charming and genuine.
Chances are, you recognize Ben Feldman from his arc on Mad Men, for which he was nominated for an Emmy. Feldman portrayed copywriter Michael Ginsberg who was eventually driven to madness (and to cut off his own nipple) by the presence of an IBM computer in the next room.
From there, his television resume became even more impressive: a guest spot on The Mindy Project as one of Mindy Lahiriri's rare love interests that last longer than a week, a role as a douchey lawyer on Silicon Valley, and starring in the short-lived NBC television romcom A to Z alongside The-Mother-That-He-Eventually-Met Cristin Milioti.
But it seems, for now, Feldman has found a home: as the slightly pretentious, but still loveable Jonah working at a Walmart analog "Cloud 9" on Superstore, with America Ferrera, where the actor's deadpan sense of humor and experience on a TV set come through every week.
OBSERVER: So really, tell me about Superstore.
Feldman: The show is really exciting and it's like the greatest thing that's happened to any of us. The cast is a really, insanely cool group of people. I just get to go to work and be surrounded by at least seven people who are way funnier than I am every single day, so it's like a dream job.
You've been on a lot of shows—is this one different?
I have, but there's something about this cast. Every single cast has a couple bad eggs, or that person that everyone is making fun of or doesn't like. And unless it's me, I haven't found that in this cast yet. It's all just cool, great people.
Who was it on Mad Man?
Oooh, I can't answer that question.
Jon Hamm?
No—I love Jon Hamm. But Mad Men I also joined five years in, so it had already become high school by the time I got there. There were enough secret, sub-textual feuds going on in Mad Men.
You also got to guest star on The Mindy Project.
Mindy was fun. Other than Superstore, it was the other time I played an elitist obnoxious idiot. Actually, they're now our neighbors too. We shoot Superstore—our "Cloud 9" is literally as far away as I am from the other side of this room. So we see a bunch of them a lot. Actually ran in to Mindy two nights ago. Mindy made me play that on the ukulele. I was just talking to her about that—or, my wife was just complaining to her about that.
Complaining? That was so charming!
You didn't have to live with me learning the ukulele. I don't play the ukulele—nobody does. I had to learn that song and it took a while. Also "Teenage Dream" is not a ukulele-friendly song. So I had friends who were in a band who were over at our house, and I had them help arrange it so it sounded like something you'd hear in Hawaii at a resort. And in the process I also learned that "Over the Rainbow."
But at least now you can play the ukulele.
I can't! I don't remember any of it. Just yesterday I was on the Harry Connick, Jr. show and they told me beforehand, "Harry wants you to play the ukulele," and I had to say, I can't. I'll make a fool of myself. It's like algebra: there's no use for it in my life and so my brain has dumped it.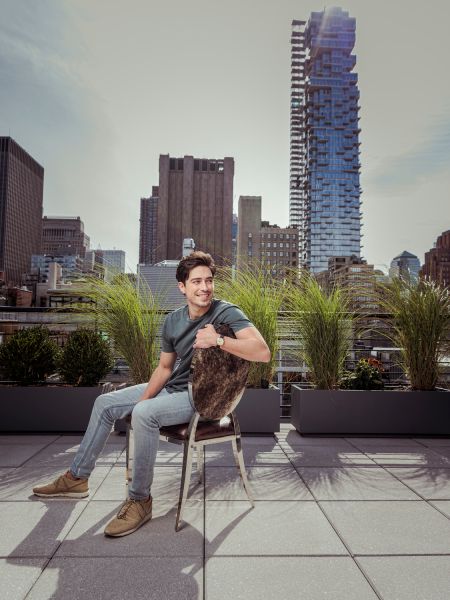 How quick did you guys get into a rhythm on the Superstore set?
It's so nice. Usually I feel like I have to lie about these things to people like you but I'm not lying! It was immediate. It was the pilot. We were like a cast that had been together for eight seasons at that point. There's a weird synergy where everybody gels. It's rare; it almost never happens I think, where it's so unanimously cool, but it was for us right away.
You've also been in a few pilots that didn't work out. When you're on a set, how soon do you know whether it's going to work?
I am a huge pessimist and I think that's just the east coast Jew in me. I assume that the worst will happen. So I'm never optimistic. What's funny is the rest of this cast is overly optimistic so like when we began this series, I was always the one going like, "Alright guys, let's relax. Don't buy an apartment just yet; let's wait and see what the numbers are."
You spend every day creating a community and a family with a bunch of people, and then strangers decide if you get to see them again. It's a strange situation. For instance, A to Z, which was the last NBC show I was on, was inevitably was A to M—that's when we got cancelled.
So did you two end up together?
When it ended— we were still together, I think? We were having our issues, but we were never not going to end up together I think. This is the pessimist, and the negative in me, but I think it would have been an interesting dynamic to see us break up at the end of that first season and inevitably see us get together over the course of the series, but the second season would have been really cool to watch if we went off on our own and tried to date. But that was a group of people—I mean, I talk to Cristin [Milioti] all the time, she's one of my best friends, and we share some of the crew on Superstore that we had then, but it's a family, a community. You get used to each other and then all of a sudden it's done. And it's a really weird thing. But we felt it coming. We weren't surprised. On that show at least.
Do you like to watch your own shows?
Yeah, I have to because now they force us to live-tweet it. Live-tweeting is so important to networks now. I think almost every episode last year, the entire cast watched together. Or the majority, at least.
I don't freak out watching myself; a lot of actors hate watching themselves and never will. It doesn't bother me. I'm either happy about something, bummed about something but it's already done so there's nothing I can do about it, or I learn from it and can correct it.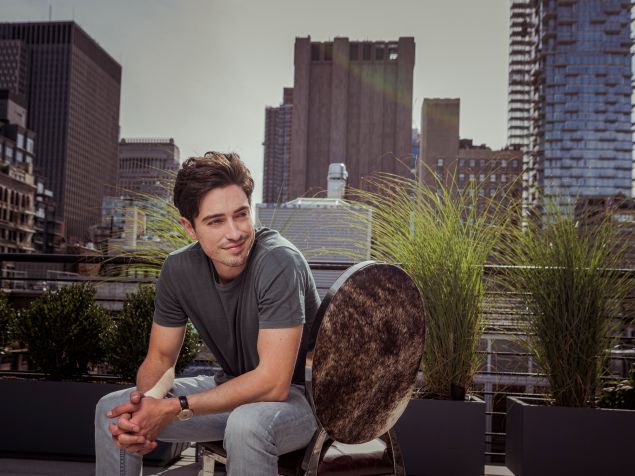 Did you ever work in retail?
The closes thing I ever did was I worked in Baskin Robbins when I was 14 but I got fired because I was a 14-year-old working at Baskin Robbins and I gave all of the ice cream away. Other than that, I've been a waiter before I was living off acting.
Oh! Early on, you were in the second best Hilary Duff movie.
The Perfect Man, yeah. Wait, what's the first best.
The one where she wanted to be a singer? With a British love interest— you can't beat that. [Note: It's Raise Your Voice. I saw it in theaters]
It was around the same time. She sort of did all of those around the same time. That and the movie with Chad Michael Murray.
A Cinderella Story! I'm realizing now you might actually be in the third best…
People love that movie. Yeah, I did that—god, a long time ago. 2003, or 2004. That was the big break that my agents thought was going to turn me into a big star that I then was not. But I had graduated Ithica, but I had moved to New York and did a play on Broadway—they made The Graduate into a play. I understudied Jason Biggs. I played small parts and understudied Biggs as the Hoffman part. And also Josh Radnor I understudied.
Just three super Jew-y people. I'm allowed to say that, by the way.
What's funny is Jason is not Jewish. How I came into that was I was in college and I came in to audition because Jason was going to do a Woody Allen film, the Jewiest thing anyone could do, and it was to take over for Jason, and I auditioned a whole bunch of times and eventually did not get it—I lost out to Josh. And then when I moved to New York, they were like, "Hey, the understudy is leaving, he plays all of these other ridiculous parts. Come in and do that."
And now you and Josh both fell in love with Cristin Milioti.
Yes. Exactly. Cristin and I shot the pilot, and then [the finale of How I Met Your Mother] aired, and then we started A to Z. She wouldn't tell me how it ended. She lied to me actually! She was like, "It's going to be this big thing," and I was like, "Do you die?" and she's like, "No, that's ridiculous. I'm not going to tell you what happens, but no, that's stupid." And then she did! And it was like, you fucking lied to me!
I think she had to do that though.
I know, but that's breaking a code. I understand if I walked up to her on the street, or even if I saw her at a party and I was just another actor, but we were love interest co-leads on our own show together. She can't lie about that.
But she needed to lie, because not saying anything would have given it away.
She should have just said, "Yes. I die. Don't tell anyone, Ben: the guy who I work with, new best friend."
"Superstore" is all-new on NBC, Thursdays 8/7c