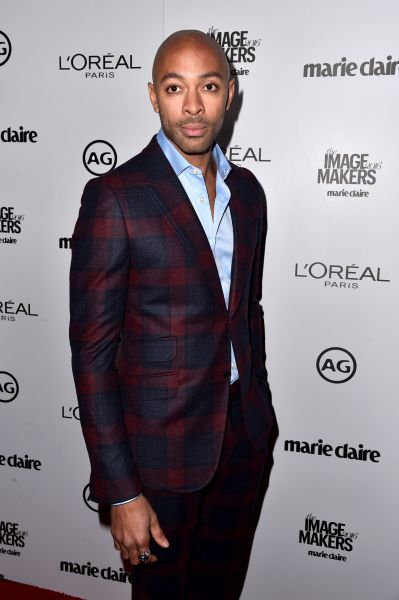 Last Wednesday morning, towards the end of New York Fashion Week, a crowd of men and women lined up in front of Mercantile Annex. Their common denominator: a love of makeup, a penchant for creating a perfect cateye, and a love for and devotion to Sir John, who is L'Oréal Paris Celebrity Makeup Artist. It's a role that involves hands-on involvement in the makeup giant's product development.
Perhaps more importantly, Sir John is BEYONCÉ'S MAKEUP ARTIST.
With considerably less fanfare and hoopla than past masterclasses with a Kardashian attached, but, to be clear, no less excitement, Sir John laid down the beauty law, over the course of four hours. His listeners were rapt; notebooks and pens were out and in use. He created looks on two models with two vastly different skin tones, while simultaneously doling out life advice and product recommendations.
His take on beauty is glamorous, decidedly sophisticated, and never overdone. While both looks he created were advanced and bold—a lavender eye and a deep, sparkly navy eye, he's got plenty of tips that are game-changers and easy to incorporate into even the least involved routines. In fact, he actually recommends keeping makeup to just "one piece of punctuation."
"If you remembered nothing else I'm saying," he told the Observer after the session, "it's knowing that one piece of punctuation is key. That could be a statement lip. When I say a statement lip, that could be taking your lipliner and coloring over the full lip and then using your lipstick, which makes it more opaque. That one piece—statement lips—you can do it with no foundation. Or a brow. Or an eye. But not all three."
He is not here for clown contouring. In fact, that's the main trend he'd exile if given the chance. "If you really think about the evolution of where we're coming from with makeup and cosmetics, no one's a beginner anymore, everyone's at a medium to advanced stage because of social media. Everyone's trying. Everyone's getting into the game and you can't fail if you try. So I'm okay with all the crazy contouring, the clown contouring, because they're trying. That's your start," he says.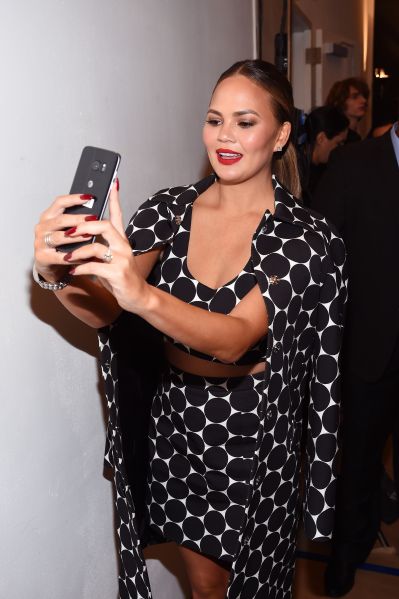 No need to worry about having missed out though, we've laid out the Sir John must-knows here:
THE FACE
As mentioned, Sir John works with a less is more approach. This philosophy plays out in a couple of ways. First, he believes, literally in using less makeup. He is not a fan of layers and thinks that primer is largely unnecessary. "Just a little on the T-zone" if you must. In fact, he's not a fan of extraneous products at all. On the topic of the recent boom of color correctors, Sir John says "There's no need for color correctors. Save your money, and buy a burger."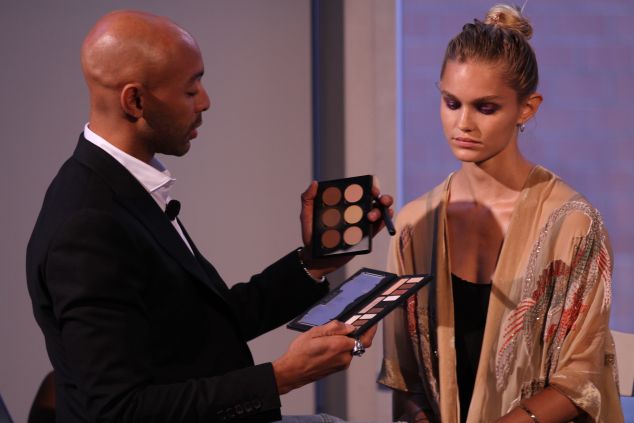 However, he does stand behind the concept of creating a canvas with skin that looks amazing (again: look at his clientele). Let the makeup look barely there. In fact, put away your foundation. "Never use full coverage everywhere," Sir John says, explaining that it looks dated and doesn't allow the skin to breathe. He's a proponent of a tinted moisturizer and spot-coverage approach. "It's just more modern to see a pore or a freckle," he says.
THE EYES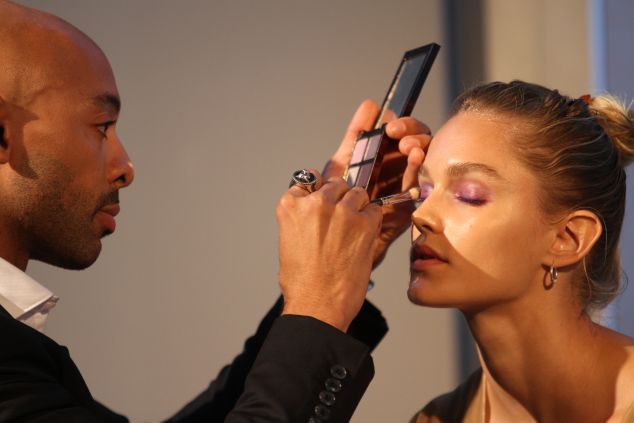 Sir John is a fan of an eye look. At the masterclass, both models received serious glam when it came to eye makeup. His trick was to cover the eyelid completely, first with a liner pencil, which lays the groundwork for the look, gives the powder formulas something to hold onto, and gives the look depth. He recommends waterproof formulas—waxy, creamy pencils. The combination of creamy + powdery formulas allows for looks with serious staying power. Most recently, Sir John lent his talents to the creation of L'Oréal's newest Colour Riche Pocket Palette Eyeshadow quads ($9.99), so they're must-haves for creating your own dramatic eye.
Given the chance, I asked Sir John if he could offer any tips to perfect a cateye, a look he approves of. "Tilt your head back in the mirror, almost like you're looking up your nose," he advised. "That way you get a flat view of what your lids look like. And then you'll be able to do your eyes like your eyes were closed. When you line your eyes, it's always good to use a waterproof pencil, because it won't crease as you open. Starting out, use a pencil and keep pointed q-tips handy."
THE BROWS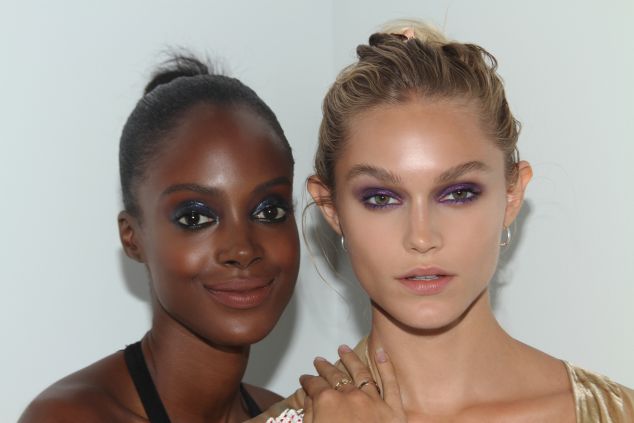 If there's one thing for the lazy/busy/novice girl to learn how to do, in an era when social media can make it seem like everyone is a makeup artist, Sir John says it's the eyebrows.
"Know how to give yourself a really great eyebrow," he explained after the class. "It's about contrast. As we get older, we lose some of the hair in our brows. If you look at pictures of yourself at 7, 8, 9…you had these big bushy brows, and they lend a youthful vibe." Sir John's eyebrow must-have, however, does not come in the form of a super-skinny, pigmented crayon, but rather a glue stick. Like the ones you can get at Staples. Swipe it over the brows and brush them upwards to get that chic boyish look. Finally, if you need some help boosting your natural brows, he recommends castor oil, which "stimulates your hair follicles and helps your eyebrows grow if you've tweezed too much."
LIPS
If you're going to buy one thing come Fall, try the L'Oréal La Palette Riche—he's calling the plum palette as the seasonal must-have. To see Sir John tell it, the palette is a memory book of looks created for Bey, Karlie, and everybody (and skin tone) in between—that is to say, there's something for everybody.
HOW TO CONTOUR, IF YOU MUST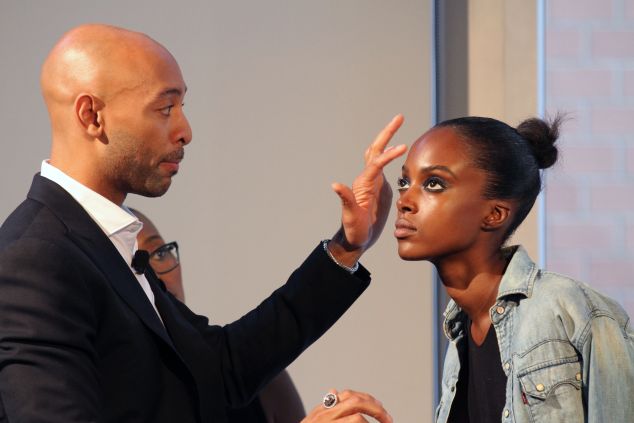 Sir John is serious about blending technique. He prefers to give the face the depth that contouring is after, but in a far gentler manner. He does so using a matte taupe blush. Another key: do not use a shimmery bronzer to contour. Contouring is, after all, supposed to be about creating a natural illusion of a slimmer face. So, a shimmery powder will do nothing but break the illusion. He's a fan of MAC's taupe blush ($17).
ANF FINALLY, A BEAUTY LESSON WE CAN ALL LEARN FROM BEYONCE
"She's a girl who is into just doing a bold orange, or a bold neon something and nothing else," Sir John says. "That's so modern, that's so cool. That's the New York girl." Noted.