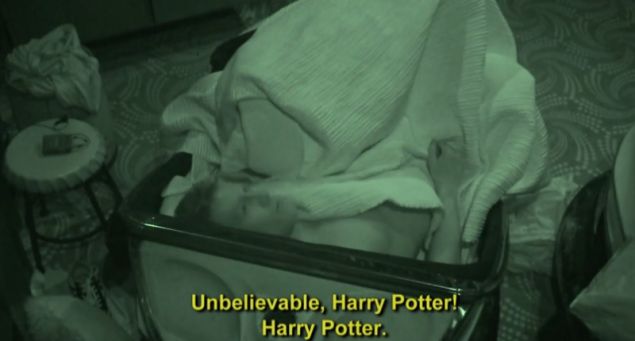 Over the years, there's been lots of talk surround Big Brother-conspiracies. "Unexpected twists" popping up at the precise moment to save fan-favorite, ratings inducing houseguests. Palmed chips in the so-called random draw veto selection process. Nepotism through the casting process. I've heard it all. Personally, I love a great conspiracy theory because what that means is that people are taking this all seriously enough to believe that people are planning and manipulating a specific outcome. I take Big Brother that seriously so it makes me happy to know that other people do to.
But that boat goes both ways. How do we know any of what we see is real? Once you start questioning the integrity of the game, you can go down long deep dark paths. Does the winner even get half a mil? Or is it like some Running Man Whitman, Price, and Haddad scheme where Derrick and Ian are locked up in a dungeon under the house for most of the year and only let out to do live show pre-taped packages and fan events? There's some secret Big Brother laboratory on the backlot of the set of The Chew where they kept Brendon & Rachel and Jeff & Jordan to monitor their pregnancies like The Others on Lost or BD Wong's baby dinosaur hatchery on Jurassic Park island. Who can say for sure?
What I do know is that I've uncovered the greatest conspiracy of all. It's been placed directly in plain sight, which as well all know is the absolute best place to hide something. It's like the airport security scene in High Anxiety when Mel Brooks and Madeline Kahn get through by being extra loud and obnoxious. All season this has been going on and now I'm here to shed some light on it.
Casting would like you to believe that they found a 6'5" 25 year-old guy from Dallas, Texas named Corey to be on their show. But they are lying to us all. I have studied the tape, watched hours of footage, stayed up all night on the feeds, and unsuccessfully attempted to visit several out-of-business Blockbuster Video locations. And now I know the truth. Corey is a 12-year-old kid who found the Zoltar Speaks Fortune Teller machine from Big and then wished to be big, like the kid from Big and then became big and went on Big Brother.
I'll give you a minute to let that sink it.
Look at the facts.
Christmas is awesome but clearly the joy and wonder we see in Corey's youthful eyes when he thinks of decorating his tree and putting a Clark Griswold amount of lights on his house are that of a tween. Did you watch him carefully during the Christmas themed comp? He was clearly reminiscing fondly about all his best childhood Christmas mornings…from last year and earlier.
He literally dreams about Harry Potter. Because he's probably about midway through the series by now. If he started when he was say 10 (two years ago), he probably is around Order of the Phoenix now. Then he found a magical wish-granting amusement park novelty machine, wished to be big like Tom Hanks in the classic movie Big,  grew to 6'5" which to be completely honest is pretty big and then got cast on Big Brother. They don't let you bring books with you on the show aside from your bible, and try as you might but you they won't accept that Harry Potter is your bible. So now 12-year-old on the inside, new big Corey is stuck wondering what happened with Sirius Black and the gang because he hasn't been able to finish the rest yet. It haunts him, even in his dreams where he calls out into the darkness of the night: Harry Potter! Harry Potter.
Have you ever taken a close look at Corey when he's speaking or standing or listening or zoning out? He does this thing with his eyes where they get really big for a second. It's kind of an intense stare but not in a mean mug way. It's more like a "I can't believe a couple of months ago I was a 12 year old boy but now I get to be big" way. That's because a couple of months ago Corey was a 12 year old boy who wished to be big, like in that Penny Marshall classic, Big, then he actually became big and went on Big Brother.
You know how Nicole is kind of paranoid about other people doing things to her in the house like backstabbing her or going around behind her back with info? The way she does to other people? (Which by the way is solid gameplay strategy in my opinion; I'm not calling her out for it) She's not paranoid because she's projecting her strategy onto other people. She's worried because she's afraid that someone is going to make her look dumb. Like if Vic and Paul use getting Natalie out to reel James onto their side so it will be 3 against 2 going into the final five. That's a worry for sure. Or like if say the person you've been in a showmance with for over eighty days, that you think is the hottest guy you've ever seen, actually turns out to be a 12 year old boy who wished to be big like in that movie with the playing-the-piano-with-your-feet-in-the-toy store scene, Big, and you turn out to be the Elizabeth Perkins who falls for a kid in a man's body but like not in a creepy way, or if it's creepy it is but only when you get older and really start to break it down deeply. That would also be a major worry for Nicole.
Of course, Nicole asked Corey this week "how old are you?" and because he is a 12 year old who wished to be big like that movie Big where a kid in a grown man's body got his own apartment with bunk beds and a basketball hoop and a soda machine, Corey answered honestly because he does not have more than 12 years of experience answering questions and told her he was 12.
And yeah from the "Why You Gotta Bring Up Old Shit Department," who else but a 12 year old would walk around in 2016 still thinking calling something "gay" as a fun jokey compliment was acceptable? Would anyone of a real life grown man's age laugh about torturing an animal?
So clearly as I've proven above, there is no other option but to believe that Corey is a 12 year old kid who wished to be big like in the movie Big and then became big and went on Big Brother. I am on to you casting department. We all are.
Only like two weeks left before the finale. We'll see how these new revelations play out towards the end.