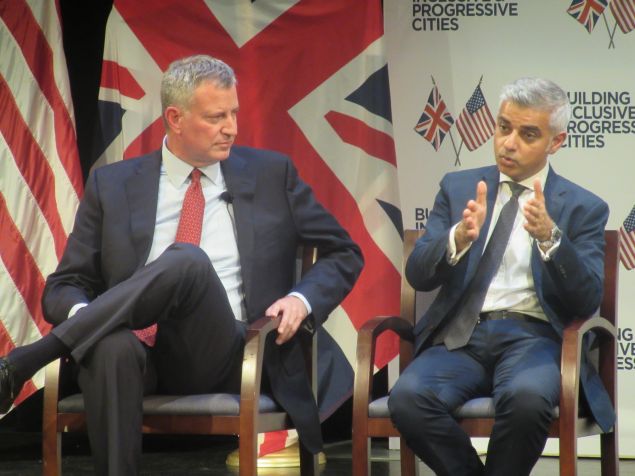 ---
Global pals Mayor Bill de Blasio and London Mayor Sadiq Khan, that city's first Muslim mayor, discussed their vision for inclusive, progressive cities and doubled down again at anti-immigrant rhetoric in the presidential race.
The forum—titled "Building Inclusive and Progressive Cities" and held at LaGuardia Community College in Long Island City—was moderated by Dalia Fahmy, assistant professor of political science at LIU Brooklyn. The forum was hosted the Mayor's Community Affairs Unit.
The two mayors—who have known each other since 2014—shared what they have done and plan to do to make their cities more inclusive and progressive, discussed recent hate crimes against Muslims in their cities and throughout the country and weighed in on the current presidential race.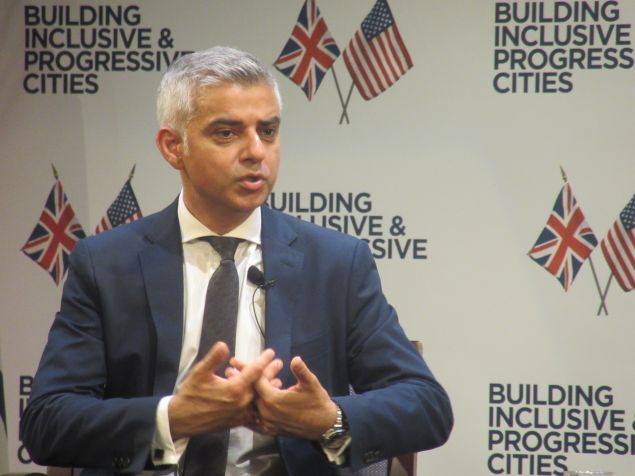 Khan said he was especially impressed by de Blasio's "Tale of Two Cities" campaign message, saying de Blasio "managed to articulate a mood and a feeling that New York has felt and I feel that London has felt and still feels."
He said that it is important to note that "we have multiple layers of identity": he says he is proud of his British, European, Asian, Muslim and Pakistani identities.
"When you become a successful politician, whether it's a mayor, a member of parliament or a president—it's really important to be inclusive," Khan said. "During my campaign, we had a strap line which I genuinely believe in, which is a mayor for all Londoners. I will say this with humility but to be frank: I'm not a Muslim mayor, I am a mayor of Islamic faith."
De Blasio touted his 10-year affordable housing plan and his universal pre-kindergarten initiative as signs that he has addressed the "Tale of Two Cities" dilemma. He said that creating affordable housing on a massive scale gets "at the heart of the number one expense in people's lives" and that universal pre-K provides "educational opportunities across the board."
"I think what you (Khan) did in your campaign was we said, 'It's time to say this out loud and address it,'" de Blasio said. "The good news is you can, you actually can address it."
And though neither mayor directly named—and said they wouldn't—Republican presidential nominee Donald Trump or Democratic presidential nominee Hillary Clinton, it was clear where the two mayors stood on the upcoming election in November. 
Khan said his opponent was creating the impression that London "wasn't ready to elect a politician of Islamic faith" and that some of the "worst sorts of Islamophobia you've ever seen were commented on during the campaign."
He said his approach was to "energize, infuse and excite people" to join his campaign, giving people a choice of "hope over fear, unity over division"—something he believes will play out similarly in the upcoming presidential election. 
"And I'm optimistic over the next few weeks and months, I shouldn't really get involved in the American election," he said, to roaring laughter. "And I hope the best candidate wins and I'm sure she will," he said, namelessly referring to Clinton as both de Blasio and the crowd laughed and applauded.
"That was very subtle," de Blasio said in response.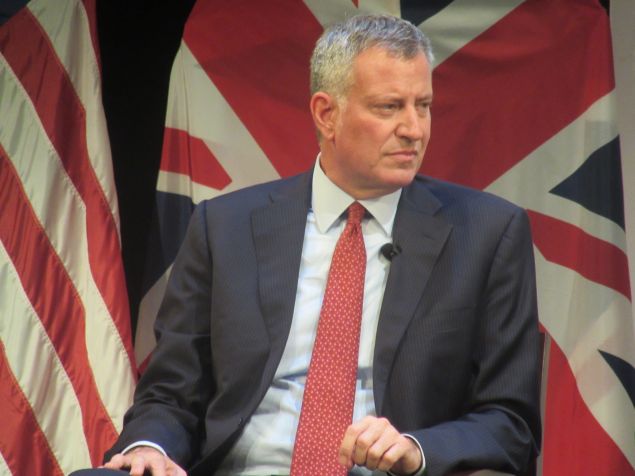 De Blasio, for his part, said that "people who are different" have been subject to "decades and decades" of mistreatment that increased particularly since the September 11, 2001 attacks that brought on a "rampant Islamophobia."
But he said this has also been met by "crazy national attempts by some to indict immigrants," noting that that might work in Iceland—though he said that would still be "morally wrong"—but that the United States "was based on immigration from its earliest moments and never stopped being based on immigration."
"Half the people who are attacking 'immigrants' had immigrant grandparents or immigrant great-grandparents," de Blasio said. "This is backward."
On the subject of the explosion in the Chelsea neighborhood Saturday night that injured 29 people, the mayor noted that it was Police Commissioner James O'Neill's first full day as the city's top cop and praised New Yorkers for not giving into fears stoked by terrorism. Khan, for his part, said London "stands with New Yorkers" and said he was impressed by the mayor's response—addressing people's concerns instead of playing on fears.
The pair drew laughs several times throughout the forum, with Khan saying more than once that New York City is the "second best city in the world." De Blasio also referred to him as his "good friend." 
The pair frequently praised one another, with de Blasio smiling and listening intently and proudly as Khan spoke. When the two were asked about how they help minority women succeed, de Blasio also praised Khan's "mum" for raising him well and said that his wife, First Lady Chirlane McCray, puts pressure on him to address women's issues. 
Indeed, the two mayors have already struck up a friendship that goes back to 2014 when they first met at a Labor Party Conference in Manchester, England, according to de Blasio when he publicly congratulated him in May. 
And like de Blasio, Khan has not been shy about his disdain for Trump. In an interview with TIME Magazine in May, he praised de Blasio for "doing interesting housing stuff in New York," he said he would be interested in meeting and engaging with American mayors—but that a Trump presidency may stop someone like him from entering the United States. (In response, Trump actually told the New York Times that Khan could be an exception to the ban.)
Also spotted at the forum were City Council Speaker Melissa Mark-Viverito, Queens Councilman I. Daneek Miller—the Council's only Muslim member—and Assemblyman David Weprin. 
Disclosure: Donald Trump is the father-in-law of Jared Kushner, the publisher of Observer Media.