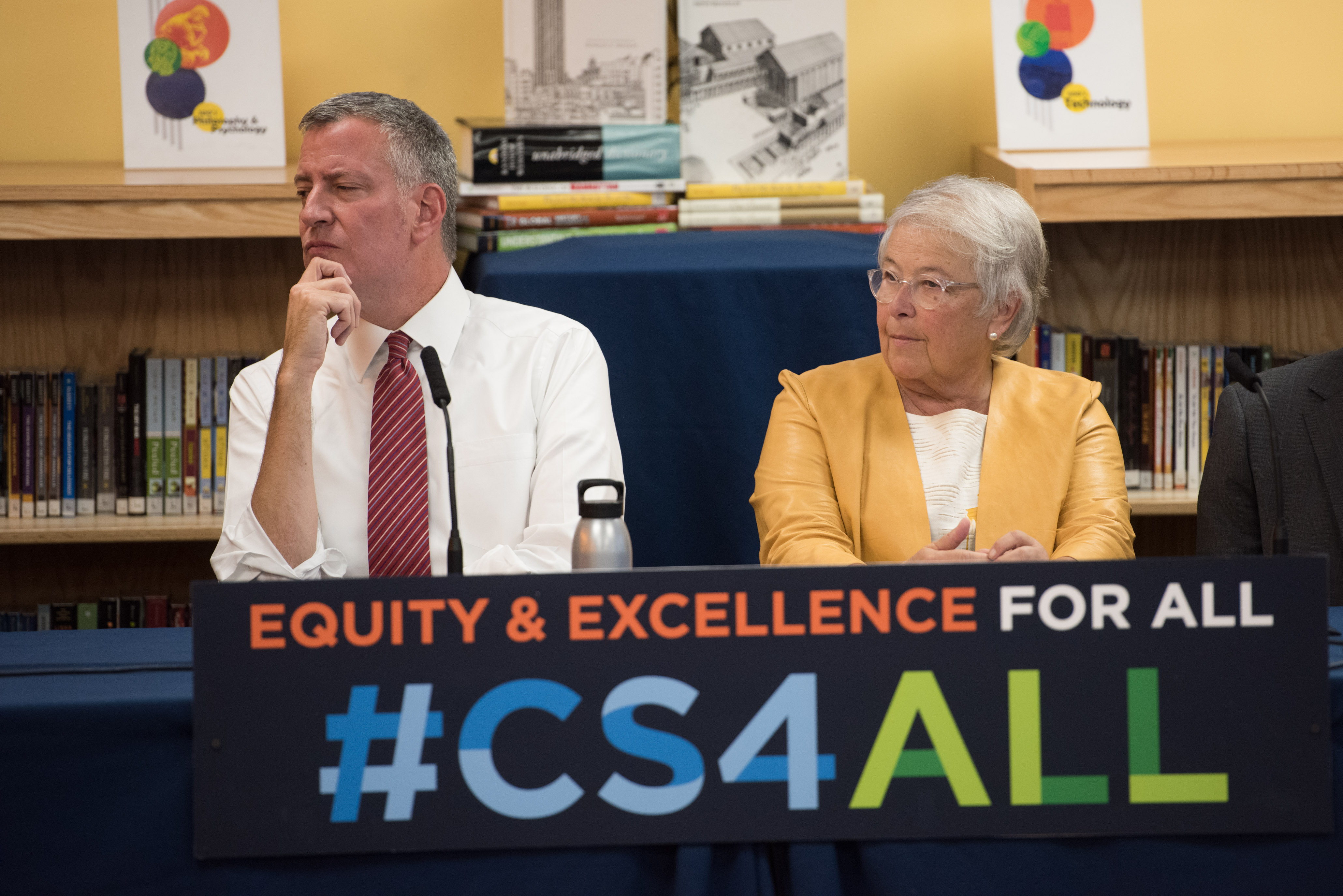 What does Mayor Bill de Blasio's exercise routine have in common with the allegedly corrupt donors on his inaugural committee? He doesn't want to talk about either.
The mayor had a couple of ornery responses today for reporters at a press conference in the Bronx, offering up a bit of reminder that while he might deign to take their off-topic questions once a week or so, he doesn't actually have to answer them.
It was no surprise that his testiest exchange came on a subject that he's long insisted is nobody's business—his penchant for traveling 12 miles from his Gracie Mansion home to the Park Slope YMCA to work out in the middle of the day—with a reporter from a paper he's long criticized, the New York Post. The Post reported that the mayor was in Park Slope, having a post-sweat coffee, when his office bumped back the time for a meeting he had planned at a home for the blind that had been shook by the Chelsea bombing, keeping its residents waiting a half-hour.
"I work—I'm quite aware of what you guys are up to, and again you are a paper with a clear right-wing agenda, let's be real about it. You're a propaganda rag," de Blasio told reporter Michael Gartland. (The Post is far from the only outlet to question the mayor's gym habits—many news organizations, including the Observer, have done so.) "So the fact is, I work seven days a week, all parts of the day."
The mayor went on to say he needs to hit the gym so he has "maximum energy" to serve the city.
"Anyone who has been mayor of New York City will tell you, you can't ever stop working in this job. But I also tell you guys that if someone is not taking care of themselves so that you can be at maximum energy, you're not doing the right thing by your obligations by the people," de Blasio said.
Pressed on what message it sends to New Yorkers, de Blasio interjected, "No, it doesn't send any message. Stop wasting my time."
But while the mayor blamed the vast right-wing conspiracy for the Post's questions, there was no such scapegoat for another combative exchange with William Neuman, a reporter from the New York Times. Gabrielle Fialkoff, a senior advisor to the mayor, was on the dais with him today—so Neuman took the opportunity to ask her who had decided to added Jona Rechnitz and Jeremy Reichberg to the mayor's inaugural committee, which she chaired.
The pair of businessmen are at the center of a massive corruption investigation that alleges they traded cash and gifts for protection and other favors from the NYPD. They both also donated to de Blasio.
"Yeah, we're just not gonna go into that. As you know it's under—it's under active investigation," de Blasio said, answering for Fialkoff, as Neuman objected. "It's under active investigation, Willie. We're just not going to talk about it."
The reporter responded by reminding the mayor he was asking the question during an "off-topic" Q&A.
"You can open topic, but there's still something we can say: we're not in a position to talk about it," de Blasio said.
As Neuman pressed for an answer from Fialkoff, the mayor set her up for it: "Would you like to tell him you're not in a position to talk about it?"
"I'm not in a position to talk about it today," Fialkoff repeated.
"Thank you," de Blasio said. "Next question please."
Later, the mayor was pressed on another investigation into his administration—the probe into his Campaign for One New York nonprofit, and whether donors had been rewarded with city business or other favors. In May, the mayor promised that he would prove the donations did not buy favors by providing a list of donors who did not get any favors from the city. Asked by Newsday's Matthew Chayes when reporters might get a hold of that document, the mayor's answer was more genial, but no more forthcoming.
"We obviously have to get through certain investigations and when they include we can comment much more broadly on them," de Blasio said. "Plenty of, plenty of people had all sorts of ideas and aspirations that they just didn't get anything on—but we have to get through this next phase of these investigations, hopefully wrapping up soon."