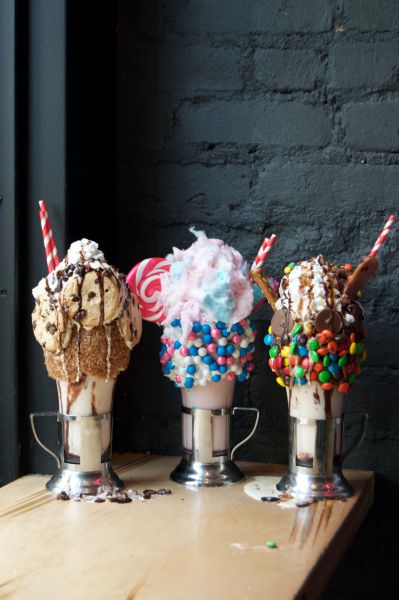 Rainbow bagels put up a good fight, but Black Tap's famous milkshakes—that are literally over-the-top (with overflowing cookies, candy, pretzels, peanut butter cups and more)—hands down take the cake for biggest, most-Instagrammed dessert trend of the year. I know people who waited in line for five hours to get one, and that was when they were still kid-friendly. Imagine how crazy people would go if they threw in a little booze.
Well, it's happening. Black Tap is teaming up with David Burke Kitchen to offer a limited-edition DBK X Black Tap "Boozy Donut Milkshake." This extravagant caramel and brownie batter-based shake will come spiked with Breckinridge bourbon, have a cookie dough rim and be topped with whipped cream, toffee bits and a caramel glazed toffee nut donut.
You won't need to wait on what would be an inevitably long, long line to get one though. The Boozy Donut Shake will be available only with tickets to the Black Tap X David Burke Kitchen End of Summer Bash, taking place this Wednesday from 6 PM to 9 PM at David Burke Garden. The $65 ticket includes the shake, specialty Breckenridge bourbon cocktails, Black Tap burgers and a savory menu from David Burke Kitchen's executive chef Raoul Whitaker that will feature loaded grilled corn, lobster rolls and baked East Coast oysters on the half shell with bone marrow butter. And for entertainment, Nick Walker will perform.
"David Burke Kitchen is thrilled to be hosting an End of Summer Bash with our neighbor, Black Tap. The Boozy Donut Shake is the ultimate in end of summer self-indulgence," Tracy Wilk, executive pastry chef at David Burke Kitchen, told the Observer.
Now that the Museum of Ice Cream is closed, this will definitely be the hottest dessert ticket in town.