It has been a few years since hedge fund manager Boaz Weinstein bought the penthouse where notoriously reclusive heiress Huguette Clark resided.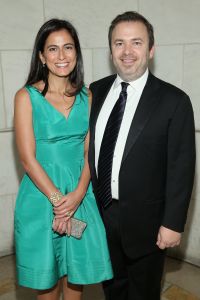 Granted, the penthouse at 907 Fifth Avenue, for which Weinstein paid $25.5 million, reportedly needed quite a bit of work—when buyers were checking the place out, one told The New York Times "It was like going back in time 100 years…There was oak paneling and original wood floors, and in the kitchen there were appliances from 1915."
Perhaps Weinstein, the founder of Saba Capital Management, is making some headway on his renovation of that full-floor co-op, or at least we hope so, since he just sold his two-bedroom, 2.5-bath apartment at yet another Fifth Avenue co-op.
After all, owning two homes along this exclusive stretch of the Upper East Side might be pushing it just a tad. No matter, Weinstein has (finally) said farewell to his 16th floor home at 870 Fifth Avenue—he and his wife, Tali (she's an attorney with the US Department of Justice), have been trying to offload the place since 2014.
Weinstein, who made an enormous profit when betting against JP Morgan Chase in 2012 (the bank lost approximately $2 billion), listed the Upper East Side pad for $8.5 million in 2014. However, we doubt he's hurting too much about the lesser $6.4 million he accepted from Leah Pisar.
The apartment features a park-facing living room with access to a west-facing terrace and there's an east-facing formal dining room. The master suite has "abundant" closet space, according to the listing held by Compass broker Kyle W. Blackmon, as well as an en-suite bath, park views, and access to the terrace. The windowed kitchen has a pantry and an adjacent office with a half bath; there's also a powder room and a coat closet off the foyer.
Sleek amenities aside, we're more excited to check out what Weinstein has planned for the 907 Fifth penthouse, where Clark reportedly stored her massive doll collection (estimated to be worth millions of dollars). Maybe Weinstein, who was declared a "chess master" at age 16 and won a Maserati competing in a poker tournament that was sponsored by Warren Buffett's Berkshire Hathaway, will have a new theme for the areas that were previously dedicated to the dolls. A game room, perhaps?