Upon first step into Sonos' sleek new Greene Street store, you might wonder exactly what you're being sold. Despite knowing the prestige of Sonos' luxe sound systems, the space feels less like a retail store and more like a lounge. An open space, sans product boxes and pricing, the store purposefully skips all of the expected retail tropes. Cleverly using the power of sidewalk voyeurism to its advantage, the store takes full advantage of its prized Soho storefront windows by giving passerbys a clear view into the sleek interactive space.
Venturing further inside, the store's six listening rooms glow alluringly, filled with occupants laughing, nodding and dancing to tunes of their choosing. The rooms—each built to represent a home—are decked out in a variety of themed décor. From a masculine man cave to cool retro-inspired digs, Sonos allows visitors to find the room that they can relate to. The rooms are an effort for visitors to experience the smart speaker system in a lifestyle setting, with each room showing the ease of integrating the customized Sonos system within a home's kitchen, study and living room. "The rooms also show that Sonos is designed to fit a variety of homes and taste," said assistant store manager Piper Gore. The store uses an Ikea-inspired take on showing how the minimal, sleek curves that are signature to Sonos can be integrated into any design scheme.
The Sonos store is an attempt to bring back the days of record store culture in the era of downloads and singles. "We want to facilitate genuine connections," says Gore. "We know how isolated people can get wearing earbuds, so its great to see people in these rooms sharing music together and getting back to the good stuff."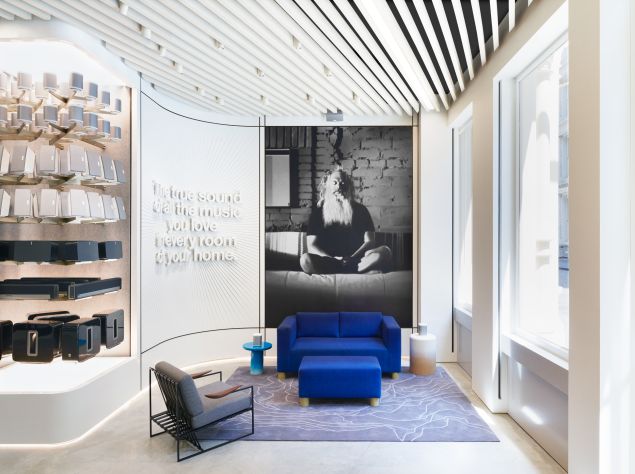 This idea on sharing music is at the core of the store's ethos, offering visitors a variety of in-store music experiences that allow fans to rub shoulders with their favorite bands. Last week, a gaggle of fans decked in cutoffs and pastel-dyed hair gathered to welcome an impromptu visit from indie rock band Grouplove who visited the store to ring in their new album Big Mess with a first listen. The store has already hosted events with De La Soul, Q-Tip and Pitchfork Radio in the months since its July opening.
While the musically driven space feels like your next favorite hangout, it's founded in a serious dedication to sound. Each listening room is encased in four layers of sheetrock and sealed with a beveled glass door, designed specifically to reflect sound back into the environment. The décor within each room is also meticulously selected based on its ability to absorb and reflect sound.
Today, Sonos embarks on its second venture to further embed itself within the New York City music scene, by premiering a listening room within the Williamsburg music mecca, Rough Trade. Customers of the combination record store/show space will be able to reserve the room to listen to their favorite albums in "audiophile heaven."
Occupying one of the metal shipping containers that comprise the record store's industrial décor, visitors are transported from the busy record store floor to a handsome mid-century inspired living room. Featuring the Sonos home sound system, a Pro-ject record player and an iPad that serves as the system's remote and digital song catalog. Available on reserve, guests can give new releases a spin with a private listening experience with friends and fellow fans.
Carrying over the same acoustic rhetoric from the brand's Soho storefront, the space is fitted with baffled walls for sound diffusion and sound proofed with acoustic foam. This space within Rough Trade is meant to be a continuation of the Greene St. storefront's music-sharing spirit, embedded within the pulse of the music industry–the record store.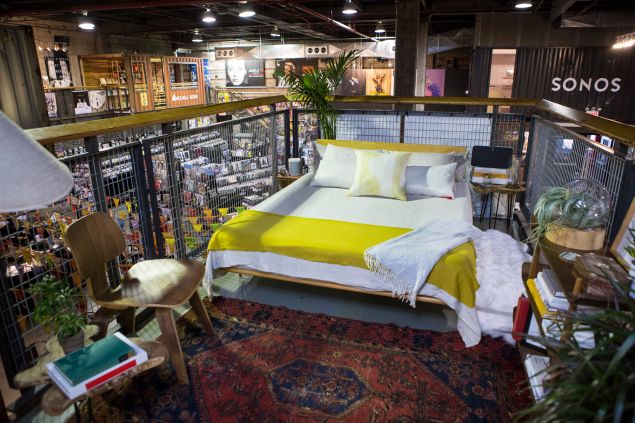 To introduce the new listening room to the public, Sonos is listing the space on Airbnb to give true music junkies the ultimate kid-in-the-candy-store experience. Two lucky entrants will win the opportunity to spend the night flipping through records, listening to tracks and satisfying munchies with a custom-stocked mini-fridge. Did we mention that it's entirely free, too?
Whether you choose to use the space as the canvas for your next big soiree or you're in it to live out a music-junkie's fantasy, Sonos will coordinate the musical experience of your dreams, as they promise to put together a custom playlist for your stay. The next day, wake up in a private record store and stock up on your favorite albums to take home, along with your own Sonos home sound system.
To request a Sonos sleepover, from October 1 to November 30, book at airbnb.com/night-at/sonosnyc.