Welcome to our TV Fashion column, where TV Ate My Wardrobe's Emma Fraser discusses the trends in television apparel. This week: Masters of Sex unhooks the ties that bind.
Removing undergarments on Masters of Sex is often on account of the title of this show; whether as part of the study or an extracurricular exploration. However, when Libby removes her bra in the Masters of Sex season 4 premiere, there is nothing sexual about it. As these characters hurtle towards the 1970s the sexual revolution is not slowing down and relationship constrictions are being broken in a number of ways that echo these changes.
The bra binning – and not bra burning – protests at the Miss America pageant plays out on TVs in bars and hotel rooms (the events of this episode take place in September 1968) and everyone has an opinion. Here the bra is a symbol of the patriarchy and restriction. Libby thinks it is a useless gesture and doesn't see the point of this act and in the past if Libby had been challenged by an almost complete stranger to take off her underwear she would've turned on her heels and fled this house. In fact the Libby of season 1 would never have dreamt of hanging out with a group of free thinking women openly smoking weed and sharing any part of her non-wife identity.
Now her relationship with Bill is beyond repair; she has changed the locks and given his clothes away. Concocting a story that her husband is dead is not a new thing as we have seen Libby fantasize out loud about being a widow, but now she adds some very specific details about his suffering at the end. Libby is still looking for her place and in the circles where she crafted the perfect housewife vision, Bill's job and the accusations against him have destroyed that image. In this women first environment she still looks lost and her silk scarf puts her very much in the style of the past and everyone else at this meeting looks far more casual and of this time. Libby isn't full apron and frock, but she doesn't look ready for the 1970s either.
It might also have been a lot harder for Libby to take her bra off without removing her top in season 1 as the foundation garments of 1956 were a lot more cumbersome and restrictive. The likelihood is she wouldn't have been able to unhook and slide down the sleeve with such ease and the evolution of underwear during this period reflects the social changes taking place. Girdles and bullet bras have been a staple on Masters of Sex, and seeing the softer style of Libby's bra after she removed it shows just how much the underwear industry has relaxed its product.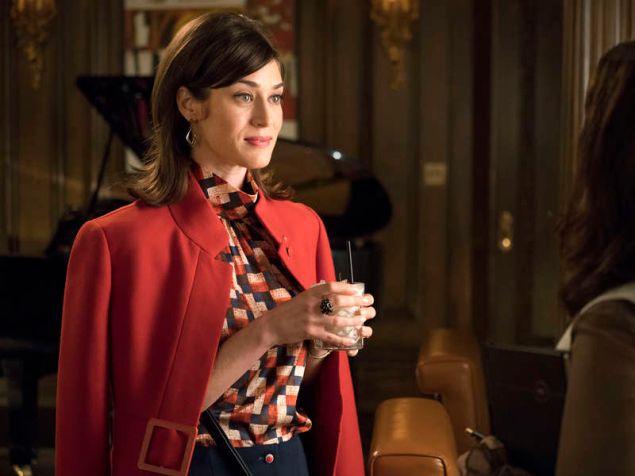 Meanwhile, Virginia is hanging out in a Vegas hotel room and while her robe game has always been bold in pattern and style, her underwear always circles the same all black or white classic approach. Virginia glances at her own undergarments as she watches the news and the fight for freedom has more than one face, method and story. Getting out of boob jail by ditching the item of clothing that restrains them is one way and the women protesting outside the Miss America pageant are making their voices heard loud and clear. The bra represents the patriarchy; removing it is about more than the sexual revolution.
Virginia's work has always been about the research and getting heard so rather than fight against the system she goes straight to someone with a huge platform; Hugh Hefner and Playboy. Like Libby, Virginia has cut ties with Bill and while Libby's identity as a wife to Bill Masters can be dissolved, Virginia cannot escape her partnership with Bill no matter how many great column ideas she has. Together they are Masters and Johnson; that is their brand and no matter how great Virginia's shattering sex myths column is, without Bill this is a no-go for Hef. Bill is effectively the bra she can't unhook.
What about Bill? He's hit rock bottom and he has the grizzly beard and dirty suit to prove it. It is significant that he is without his signature bow tie for the entirety of "Freefall." Bill is no longer restricted by his image because his wife has given all his clothes away and his repeat appearances in court for a number of offenses are a quick way to ruin the reputation he is has crafted over the years.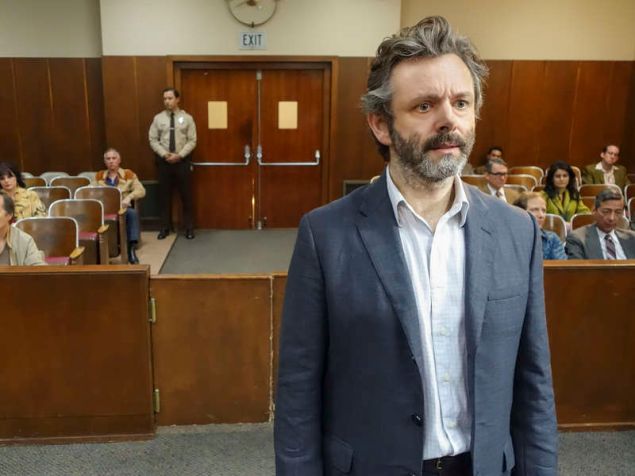 Last season raced through the years and lost its footing at the same time, floundering via gorilla sex therapy sessions, teen drama and pushing Bill and Virginia further apart. Obstacles in drama are par for the course, but even when Bill and Virginia are in different locations in this premiere they feel far more connected than they did for most of last year.
Libby has been vessel in a way for Masters of Sex to explore certain social movements of this period; first Civil Rights (which was hit and miss in its execution) and now feminism. She repeatedly comes across as an isolated figure because she wasn't directly involved in the research and she often felt like the third wheel in her own marriage. Getting involved with the feminist movement as a somewhat reluctant participant appears to be a step in the right direction for Libby; it gives her agency through more than just the act of removing her bra and without a myth-making bonfire in sight.
Emma Fraser is the creator of TV Ate My Wardrobe and spends most of her time writing about TV, fashion and costuming; Abbi and Ilana's Broad City style, the wigs on The Americans and Mindy Lahiri's pajamas are just as vital as talking about '90s, '00s teen shows. Emma has a MA in film and television, and she probably holds Angela Chase responsible for this path. You can find her on Twitter @frazbelina.