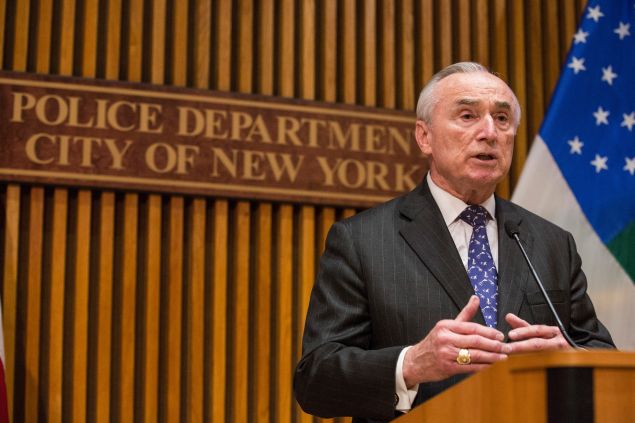 Outgoing Police Commissioner Bill Bratton fired back (again) at a Department of Investigation report claiming there is no direct correlation between quality-of-life enforcement and a drop in felony crime, with the NYPD releasing its own report accusing DOI of  perpetuating a false narrative about broken windows policing.
In June, a report from the DOI's NYPD Inspector General Philip Eure found no empirical evidence indicating a "direct link between an increase in summons and misdemeanor arrest activity and a related drop in felony crime" from 2010 to 2015. That report, which insisted its focus was not on the "broken windows theory" Bratton popularized, found that all three dropped during the five-year period.
Bratton, who is leaving the post Sept. 16, said community complaints about quality-of-life conditions have dominated conversations between the community and the police "going back as far as 1978, in the streets of Fenway," referring to the Boston neighborhood where he began policing.
"Enforcement targeting these conditions has become known as 'quality-of-life' policing, and it has been frequently disparaged as a vehicle of oppression that creates racially disparate outcomes," he said in a press release. "That could not be further from the truth. This type of policing is an essential tool of community engagement and trust building, most often in direct response to community concerns. Quality of life policing will remain a key strategy for the NYPD."
This comes just as Mayor Bill de Blasio and incoming Commissioner James O'Neill have sought to say less about broken windows and more about "neighborhood policing," which entails officers meeting with community residents and leaders. While broken windows policing has been credited with helping to reduce crime, activists claim that approach has unfairly targeted minority communities.
In a report titled Broken Windows Is Not Broken: The NYPD Response to the Inspector General's Report on Quality-of-Life Enforcement, the NYPD outlined what it sees as the DOI report's weaknesses and errors. They say the DOI largely ignored pertinent information highlighting both the success and the demand for a focus on quality-of-life issues.
The Police Department defended quality-of-life enforcement in minority communities, noting that 311 and 911 calls as well as community meetings and public opinion polls indicate that complaints from these communities pertain to quality-of-life issues—and said it has a duty to respond.
It also said city and state jail populations have fallen from previous highs, by 49 percent and 27 percent, respectively, over the past 21 years—which they said is the era of quality-of-life policing.
And the number of misdemeanor arrests has dropped, down 80,000 at the end of 2015 from their high in 2012 and by another 6.7 percent through August. The department has also scaled back on summonses, which are down 300,000 at year-end 2015 from their high in 2005—and by another 9 percent through 2016, the NYPD said.
The department blasted the DOI for not examining a number of studies that looked at the impact of quality-of-life enforcement on felony crime in New York City.
It points to two criminologists, Richard Rosenfeld and David Weisburd, who it says criticized the report due to research and statistical methodology issues, lack of consideration for officer discretion and the elimination of 16 years prior to 2010 highlighting the role of misdemeanor arrests in the largest crime decline in the city's history.
But if the Police Department was expecting an apology from the DOI, it certainly won't be receiving one. The agency is standing by its report and said that it contained "objective statistical evidence" and that the NYPD does not have any "similar data or analysis to refute this finding."
"The NYPD, in its response, provides no similar data or analysis to refute this finding," the agency said in a statement. "This is no small point: The tactics at issue—summonses for several quality of life offenses—have been a source of complaint and tension in many of New York's communities and thus require careful review of the type we provided to avoid overuse."
DOI's response also notes that despite the fact that the NYPD stated last year that quality-of-life summonses could be used as a tactic to directly reduce violent crime, it now acknowledges for the first time that such a relationship is more complex.
The agency also said the NYPD does not provide a full summary of the accounts of the criminologists: in fact, the DOI says, one of the reviewers actually commended the agency's report, praising its recommendation that the NYPD rely on a more data-driven approach.